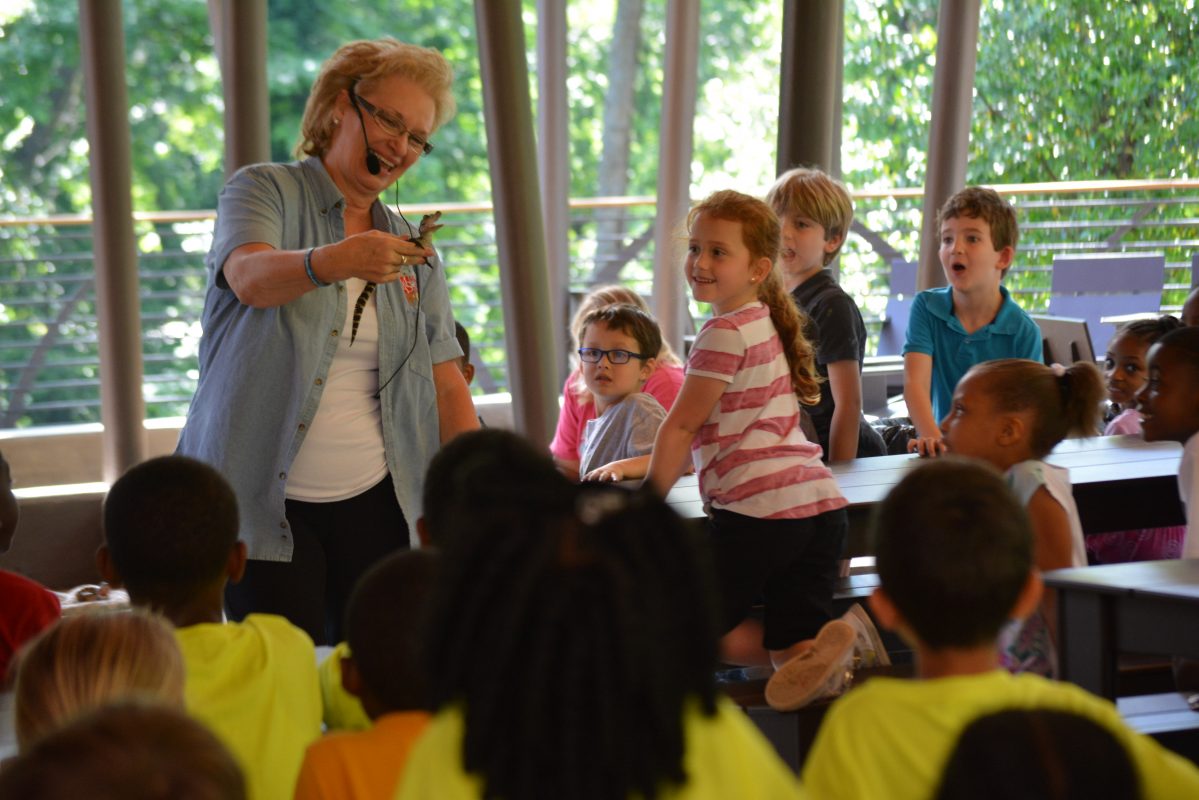 By Christopher Collier, Guest Writer for the MAS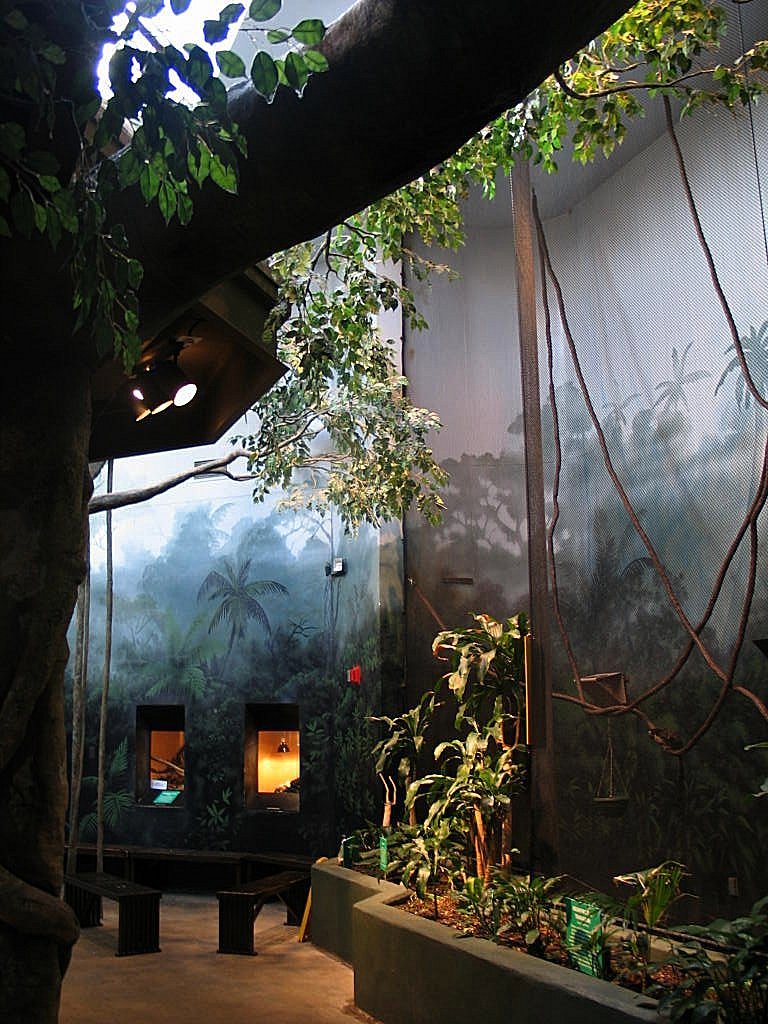 Centered around the sprawling arms of a replica Banyan Tree, the MAS Mini Zoo is home to more than 70 live animals, including amphibians, birds, invertebrates, mammals, and reptiles. The Mini Zoo contains forest, pond, and desert habitats and houses a variety of animal species. The American Alligator, the California Kingsnake, and the Bearded Dragon are just a few of the Mini Zoo's many critters. Sharron Cornacchione, MAS Curator of Living Collections, has used the Mini Zoo to educate the Museum's visitors since she joined the museum staff in 2007. 
"The thing about the MAS that's so unique to me is the fact that we do have the Mini Zoo, and we do have live species," Cornacchione said. "A lot of kids see things on video, in books and all, but to have the capability to have live animals and use those as our tools for education is immeasurable to me. I've been to a lot of museums before, and they have static displays and stuff. But to have the ability to have the live animals here and be able to put those in front of children—it's just such an incredible learning tool."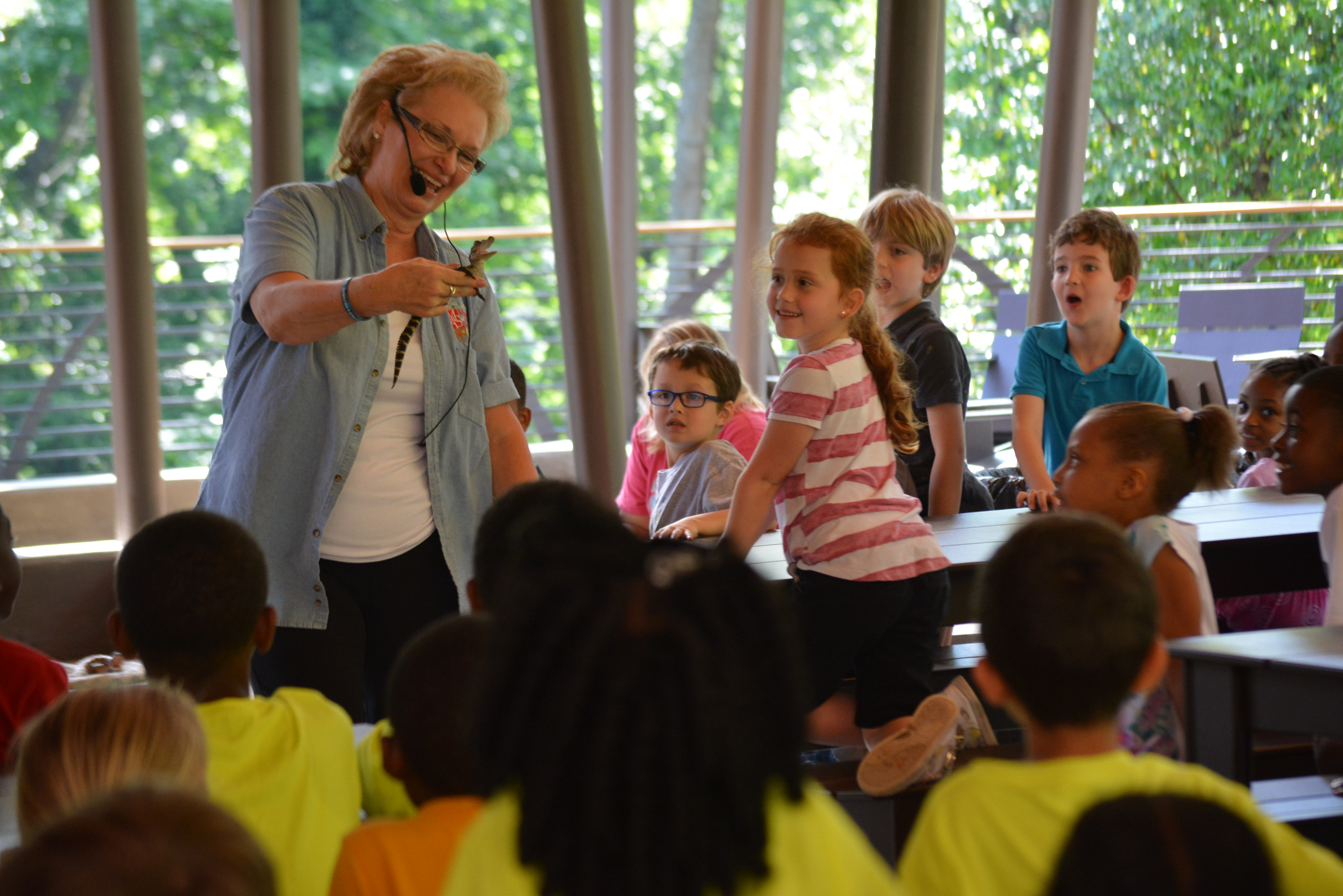 The Mini Zoo's diverse set of animals allows the MAS to host various educational animal shows. General shows incorporate birds, mammals, reptiles, and insects. Cornacchione said that each show emphasizes the importance of responsible pet ownership.
"We talk about how important it is to do your research before you ever get an animal just so you know what you're getting," Cornacchione said. "We talk a lot about our parrots that we have. A lot of times, people get parrots thinking they're beautiful, but they don't realize that they can live well up into their 80s and 90s, so it's a lifetime commitment."
Cornacchione's general shows also touch on the benefits of understanding the many roles of animals. 
"One of our big things is that fear comes from a lack of knowledge," Cornacchione said. "We talk about the snakes of Georgia, since sometimes you just mention the word snake, and people just go into this panic mode. But we educate them about how important they are for our ecosystem, what they do for us, [and] that if we didn't have snakes, the rodent population would be out of control. And there are a lot more diseases you can get from rodents than you can from snakes."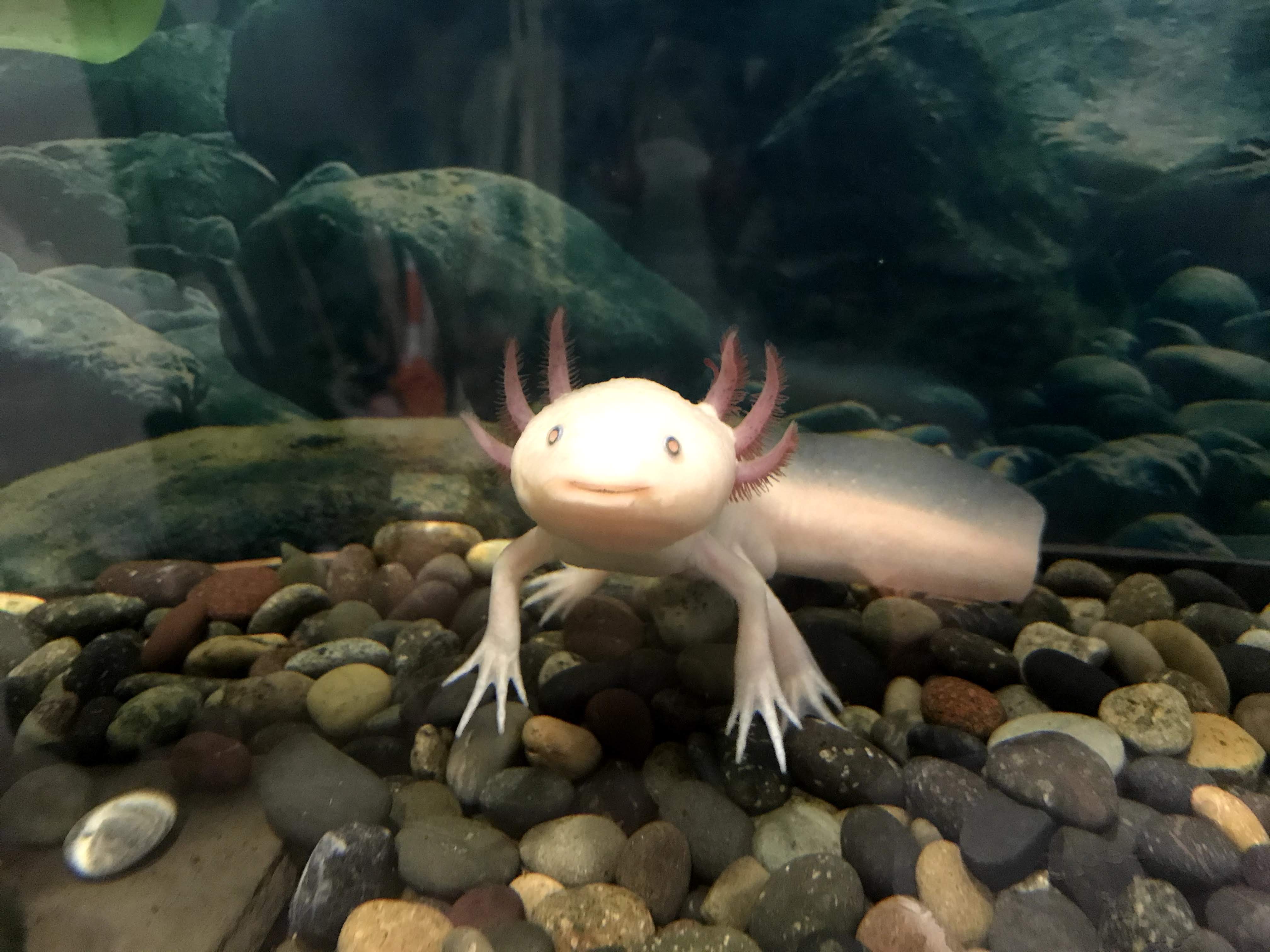 Kyrie Hugdahl, MAS Director of Membership, worked in the mini zoo as an animal assistant for two years before her current position. 
"I have helped a couple of people—I let them hold the Madagascar Hissing Cockroaches," Hugdahl said.  "Some people will come out of shows being like, 'ok, I still don't like snakes, but [the] next time I see one, I'm going to leave it alone rather than kill it.'"
In addition to general shows, the MAS Mini Zoo hosts shows tailored towards school groups. Susan Mays, MAS Director of Programs, said the museum's goal is to support educators and the teaching of the Georgia Standards of Excellence.
"What we've done is to look at those Georgia Standards of Excellence and try to focus on topics that are important in those [areas] to develop shows," Mays said. "For instance, we have a show [where] we focus on classification because that's part of standards at a couple of different levels. We have a show that focuses on Georgia animals—Animals in our Backyard—because our collection is native and non-native. We have a lot of non-native animals. That allows us to open the doors to talk about—as with the lemurs— issues like endangered animals and how we need to be thinking about those kinds of animals, the environment they live in, and protecting that environment."
Losing Lemurs is a Mini-Zoo show that educates audiences about the importance of protecting endangered species such as Ruffed Lemurs—the number one pollinator in Madagascar. By encouraging conscientious fishing and proper waste disposal, Cornacchione aims to turn the tide and protect some of the planet's most imperiled critters.
Outreach is another area of impact for the Mini Zoo. In fact, the Mini Zoo is the MAS' single greatest outreach tool. Accompanied by birds, mammals, reptiles, and insects, Cornacchione has visited senior living facilities, schools, and outdoor events like the Dauset Trails Nature Center's annual Bluebirds and Bluegrass Festival.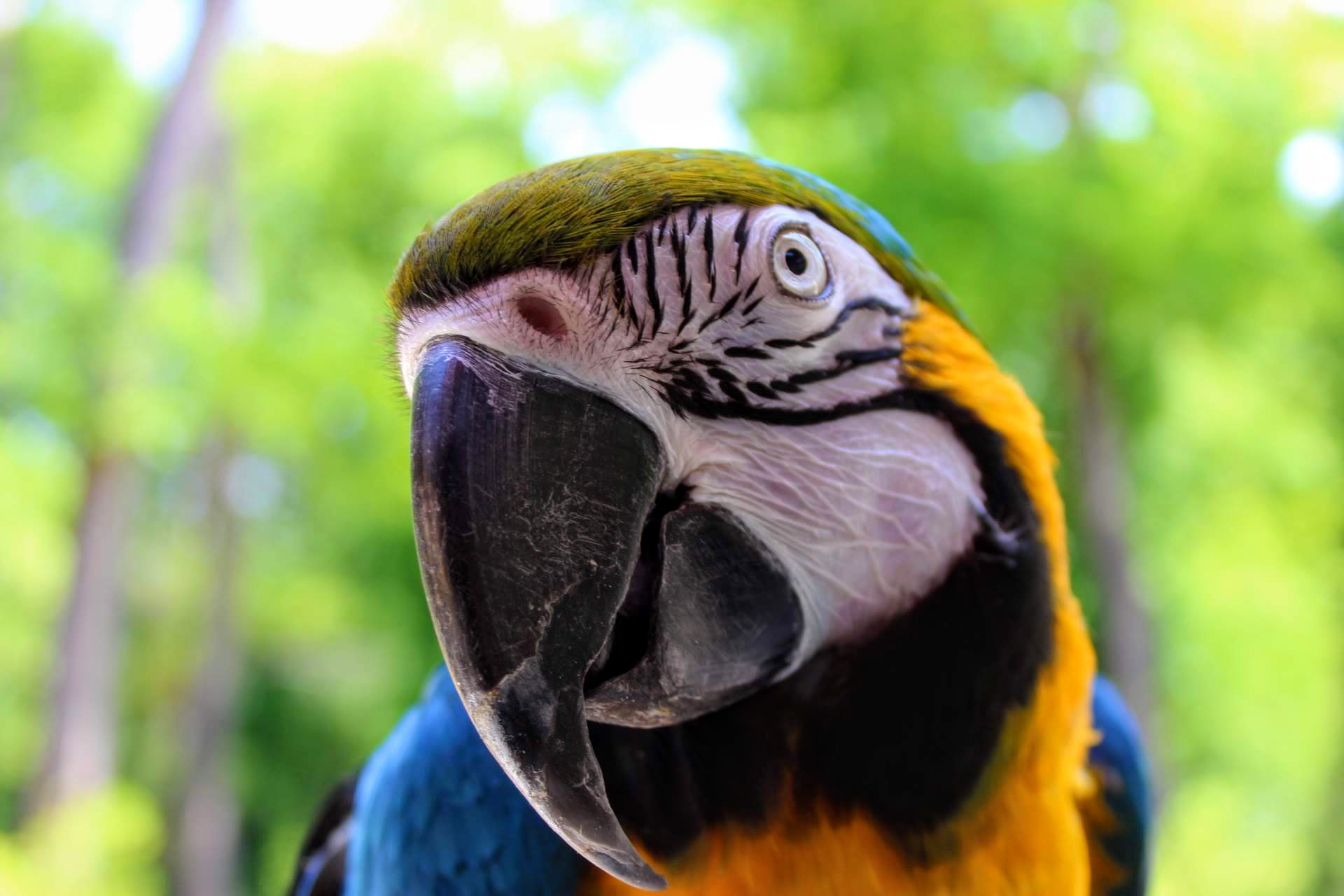 Like science and art, animals remain a point of emphasis and expansion within the Museum of Arts and Sciences' educational mission. The Mini Zoo hopes to acquire Straw-Colored Fruit Bats by year's end, and it continues to develop and push its raptor program forward. Much like the sweeping stretch of a Banyan Tree, the Mini Zoo's impact on education knows no bounds.