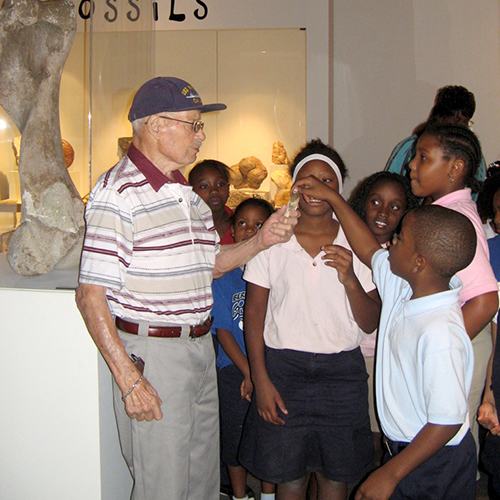 Our Education Mission
For more than 55 years, the Museum of Arts and Sciences has provided a wide offering of programs for school groups, homeschoolers, college students, adults, and families. Guided school programs, family days, hands-on activities, toddler programs, classes, lectures, trips, camps, and exhibitions provide opportunities for discovery and lifelong learning. Whether as an individual or with a group, the Museum can provide an unparalleled educational experience.
Classes
The Museum of Arts and Sciences offers a variety of art classes throughout the year. Please note that class enrollment is limited. Advance registration and payment are required at least five days prior to the first session. A minimum of five students is required for a class to be held. Cancellations must be made two weeks prior to the class, and a 20% handling fee will be charged. A list of Museum Classes is posted in our online List of Events.
Groups
A class visit to the Museum of Arts and Sciences brings a unique opportunity for a field trip. Go zooming through outer space in the Mark Smith Planetarium, discover the ecosystems that surround us, learn of far off cultures and be amazed by artistic feats all in a one-day field trip. Using the Georgia Performance Standards, the Museum provides relevant guided tours of exhibits, programs, and classrooms. Let the Museum create a memorable field trip for your group.
College Opportunities
The Museum of Arts and Sciences can assist college classes with organized group visits or required visits for undergraduate and graduate students. Special group pricing, unique resources including exhibitions, the planetarium, animal programs, and staff-led programs can be provided to coordinate with your class needs. Call 478.477.3232 ext. 306 for more information.
Student Group Visits
Museum Outreach Alternatives
o Reservations are recommended at least one month in advance.
o Contact the Museum at 478.477.3232
Planning Notes
o Each activity lasts 30 to 40 minutes
o Except for animal programs, schools should organize groups of 25 students in advance.
o Travel mileage applies for ALL outreach programs outside of Bibb County.
Combination Package Rates
o Full-day program - $1,600
Includes three staff person providing: eight Discovery Dome shows, three live animal programs, and eight STE+aM activities.
o Half-day program - $800
Includes three staff person providing: four Discovery Dome shows, one to two live animal programs, and three to four STE+aM activities.
Discovery Dome Requirements:
o Indoor space with clean floors. Minimum of 20 sqft by 11ft high with a nearby electrical outlet.
o Ensure appropriate space is available prior to booking
o One hour of setup time is needed.
Rates:
o School Day (8a.m. - 3 p.m.): $600
Fee includes up to 8 shows of 25 students/show (specify show/subject matter); additional shows are $50/show.
o After School/Weekends: Up to 4 shows: $400; 4-6 shows: $600
Let the Museum create an outreach program for your group.