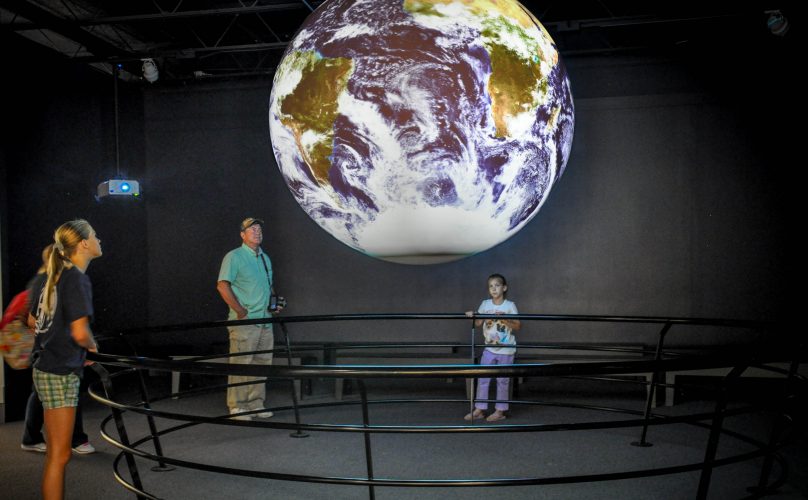 The Museum of Arts and Sciences is expanding its science programming through a partnership with the National Oceanic and Atmospheric Administration (NOAA) by adding a Science on a Sphere (SOS) installation – the first and only in Georgia. The MAS installation was funded by The Peyton Anderson Foundation and will be open to the public on September 1, 2015.
"Science on a Sphere will be a valuable educational tool and exciting new attraction for Macon," said MAS Executive Director Susan Welsh. "Using the Sphere as a projection surface, the Museum's faculty has the ability to deliver science curriculum in an exciting immersive format. Partnering with NOAA through this project allows us to leverage educational content produced by the world's finest scientists and scholars for the benefit of the students and families in Central Georgia."
SCIENCE ON A SPHERE (SOS) is a room-sized, global display system that uses computers and video projectors to display planetary data onto a six-foot diameter sphere, similar to a giant animated globe. Researchers at NOAA developed SOS as an educational tool to help illustrate Earth system science to people of all ages. Animated images of atmospheric storms, climate change, ocean temperature, and other scientific data can be shown on the sphere, which is used to explain what are sometimes complex environmental processes in a way that is simultaneously intuitive and captivating. Approximately 65 SOS installations are in the United States, but no other SOS installations exist in Georgia.
"This installation has been effective in helping science centers across the country deliver planetary and earth science content," said Welsh. "But, the MAS will be one of the few venues with a dual science and art focus to host the SOS installation. We aim to add to the SOS program by developing new curriculum-based arts-infused science (STE+aM) programming for the Sphere. In Macon, we will offer science and art on the Sphere and encourage other NOAA partners to do the same."