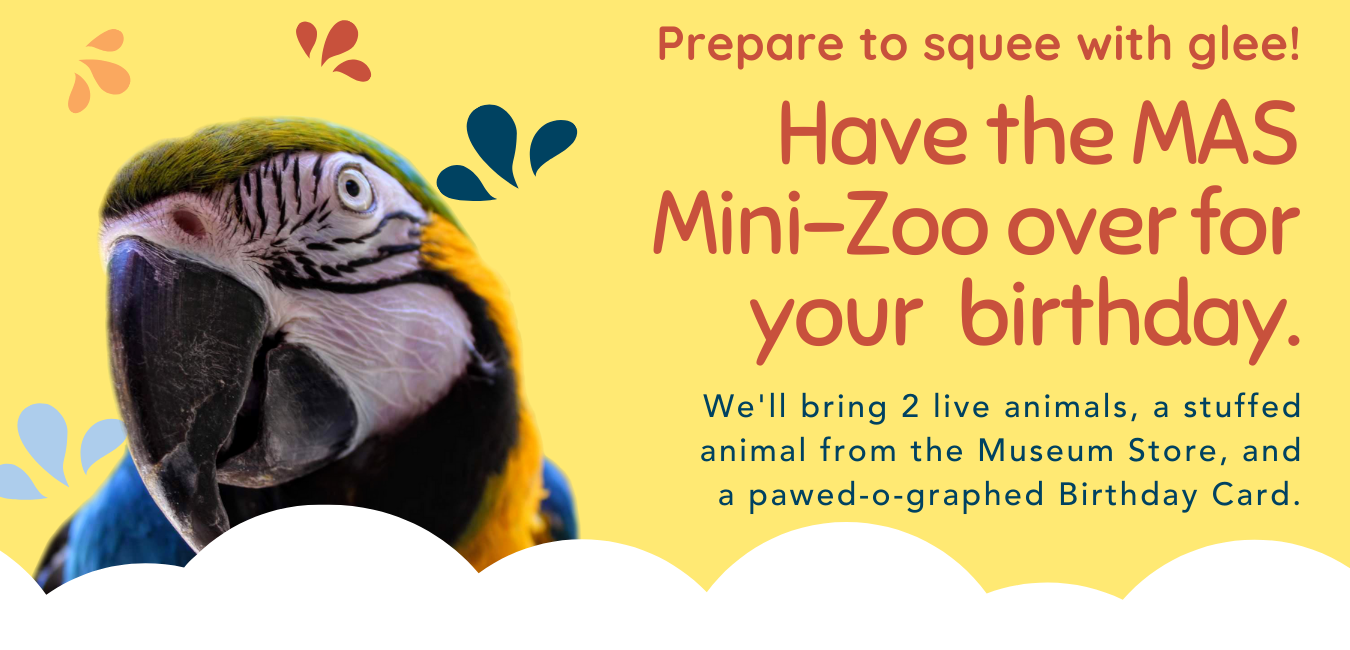 Let the Museum help you create a birthday a party your kiddos won't soon forget! You only get one chance a year after all. 
Your birthday package price is $350 and includes
● Two Mini-Zoo anmials of your choice and their keepers
● A 30 minute animal encounter
● A stuffed animalf from the Museum Store
● Personal pawed-o-graphed Birthday Card
Choose your two favorite animals from below:
Moluccan Cockatoo
Screech Owl
Barred Owl
Gopher Tortoise
Box Turtle
Soft-Shelled Turtle
Lemur
Bearded Dragon
Helpful tips for a great party!
● Children and guests must maintain a safe distance and cannot touch any of the animals; Mini-Zoo staff have the right to leave if these rules are not being respected
● The encounter will not extend past 30 minutes
● Adults should provide assistance and guidance for children during the show
● All party guests are expected to follow our museum rules of conduct in order to ensure a safe and fun time for everyone!
● Remember, the sooner you book your party the better. We operate on a first come, first served basis.
Payment/Cancellation
Cash, checks or Visa/MasterCard/Discover are accepted. We ask that you pay 100% of the total party cost at the time of the reservation. Reservations will be made through Eventbrite. If you cancel within two weeks of your reservation date, 100% of the total party cost is refundable. If you cancel less than two weeks from your reservation date, we will refund 70% of your total reservation cost.