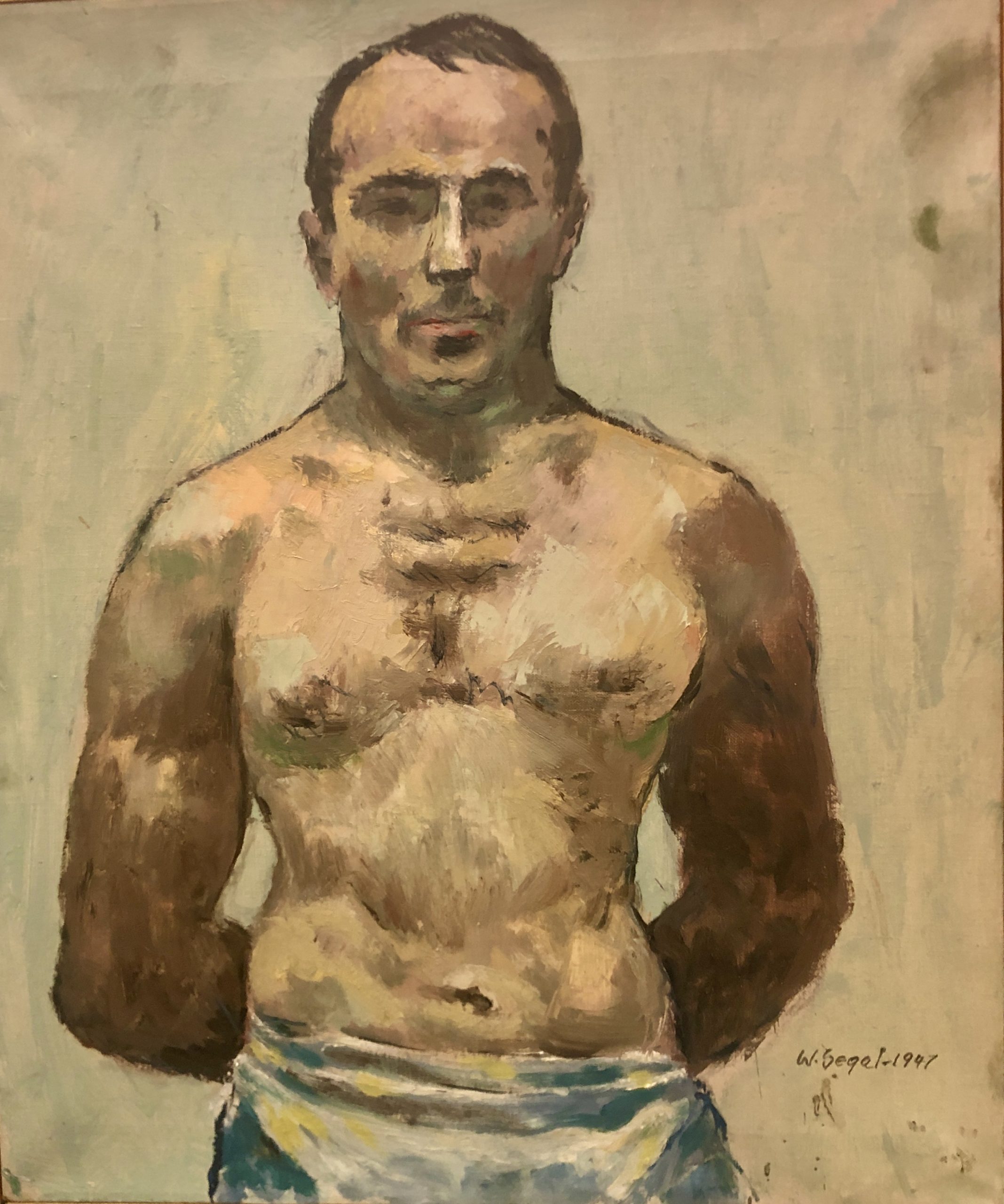 The Naked Young Painter
William Segal
1947
Oil on Canvas
24"x20"
The Art of the Self Portrait
The introspection required of a person undertaking a self-portrait is sometimes daunting. You have to look what seems like endlessly into the mirror at your face in a back and forth constant searching for clues to what it is that makes you "you.".
William Segal, whose works we are showing for several months starting in February, chose this particular genre for many reasons. Let's look further at what it means to paint a self-portrait.
When I think of self-portraits, my mind is flooded with images. In fact, I don't think I even know of an artist who hasn't painted one. First of all, let's be practical. The model is always present when you set up to paint, the model will also cooperate without any coercion. The model is free of charge. The model is as glad to be painted as he is to paint. I don't think I know of any other situation as win-win as painting the self-portrait.
Except that it is so hard to do.
It's a kind of vulnerability that is uncomfortable. There's the issue of likeness. There's the issue of exposure. There's the issue of having to actually face yourself. It's hard to concentrate and look pleasant, too. So many self-portraits come across as dour.
Let's take a look at some good examples of self-portraits. Let's begin with one of the first known, by Jan Van Eyck, a 15th-century Flemish painter. At his time, oil paints could be mixed and stored in newly developed ox bladder tubes which revolutionized painting and birthed a whole Northern European tradition, the Flemish School. Van Eyck is also known for painting the beautiful Ghent Altarpiece. The experts tell us in this wiki page on self-portraits that his is the beginning of the genre but I have my skepticism. It seems to me this would have begun as early as the myth Narcissus by poet Ovid.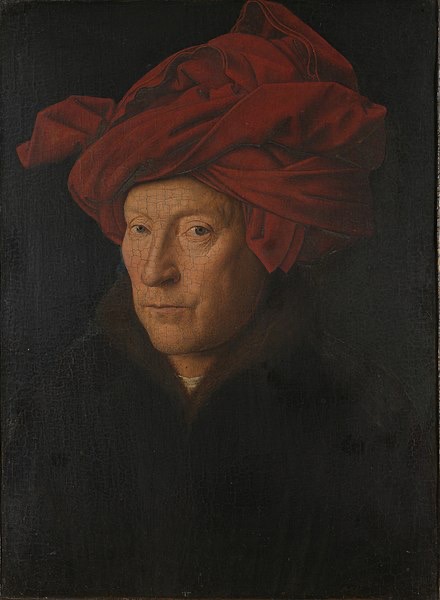 Portrait of a Man (Self Portrait?), 25.5 × 19cm, 1433. National Gallery, London
I listened recently to an account of Ovid's myth of Narcissus that was more fair than the accounts we most often hear- not vanity or extreme self-adoration but of investigation and transformation through self-love only possible through a deep encounter with oneself. This poetic interpretation is more helpful to our endeavor here than the severe diagnoses that come from the world of psychiatry. In this story, Narcissus was in love with trying to find out who he was. I found this podcast by Parabola on "Magic" which contains this point of view on Narcissus here.
Thomas Moore, writer/philosopher posits this question:
"Is our negative branding of narcissism a defense against a demanding call of the soul to be loved?"
Thomas Moore – Care of the Soul.
Furthermore, an online discussion made these points that I consider relevant to our work in the coming weeks:
"In looking at the story of Narcissus, I was so inspired by the new translation and meaning given to it by Thomas Moore. By denying our narcissistic tendencies and by labeling this part of our shadow as negative, we our only stifling the growth that our soul desires. The further we push narcissism away from us by disowning it, the more self consumed we actually become. Narcissus longed to love, and not until he "discovered" himself was he able to do so. When he was able to clearly see himself in the pool of water, he than experienced a life transformation. Bob Keagan, as discussed in class, would better explain that Narcissus was in a state of transition. "Narcissism is a condition in which a person does not love himself." (Moore, p 71) In my own life, self-love was one of the greatest and most valuable lessons learned through very difficult circumstances. I discovered that the importance of self-acceptance must first be established from within if I was ever to sincerely receive love from another. Thomas Moore explains that the greatest "curses" in our lives are actually blessings in disguise because not until we are in a state of need, do we desire change. I love the description that Moore gives of Narcissus at the pool. He explains that what is taking place is a "transforming".
Excerpted from an online essay author unknown.
Going with this angle, self-portraits are records of ourselves in our place and time. They are records of how we see ourselves with curiosity and sometimes disdain. It is an honest attempt to "meet" oneself. However it comes out, it comes out. The end product has made its way through a whole process of emotional and psychological pipes to come out - consciously or unconsciously- like it is. Therefore this will be an endeavor of eventual giving over control to the process.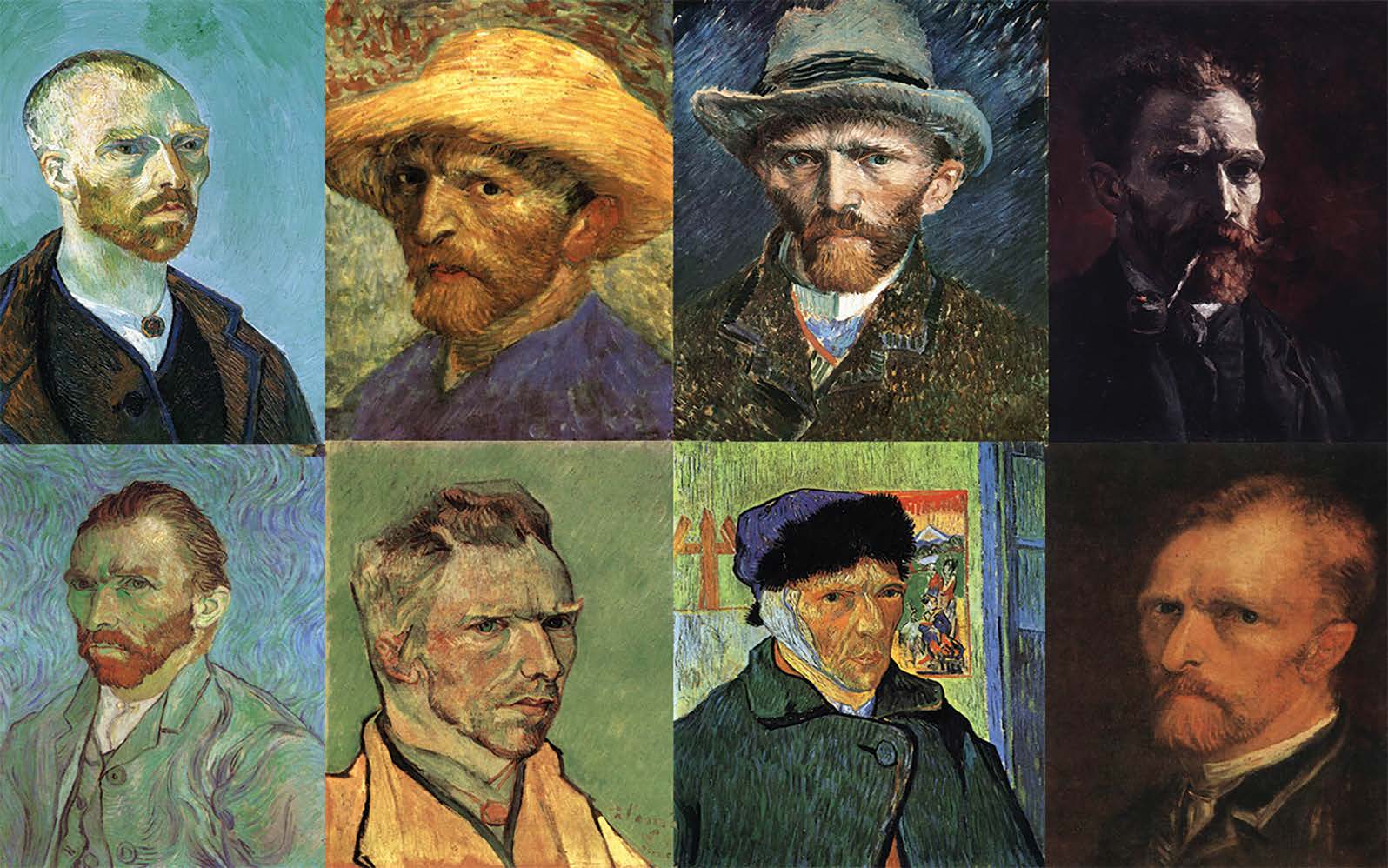 When I think of self-portraits, I can't help but think of Vincent Van Gogh. There is an entire Wikipedia page devoted to them. He did some great ones. As history tells, he was a bit tormented and troubled, yet he continued to "meet" himself as he was in his present moments. I'd say that was an effort towards good mental health.
My favorite self-portraits are the ones where the artist tucks his face in corners of the painting or inside reflections. I find this such fun. Here are some examples of this:
Arnolfini Wedding by Jan Van Eyck 1434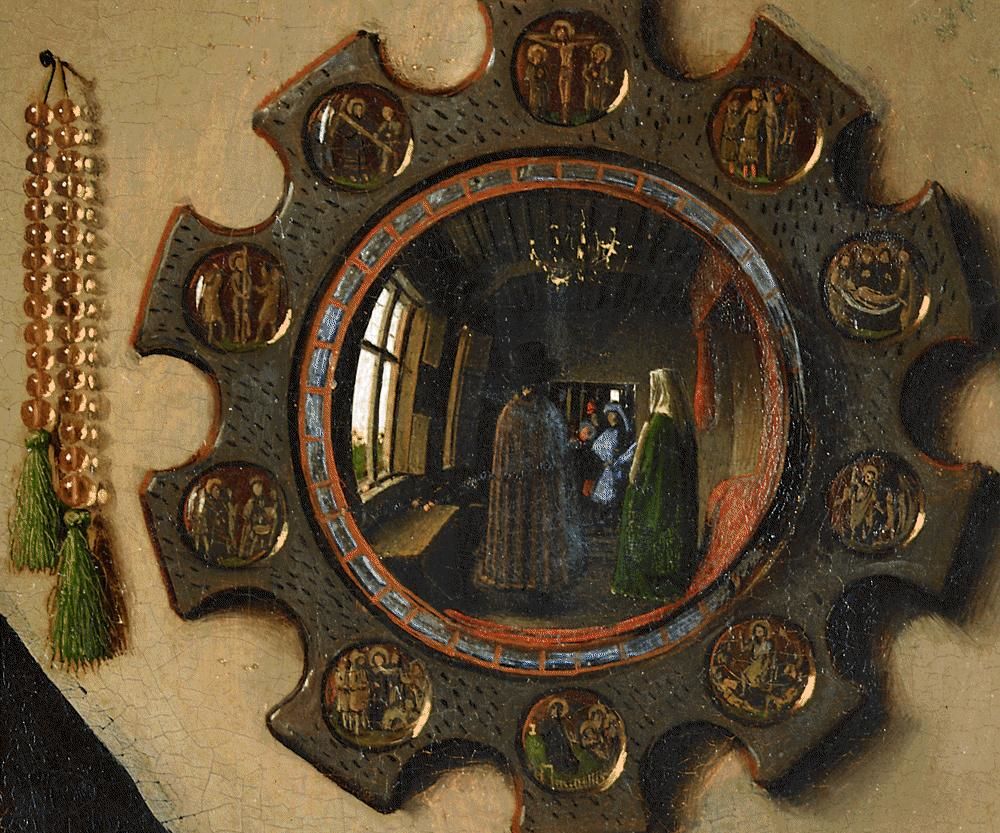 Van Eyck paints himself in the rondo mirror on the wall almost dead center of the painting.
Here is another, this one by Spanish great, Velazquez, called "Las Meninas" and he is in the doorway to the right of center.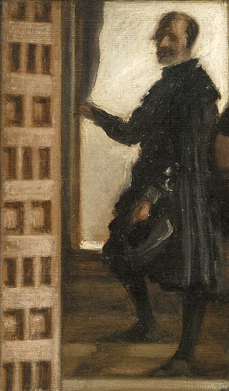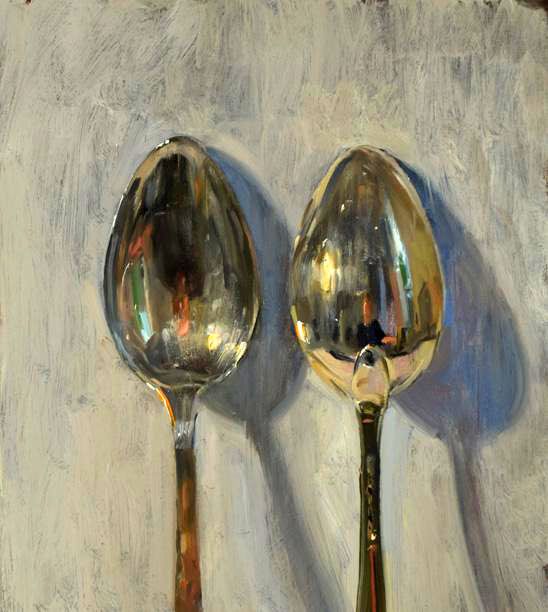 "Two Spoons" Duane Keiser
8x9"
2020 American (Virginia)
Duane's website: duanekeiser.com
I am including these additional self-portraits for your enjoyment. These are contemporary Georgia Artists:
Marc Chatov, Bo Bartlett, George Anthony Morton.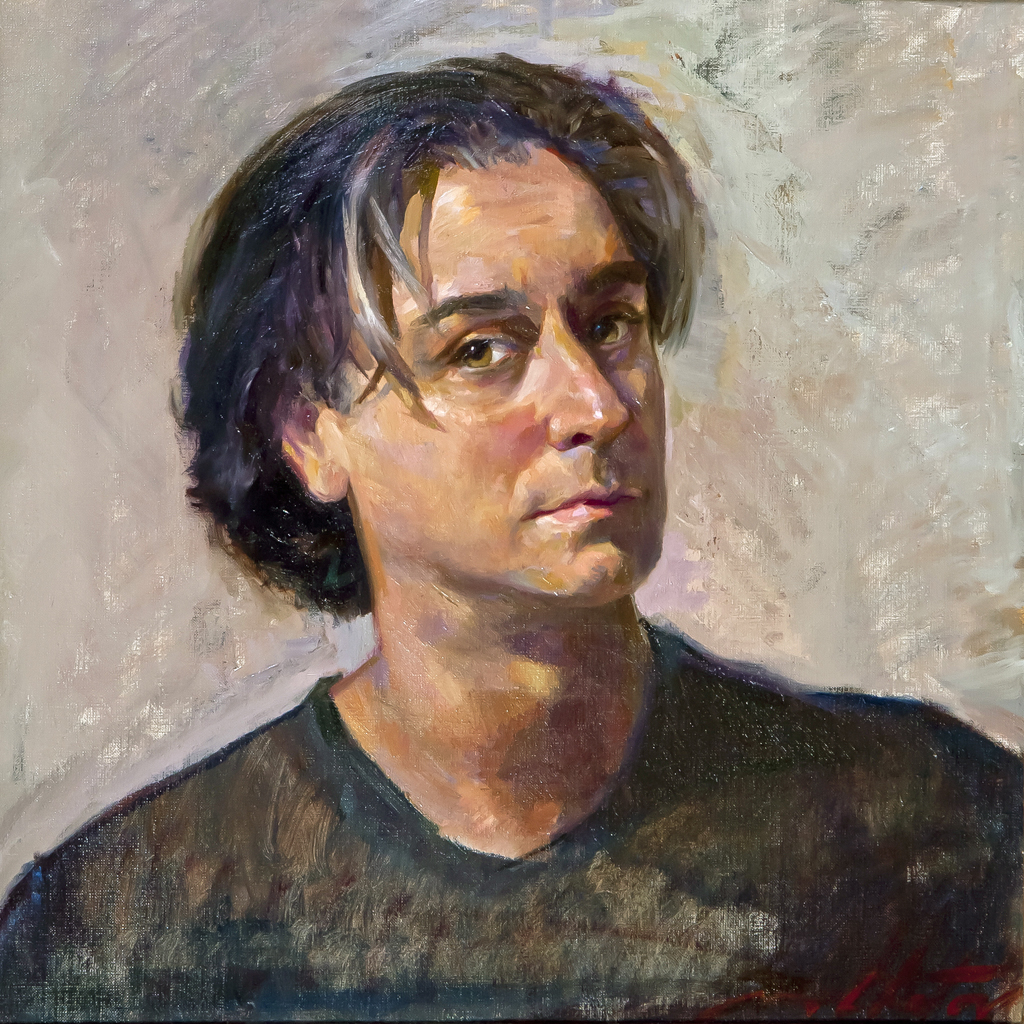 Self Portrait
Marc Chatov, 2002
20x20"
Oil on canvas
Marc's website: chatovstudio.com
Marc Chatov is well represented in our permanent collection - his uncle, Constantin, and father, Roman, also. Marc works in Atlanta also.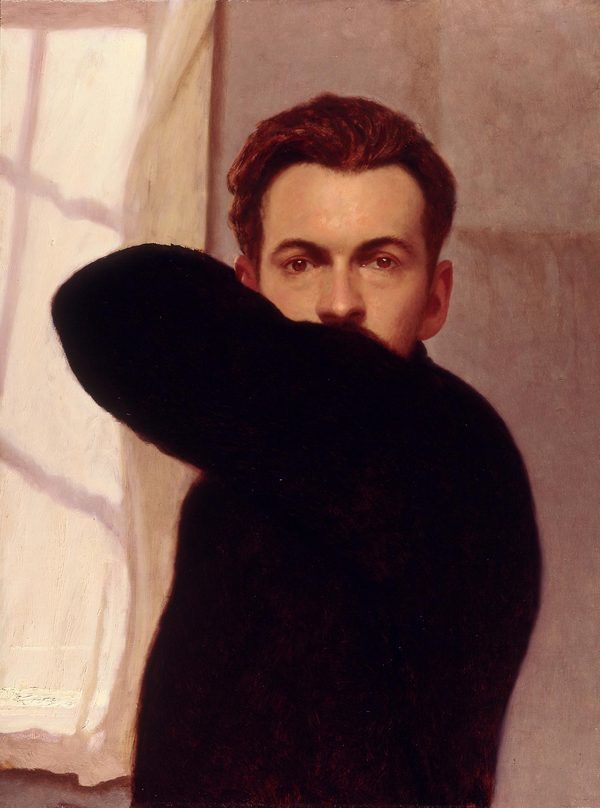 Self Portrait
Bo Barlett, 1996
Oil on Canvas
Bo was born and raised in Columbus and spent much of his adult life in the North East studying art and working out of Philadelphia / New York. He and his wife, Betsy, have returned to Columbus where he has opened the bobartlettcenter.com. You can access more of Bo's work here: bobartlett.com
Also- check out the beautiful work of George Anthony Morton and his self-portraits on his Instagram account: https://www.instagram.com/georgeanthonymorton/
And his website: georgeanthonymorton.com There are several interesting self-portrait photos on his accounts. He is working in Atlanta.
We, myself, and the participants of the upcoming online Self Portrait event will be embarking on a great experiment/adventure soon! The community is invited, free of charge to paint/draw/ collage/photograph a self-portrait. Through zoom calls, I will encourage and guide us through the process over three weeks. We will incorporate William Segal's use of meditation. Work will be done solo on each individual's time frame and in their own solitude. At the end of the three weeks, works can be voluntarily brought to the MAS and hung alongside the Segal self-portraits. The works will involve a process called slow looking- or slow art. The idea is to slow down, look deeply and get more and more information. We will repeat this exercise twice more until May dealing with the other genres; still life and landscape. Those works are welcomed here to show as well. More details to come. This will begin in February.
Absolutely NO stress (other than the natural stress of the undertaking) no restraints on size or medium. The only rule is to meditate before any work has begun.
The world is selfie mad it seems. But instead of being all offended about it, let's look at it this way- we are naturally curious- maybe some are downright obsessed, at how we appear to the world. How do we look? How am I perceived outwardly? How can I see myself, someone I see so often I can no longer see? I think we are truly curious. Deep introspection helps us to somehow understand ourselves objectively as much as possible. Like Narcissus, the selfie just might have gotten a bad rap all these years. Maybe we just need strategies for self-interrogation.
I look forward to our work together. Stay tuned to masmacon.org fine arts and our Instagram page for more details.
My best,
Kristy Edwards
Curator of Art
kedwards@masmacon.com
All images used by permission of the artists.