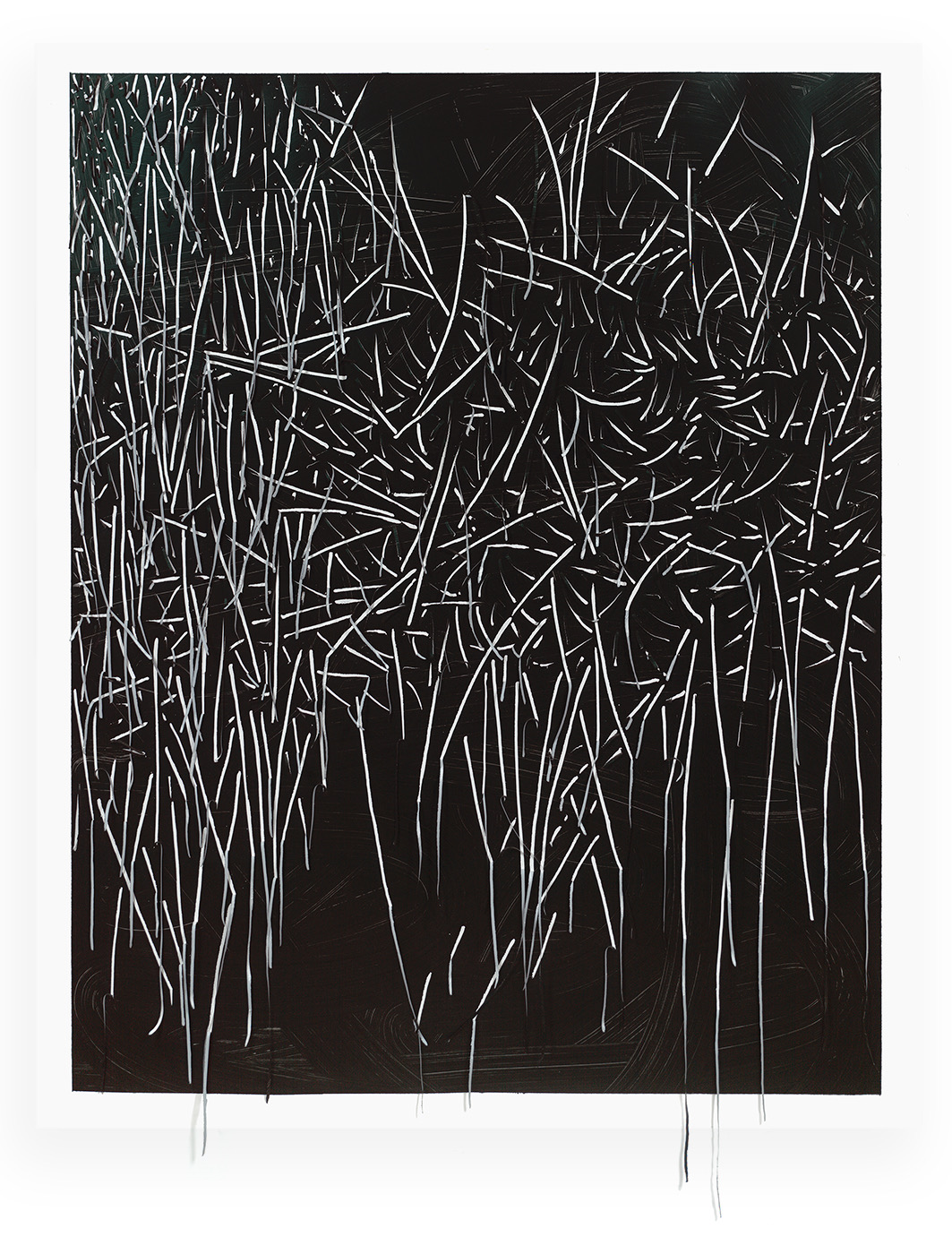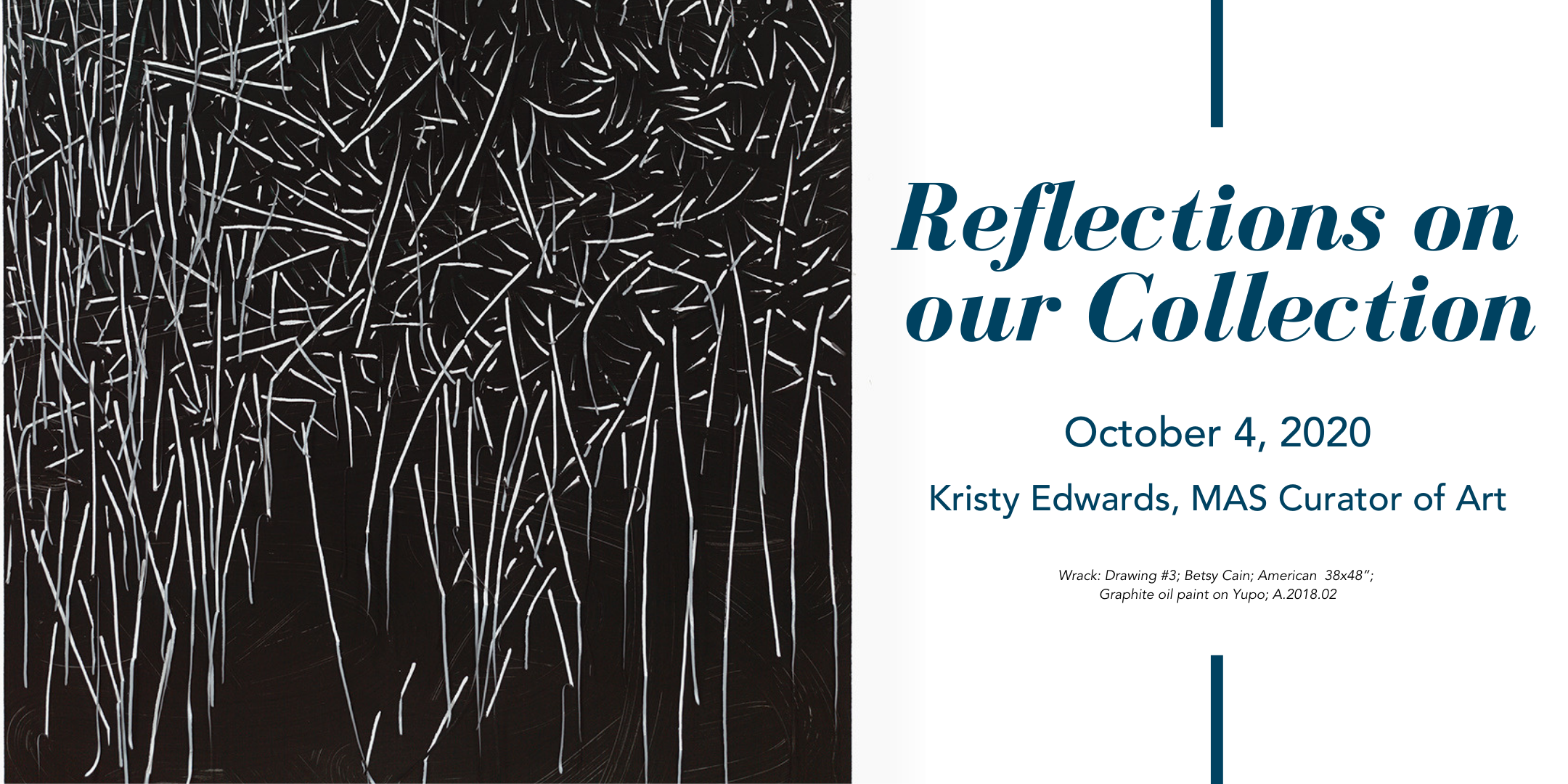 In researching and preparing for my interview/conversation on Instagram LIVE with Alabama born Savannah artist, Betsy Cain, I came across this quote by her :
"my paintings reference what I know of my own body and what I witness as a dedicated observer of the landscape around me, particularly coastal Georgia and the dynamic and threatened ecosystem of the salt marsh. "
Betsy works in oil primarily and has works in galleries in Savannah (Laney Contemporary) and in Atlanta (Sandler Hudson). Her work is highly regarded and we are proud that our Director, Susan Welsh, had the instinctive foresight to invite her to join other artists in the 2018 Emerging National show here at MAS. It is from this collaboration that our museum purchased the Wrack Drawing #3 as a piece that strengthens our museum mission to collect American art, Contemporary American art and the regional art of area artists such as hers. What also makes Wrack a perfect fit for our collection is that it is environmentally inspired by her observations of the seasonal growth and decay of Wrack grasses that are a part of our salt marshes and connects to our earth science offerings. Called a 'powerful biofuel' by Cain, when wrack grass breaks down, it feeds the rhizomes that support marsh life. She points out through these accompanying photos, that when obstructed by ill-designed and poorly considered structures such as long docks and piers, wrack grasses' natural movement can be impeded and cause suffocation and decay in the salt marsh ecosystem. She and a group of caring citizens actually waded out into the plough mud and wrack grass up to their necks to move the yards and yards of caught decaying reeds and move them to the creek where they would be free to flow onward. Cain described the consequences that result from building a pier over marshland causing a situation where the pilings catch the grass and trap it from moving as it should.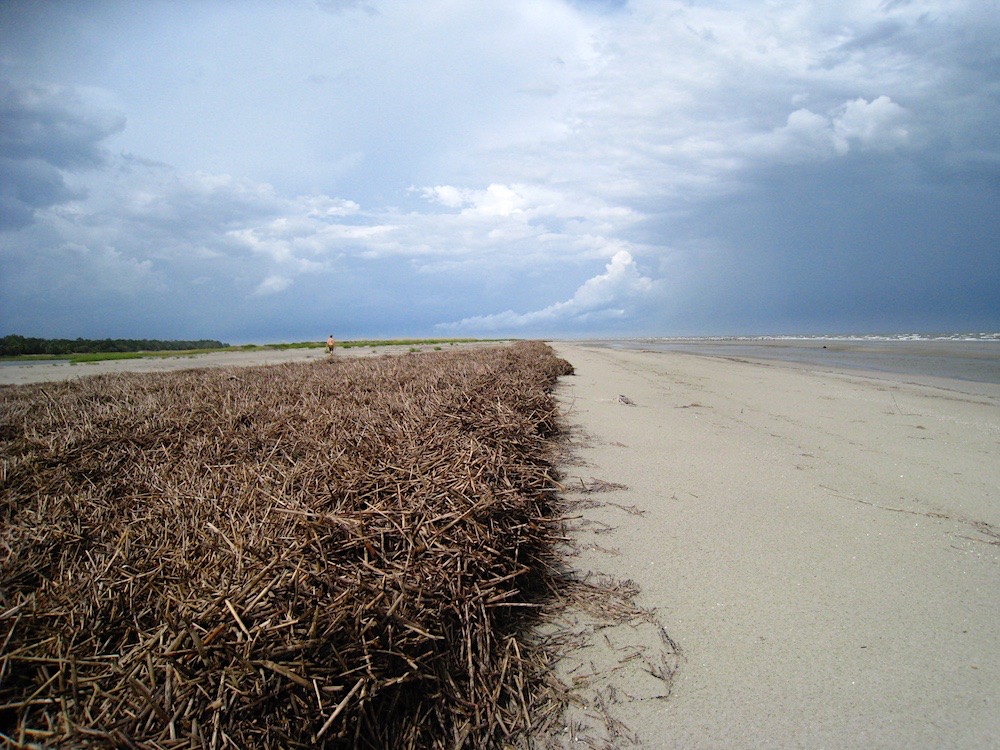 One can see the grass piled up in the sand at the beach in this photograph she provided. Betsy describes this as functional in the formation of dunes that protect the inland from storms and hold beaches from erosion. So when unimpeded, it can be such a beneficial part of our coastal environment.
Her artistic process is fascinating. Using the painted surface of yupo paper, a non-absorbent environmentally friendly paper, she shreds it in various ways watching the shreds fall over bending to emulate the wrack grass. She uses a few musical terms as she walks me around her piece, calling it a symphony of shreds, the staccato of the pieces - I note how music and art are intimately entwined.
We are able to see from her photographs, how much her Wrack 3 looks like the grasses in their natural state. Somehow, through experience and experimentation, she has managed to impart the sculptural bending of the hollow reeds. She begins the piece and does it all usually in one session (alla prima) working and looking and sensing what she knows of the grass firsthand. She actually swims in the creek with the grass feeling it graze her skin and seeing it up close-smelling it, too. If you zoom in to the bottom right corner of the below picture, you'll see how she captures the formation of grasses in her shredded 'technique'.
Betsy Cain tells that while she is creating, she often has a fan operating to keep studio air circulating. She notes while she works how this affects the yupo shreds, how they move in the air as though the fan were wind, and how she straddles the line between realism and abstraction.
As an artist, Cain embodies a sensory understanding first and then processes that understanding through her art, through shredding the top layer of yupo paper that has been painted using a graphite rich oil paint. Because of the graphite, there is a slight shimmer of light behind the pieces hanging down- the dark foil perfect for highlighting the linear quality of the shreds. In the winter, the grasses piled up are gray and devoid of color.
Because of this in-depth experience and observation of the grass in the environment, Betsy Cain uses her art as a vehicle for abstract interpretation of a real experience. And as a vehicle for possible change and betterment of our ecosystems on the coast.
Wrack grass is a part of our coastal world. It is beneficial in its natural ability to feed the ecosystem and hold sand to build dune. If kept from its natural process, it can actually harm its own environment. Cain does not implicitly handle this information in the actual piece preferring to work with it, honor it, and bring it to the light of our attention.
Part of the conversation of this Wrack series is the consideration of the consequences of our actions which requires a level of consciousness that art often plays a role in elevating. Betsy Cain aids in lifting up our consciousness as only an artist can do and we are grateful to her and her role in the preservation and care of the coastal salt marshes of Georgia.
My best,
Kristy Edwards,
MAS Curator of Art