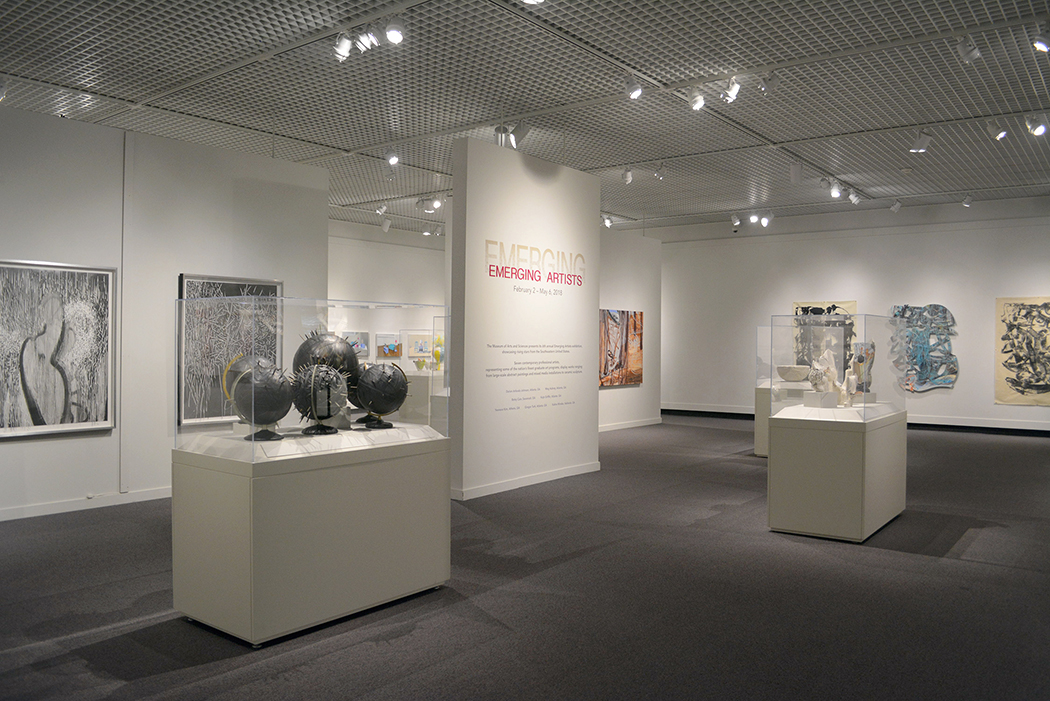 February 2 through May 6, 2018
The Museum of Arts and Sciences presents its 6th annual Emerging Artists exhibition, showcasing rising stars from the Southeastern United States. Seven contemporary professional artists, representing some of the nation's finest undergraduate and graduate art programs, will display works ranging from large-scale abstract paintings and mixed media installations to ceramic sculpture.
Thursday, March 8, 2018, 7-10 PM
A special Cocktail Reception to benefit the Museum of Arts and Sciences will include gallery talks with the Emerging Artists, an opportunity to purchase the exhibited works, open bar, and catering by Fountain of Juice, plus artisanal bourbon tasting. Tickets are $50.
Darien Arikoski-Johnson, Atlanta, GA (ceramic sculpture)
Assistant Professor, Georgia State University
www.DarienJohnson.com
Known for incorporating the "glitch" aesthetic into the ceramic vernacular, Darien's work addresses thoughts of memory, technological integration, mark making, and perceptual consciousness. He finds clay to be a relevant medium to explore the relationship of illusion and form, thought and physicality. He integrates digital processes with traditional forming and surface treatments. This act reflects the current state of human experience, as we navigate between actuality and the illusions presented by our screens. Darien earned a Master of Fine Art from Arizona State University. He recently transitioned from being a full-time studio artist based in Copenhagen, Denmark, to join the faculty at Georgia State University where he serves as Assistant Professor. Alan Avery Art Company in Atlanta represents him. As a studio artist, Darien has been recognized internationally through awarded grants, exhibitions, and residencies including the NCECA Emerging Artist Award, and funding from the Danish Cultural Ministry to complete a residency and exhibition opportunity through C.R.E.T.A. Rome.
Meg Aubrey, Atlanta, GA (painting)
Assistant Professor, Texas A&M University
Meg Aubrey is an Atlanta-based painter who was born and raised in Massachusetts. Meg has an MFA from Savannah College of Art and Design and a BFA from Rhode Island School of Design. She has been awarded the Hambidge Residency Award from the Fulton County Arts Council, the Encore Series Award from Savannah College of Art and Design and was selected as a finalist for the Forward Arts Emerging Artist Award for 2011. Meg is an Assistant Professor of Art at Texas A&M University-Corpus Christi. Her work examines the iconic suburban experience and its effects on its inhabitants. Her subjects are pared down and scrutinized to reveal a disquieting psychological isolation present within these seemingly idyllic planned communities.
Betsy Cain, Savannah, GA (painting)
www.BetsyCain.com
Betsy Cain was born in Tuscaloosa and grew up in Fairfield, Alabama, a steel mill city near Birmingham. She earned both her BFA and MFA from the University of Alabama but also did formative undergraduate work at Auburn University and Instituto Allende, San Miguel de Allende, Mexico. Cain has been based in Savannah, Georgia, for over thirty-five years. Most recently, she exhibited in New York City at the National Arts Club alongside fellow artists, Marcus Kenney and Cedric Smith. Her work is heavily rooted in abstraction, and her intimate relationship with the natural environments of the South. She is a strong advocate for the protection of Georgia's vast salt marshes. For Cain, the ecosystems of Georgia's coast— including the rivers, tidal estuaries, vast salt marsh, maritime forest and barrier islands—have a palpable imprint on her work by offering endless space to mine as an artist. New and recent works demonstrate both her mature artistic facility and penchant towards experimentation in mark-making.
Kojo Griffin, Atlanta, GA (painting)
Kojo Griffin was born in Farmville, VA, in 1971; raised in Boston, MA; and currently resides in Atlanta with his wife and three sons. Griffin has had several solo exhibitions in the US, including two with his former New York gallery Mitchell-Innes & Nash and has shown his work extensively in group shows both domestically and worldwide. He has been a visiting artist at several universities, including The Massachusetts College of Art & Design, the University of Illinois at Chicago, SUNY-New Paltz, and, most recently, Hong Kong Baptist University. He was included in the 2000 Whitney Biennial of Art, the 2002 Corcoran Biennial of Art, The Freestyle show at The Studio Museum in Harlem, and the 2006 Seville Biennial in Seville, Spain.
Yeonsoo Kim, Athens, GA (ceramics)
MFA 2018, University of Georgia
Yeonsoo Kim was born in Haenam, South Korea. He earned a Bachelor of Fine Art in ceramics and glass from the Hongik University in 2006. He has held apprenticeships with Onggi masters in Jeolla-do and Gyeongsang-do, Korea. He has participated in several artist residency programs including the Baltimore Clayworks, Korea Ceramic Foundation, Montana State Unversity, and Innon Art Center. He has exhibited work internationally and is completing a Master of Fine Arts at the University of Georgia's Lamar Dodd School of Art. Yeonsoo's focus on the relationship between the old and the new widens and widens until it reaches human, nature, and space. Through the daily creation of hand-built vessels and masks, his work acts as a journal of his inner voice. He explores identity and psychological conditions through mark making and surface applications.
Gregor Turk, Atlanta, GA (ceramics)
Known for his public art installations, ceramic sculpture, photography, and mixed-media constructions, Gregor Turk often incorporates mapping imagery and cultural markings into his artwork.  Utilizing a variety of media, Turk tends to focus on the fundamental qualities of mapping: the mysteriousness, inherent biases, cultural authoritativeness, and ability to simultaneously represent and distort reality. Since his 2012, Turk has worked with re-purposed bicycle inner-tubes as a medium to wrap both fabricated and found objects. The worn rubber serves as an indicator of transit and in-betweenness.  He has permanent public art installations at the Atlanta and Jacksonville airports. His work is included in the JPMorgan Chase Art Collection, High Museum, MOCA - GA  (Museum of Contemporary Art – Georgia) and numerous other public and private collections. Turk grew up in Atlanta, received his B.A. from Rhodes College in Memphis, Tennessee and his M.F.A. from Boston University.  Between degrees, he served as a Peace Corps Volunteer in Liberia. His studio is located in Blandtown on Atlanta's Westside.
Kalina Winska, Valdosta, GA (drawing & painting)
Associate Professor, Valdosta State University
www.kalinawinska.com
Kalina Winska grew up in Poland. She earned her MFA from The Academy of Art and Design in Wroclaw in 2009 and The University of Florida, Gainesville, FL in 2012. As a recipient of Socrates-Erasmus Scholarship, she went to study in Germany at the Braunschweig University of Art (HBK) in Spring 2007. Kalina has actively exhibited her work in Florida, Georgia, Louisiana, Maryland, California, Vermont, Virginia, Michigan, New York, and in Poland. She was featured in Studio Visit Magazine twice and was awarded artist residencies at the Vermont Studio Center in Johnson, Atlantic Center for the Arts in New Smyrna Beach, FL, Crooked Tree Arts Center in Petoskey, MI, and Contemporary Artist Center at Woodside in Troy, NY. Currently, she is an Associate Professor at Valdosta State University teaching drawing and foundation level courses.
Special Thanks to the Following Sponsors: