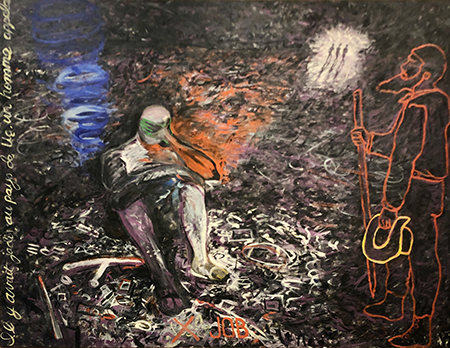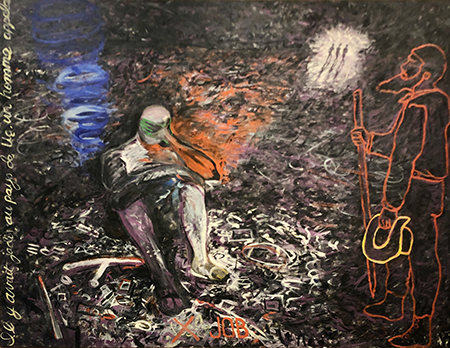 "JOB"
Jerry Smith
American/Kansas
Acrylic on Canvas
66x90"
A2017.07
This painting by Jerry Smith was one of the first I interpreted to our Board of Directors for accession as a Board member heading up the collections committee in 2017. This painting gave me such satisfaction to break down, analyze, and discover its meaning. Therefore, this painting has a special place in my artistic psyche.

You may see this painting on display in Georgia's Gallery in the show "Emerging Voices," which is currently open. The exhibition will be running alongside "Emerging National IX," which opens at the end of the month.

The Museum of Arts and Sciences' vision is to develop its permanent collection by selecting a piece from the annual Emerging National exhibition. Emerging National, now in its 9th year, has offered the opportunity for us to acquire some amazing pieces, many of which are on display right now through the spring. The museum has had a long-game vision to grow the collection according to its mandates to collect and hold pieces of ceramics and 2D art (paintings, textile, mixed media, drawing) of regional artists with a concentration of Georgia artists. By choosing artists from many southeastern university MFA programs, our museum has supported dozens of up-and-coming area artists. Many of whom have become world-famous and received great accolades. The museum's curators also understand how to curate these artists not only for their fabulous work but how each artist can be shown with other contemporary and complementary artists.

This year, we have lifted out of the vault many past acquisitions from the last near-decade of shows. When you stand in the room and see them together, they make a cohesive collection. You instantly see how many are alike and how many are completely different, but mostly how well they work as ONE.

This painting by Jerry Smith is an interesting abstraction/narrative of an aspect of the Biblical book of JOB. I will give you my interpretation here, but please feel free to add your own when you see this work yourself. That is truly what art can do for us- lead us places and let us be free to surmise, think, feel, and process all sorts of personal information.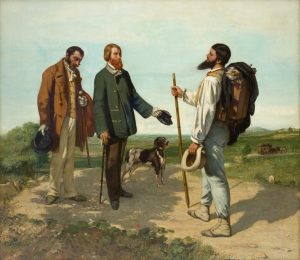 At first, this painting is dark to me, but that is what draws me to it. I am trying to analyze why- what artistic elements did he bring me in on? How did he do it? I think it was the recognition of the outlined figure on the right in cadmium red for me. Using cadmium red is a technique, taught to me by the Chatov School from their influences of Robert Brackman at New York's Arts Students League, to outline your corrections in cadmium red at the end of the painting session. There before me outlined in this red is the figure of French 19th century Realist great, Gustave Courbet, in his famous 1854 painting "La Rencontre" of "The Meeting" or "Bonjour, Monsieur Courbet." In the right of his painting, Courbet painted himself on the road as the mythical 14th-century archetype:  the "Wandering Jew." He is shown stopping to be greeted by two people having run into them outside of the city on a country road. One of these men is one of Courbet's wealthy patrons who owned this painting but never showed it. It received controversial reviews when Courbet exhibited it at the 1855 Exhibition Universelle. It lay in storage until his patron donated it to a museum in Montpelier, France.

On the left margin, directly across the painting, is a French quote running up the canvas's edge. This quote is the first line of the Book of Job- the book that deals with suffering, trials, and life's random devastations. The French line is "Il y avait jadis au pays de Uz un homme appelle Job." It translates to "In the land of Uz, there lived a man whose name was Job."



When I sorted these entry points out on my own, I felt like some kind of art psychic super sleuth. Using my knowledge of art history, experience in art, my curiosity, AND Google, I was led into this work. Curiosity helped me take clues and put things together.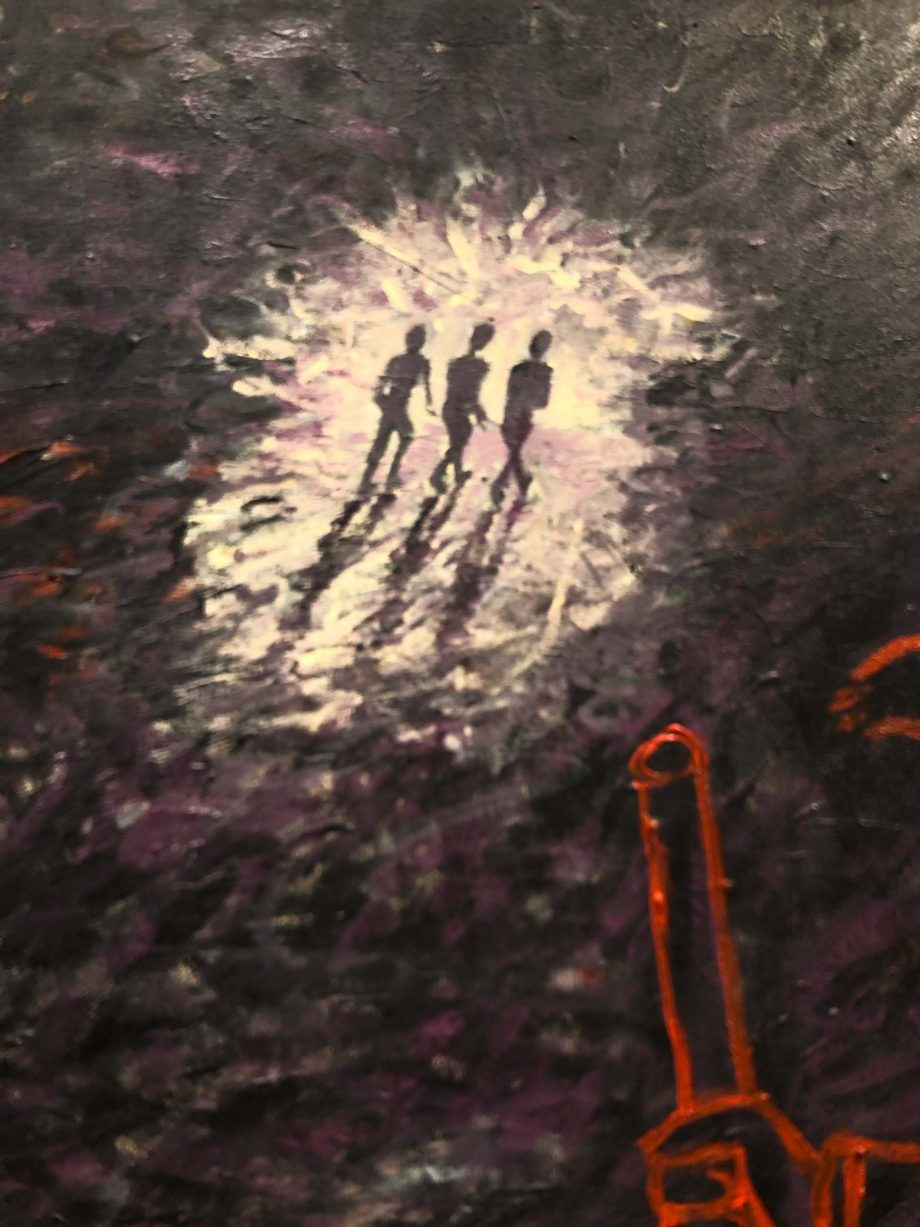 Visually, the darkness and the little cloud of light in the upper right with the three figures in it caused me to slow look. It was the struggle of the lines, the marks showing anxiety and listlessness and unsettledness, that I immediately recognized and felt in myself. The central abstracted figure seems to be beaten down and in pain. I assume this is Job. He appears to be in a land of trash and a city dump. I tried to make something of the materials on the ground strewn around him- are they art supplies? This looks a lot like some studio floors or palette scrapings. Is this a commentary about the stress of an artist to be seen and then, upon being seen and supported, feeling owned and stifled? The stress of having to create in order to sell? Of having to please through commission? Of surviving by cutting off one's soul? Which is the artist? Job? Courbet? Both?

 It doesn't matter what I project. What can you see?

What is clear is that spot of light and the three friends of Job's walking OUT of the picture, leaving him alone. If you've read the book of Job, this is a significant theme; how his best friends glibly blame Job for attracting his woes; how they make a case for the blame and shaming Job. They "meant" well. They thought they were speaking the truth. Hence them in the light above him. But all I see is they've walked out on him. Selfishly throwing some words on him and walking out on his suffering in a compassionless threesome, feeling that they did their cursory duty, but in reality, they are just glad it is not they who suffer.

Smith stops and freezes JOB here. This is the artist's choice; he brings Courbet in from the right as if Job were being met by the artist. Without speaking to Smith, which is highly unusual to be able to do for the regular art patron, I am left to project my ideas on what little he has served us.

The artist was possibly engaged in an epic struggle in painting. In a former interview, artist Eric O'Dell described painting as the battlefield. Perhaps this is Smith's experience as well. Maybe the artist was exhausted from having to sort out artistic angst on the canvas. Perhaps his commiseration and understanding of the struggles of greats like French painter, Courbet, helped "save" him more than his well-meaning "friends." I am not sure!

Jerry Smith is a very smart and skilled painter. I truly love this painting, and I visit it often in our permanent collection. But it is BIG and deserves floor space and wall space and proper lighting to enjoy fully, and it has these three things in spades right now on view in Georgia's Gallery.

Works such as this make me feel as though I've been engaged in a secret story. I have to play with the clues. I have to feel my way through. And in the end, I don't get any real answers but more questions. Great art will do that for you. Provide you with great questions.

Come see the show! We have so many wonderful things up to show you now.

Consult masmacon.org for more info or write me.

My best to you and yours,

Kristy Edwards

Curator of Art

kedwards@masmacon.com