By Susan Welsh, Executive Director for the Museum of Arts and Sciences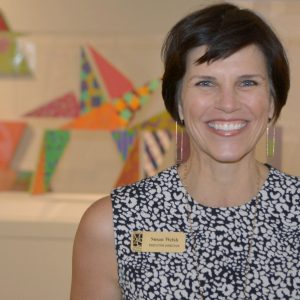 At the Museum of Arts and Sciences, we're united in a common purpose to cultivate a new generation of wonder junkies. From exploring the mysteries of dark matter in the planetarium to creating vibrant abstract performance art in the Light Box, unlocking the wonders of the world is a summer assignment your entire family will ace. This summer, we are especially excited to offer Great Balls of Fire: Comets, Asteroids & Meteors, an award-winning exhibition developed by the Space Science Institute with funding from the National Science Foundation and NASA. Take an immersive interactive journey to the outer limits of the galaxy, without leaving Macon.
Also new this summer, two intriguing STE+aM exhibits! Origami Interpretations, an exhibit of twenty-five vibrant paintings, sculptures, and prints by New York Artist Gloria Garfinkel. The artist, whose work combines complex geometry and painterly invention, is particularly fascinated by the traditional Japanese kimono and obi. Her work celebrates not only the beauty expressed through the garments but also the art of recycling and layering fabrics to create unique looks and patterns.
After you've mastered the art of origami, explore the microscopic world of the human eye in Windows to the Soul: The Human Eye and Our Health. Art and medicine come together in a dynamic, 3-D photography exhibit that explores the human eye and features highly detailed images that are captured through state-of-the-art medical photography equipment by Kenneth Thompson. This Atlanta-based, award-winning ophthalmic photographer has photographed more than 100,000 patients throughout his 35-year career.
The families of Central Georgia deserve high-quality programming. Thankfully, we are able to offer amazing exhibits year after year because of the support of thousands of members, donors, and visitors – and few fundraising events!