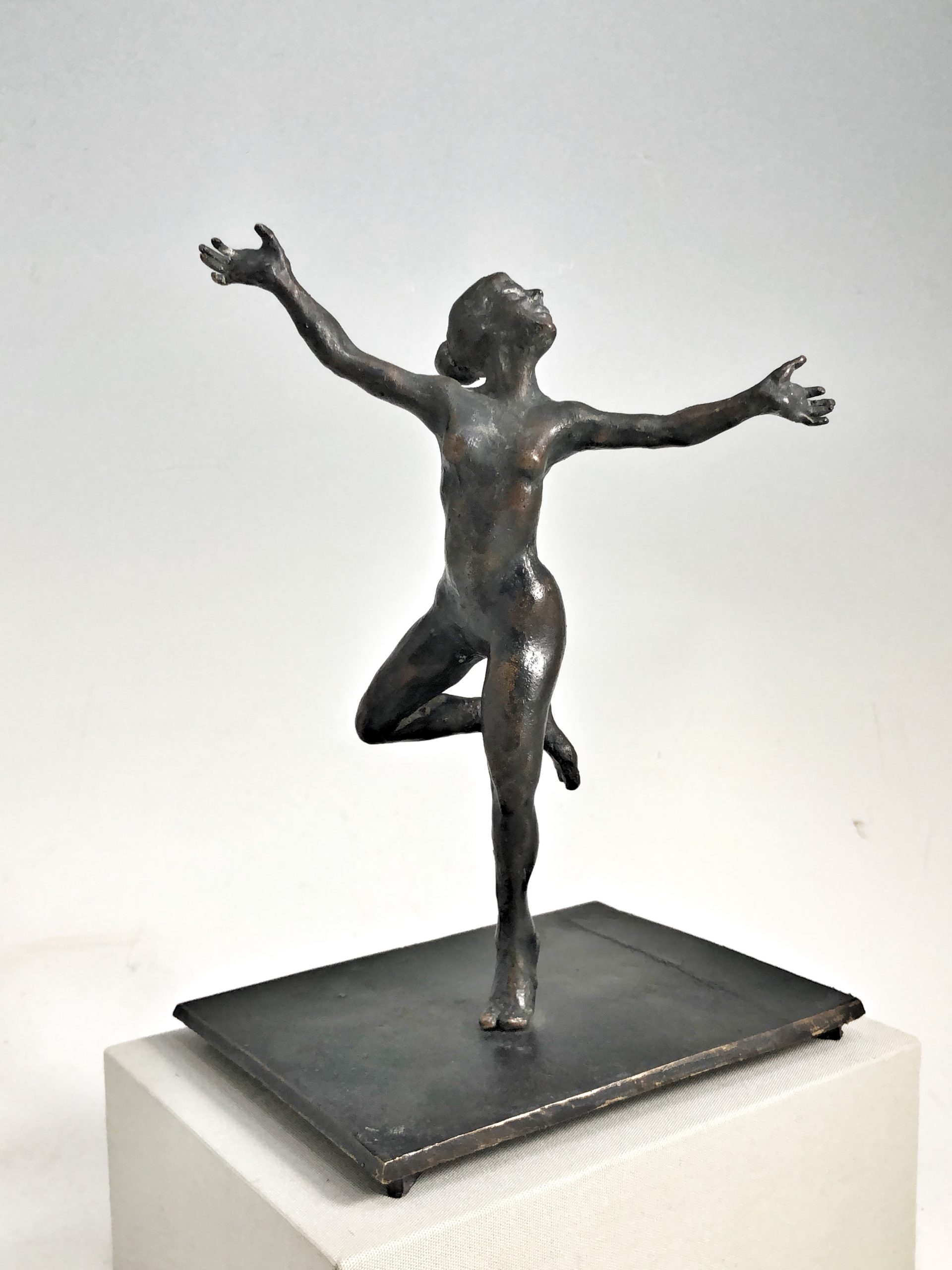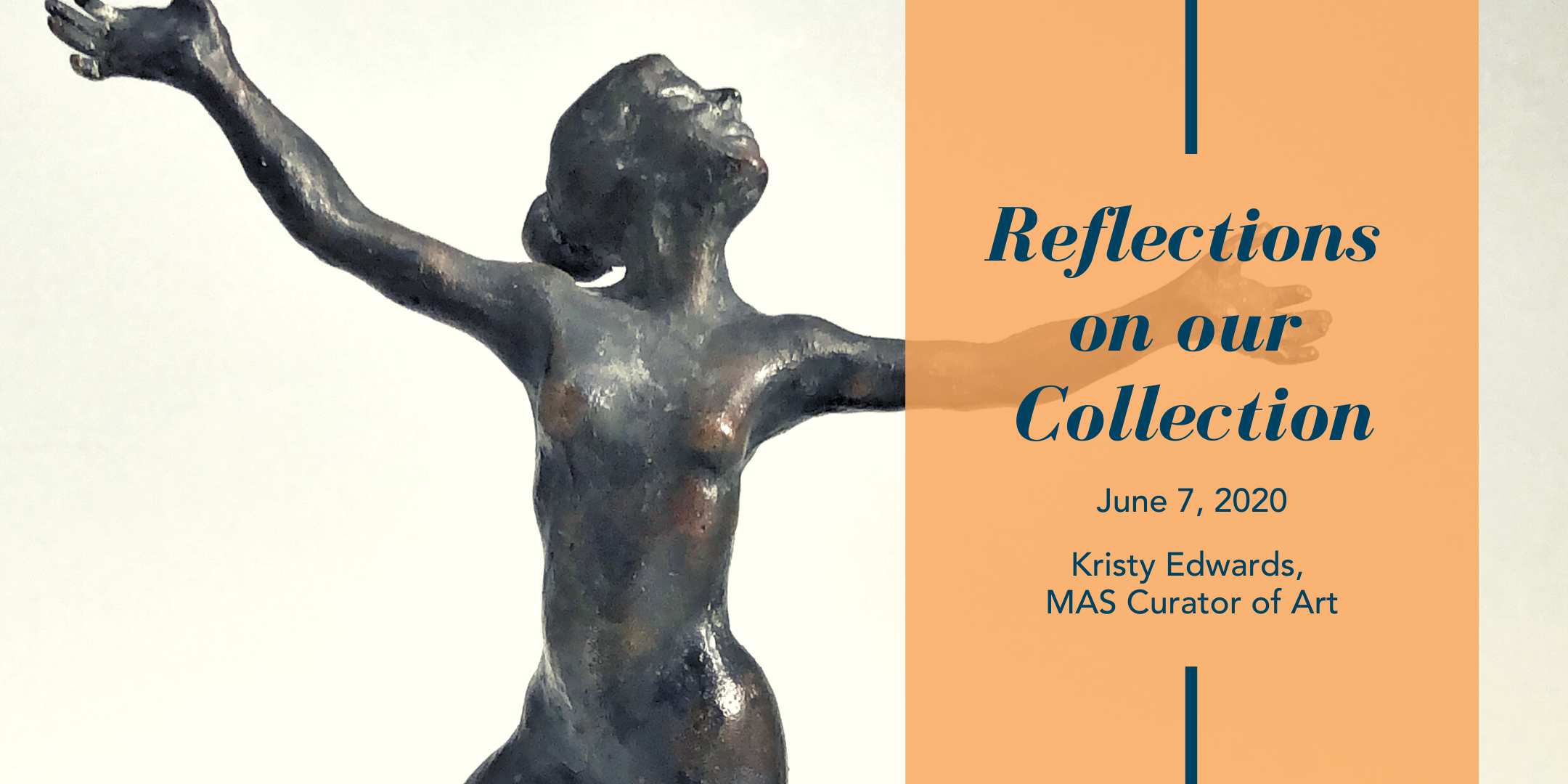 Looking deeper at the artwork held by the MAS and matching it with poetry.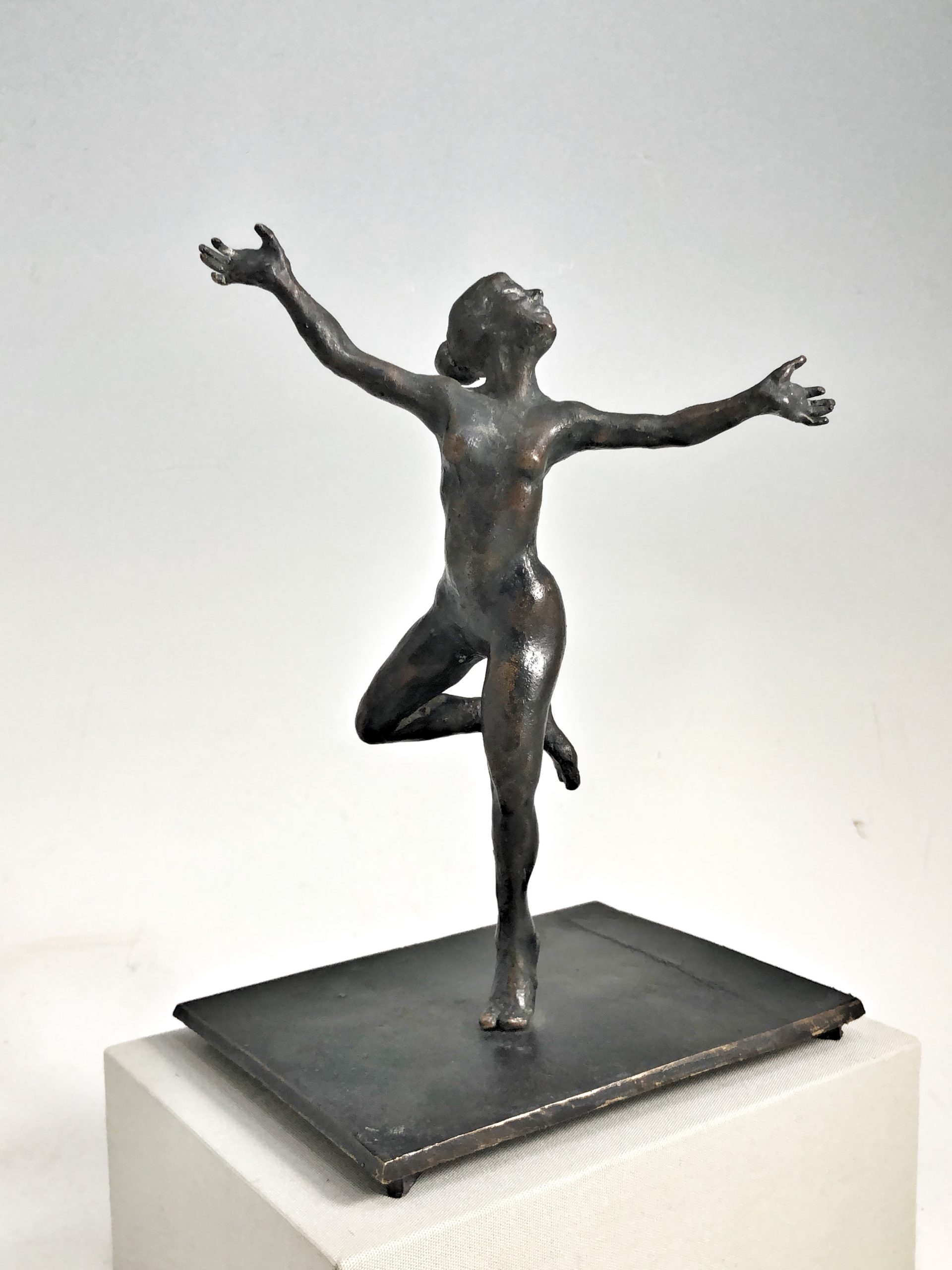 "Dance #3," John Quinn; Cast Bronze; 1987; A87.4.5
This small cast-bronze sculpture measures 8.5" high and 6.25" wide. It's perhaps diminutive in stature, but it bears a generous and open spirit. A young girl, classically formed in her pose and hairstyle, caught in mid-dance- arms open wide, face upward towards the sky. Everything about this sculpture describes the openness and joy that can be experienced by dance, by letting go, opening and hearing the "music" whatever tune it may take in our worlds. Created by John Quinn, a Georgia artist who worked and taught in Dalton, Georgia. He was born in 1948. He describes his work for us in our documents and tells us that he leaves the details unfinished so that we, the experiencer, may 'complete the art on our own' as a generous collaboration. He tells us in our documents how to wash and care for her and how she is made in two pieces and held to the base by a small screw. He tells us how vital movement is to him and how fascinated he has been by the human figure as an artist.
I chose her from the dark shadowy shelf of the vault. She actually chose me. She said, "Kristy, here- here I am!" She wants to be seen. She was seen by Executive Director, Nancy Anderson back in 1987 and by the registrar who entered her into our collection, onto our shelves. And her joy has lasted year after in the climate-controlled darkness of our vault. She will express this joy in perpetuity.
Thus is the power of art; the ability to hold an intention in a form, in a substance, in this instance, bronze, for an undetermined amount of time. I'd like to think forever.
Here is a short poem by Robert Frost that holds a significant thought to ponder:
"The Secret Sits"
We dance round in a ring and suppose,
But the Secret sits in the middle and knows.
- Robert Frost
If we look deeper into the history of art, and at Dance # 3, we might recall a familiarity of her face in that of Degas' Dancer at 14 years old. The upturned wide and still innocent countenance of both girls, suggests that perhaps John Quinn had her in mind when he chose this pose.
Cast of "Etude du nu pour la Petite danseuse de Quatorze ans" by Degas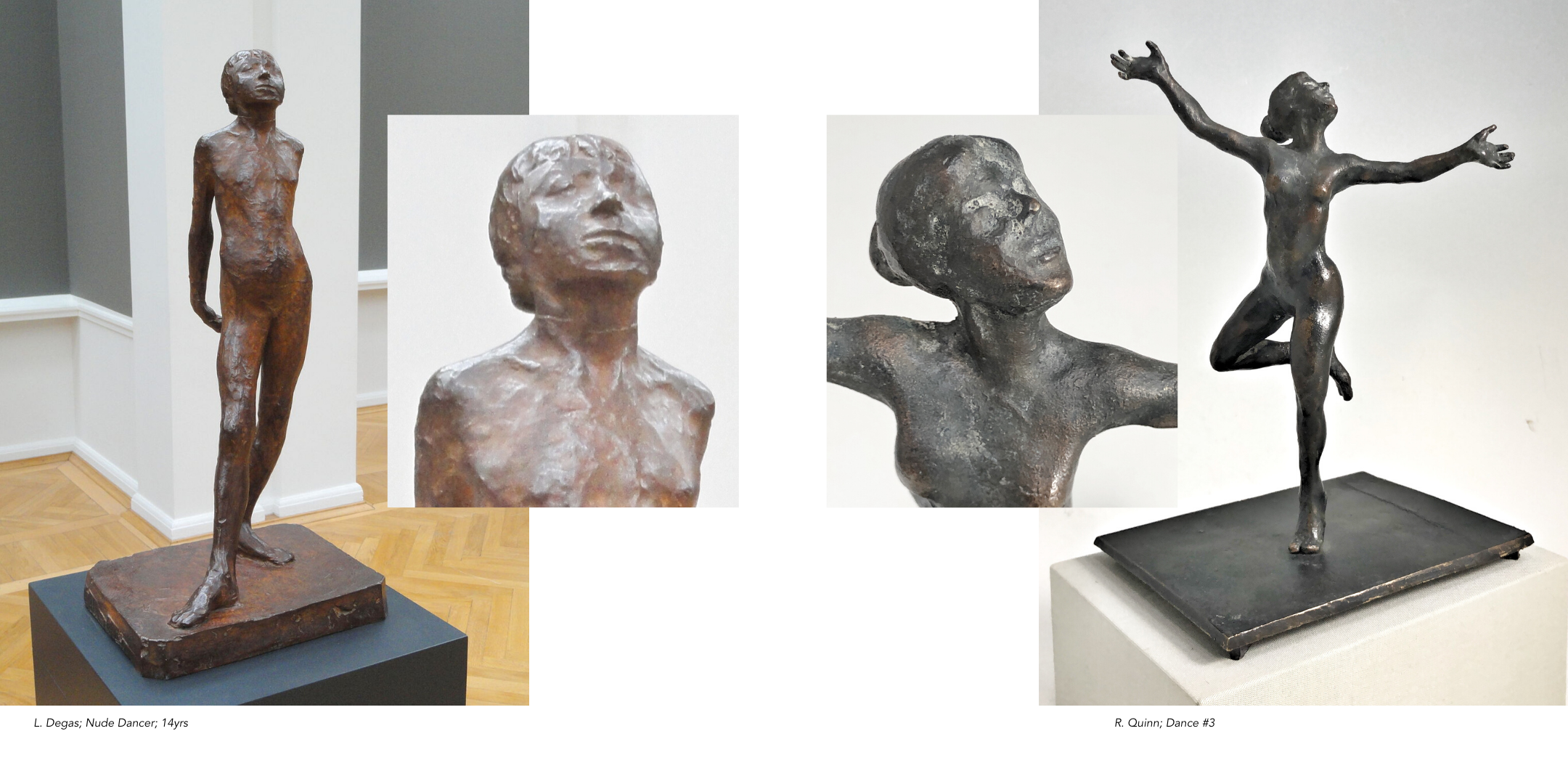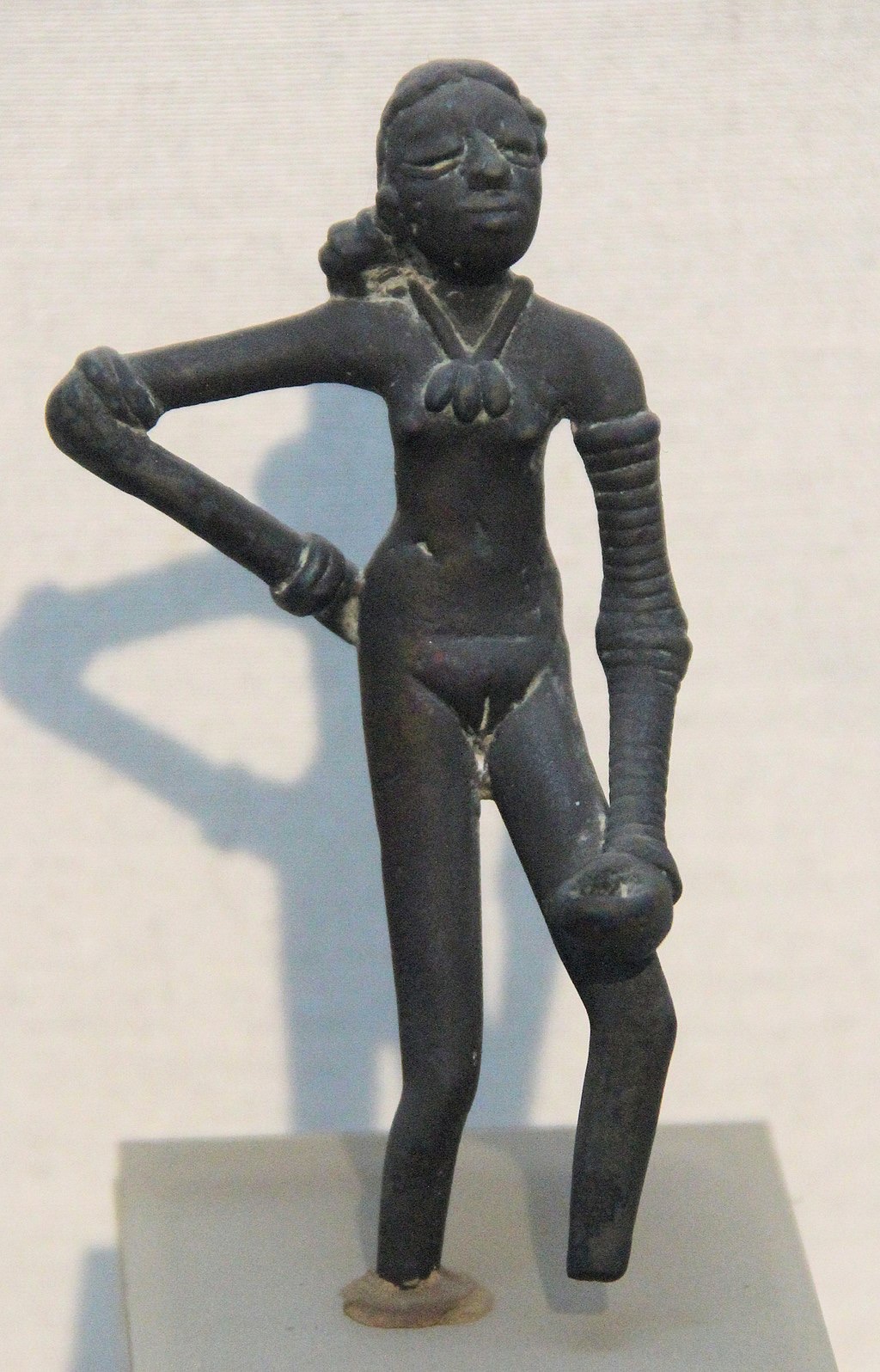 Moreover, I find it interesting that sculpting young female dancers is a genre of it's own–beginning here with one of the earliest ever discovered:
"The Dancing Girl of Mohenjo-daro;" 2300-1750 BCE; bronze; height: 10.8 cm (4 1⁄4 in.); National Museum (New Delhi, India).
She is thought to be about 15 years old - she will be 15 forever. Consider that for a moment! Ars Longa, Vita Brevis indeed.
Thanks for joining me looking deeper at our collection here at the MAS. Given the complexities of current affairs and as we dance around
in the circle of life each day, let us remember the secret sits in the middle and knows. It's in the heart of the matter.
DANCE!
Kristy Edwards,
MAS Curator of Art