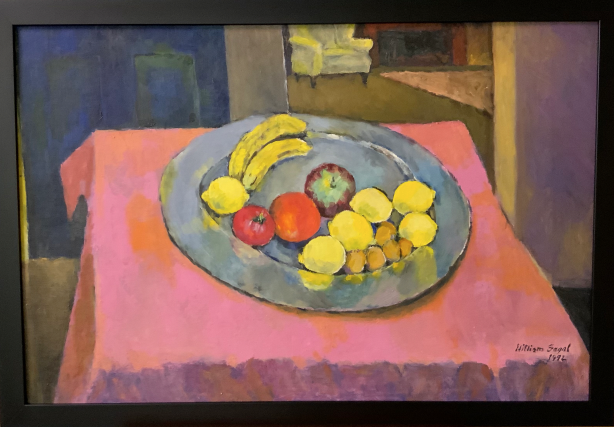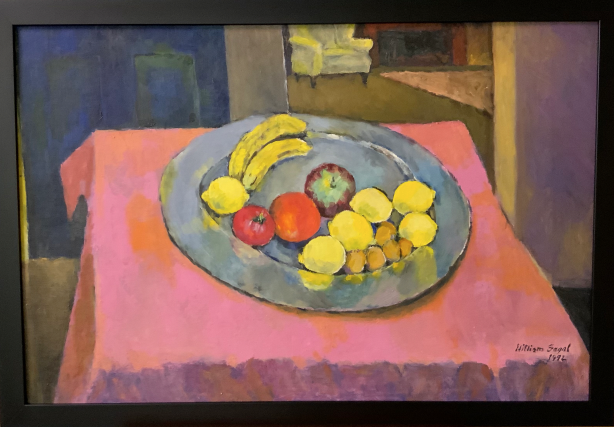 "Still Life on Rose Cloth"
William Segal
Oil on Canvas Board
24x36"
1992
A2017.06.17
The Art of Painting the Still Life
The phrase itself conjures up a sense of peace. Still life: a long-honored genre in painting which refers simply to things placed in such a way that they create an attractive display.
Let's take a closer look at the various ways artists may choose to approach this genre. Sometimes the items are carefully chosen by the artist and have subtextual meanings. They are not merely random objects in this type of still life.
Another approach exemplified by William Segal is to draw our eye to and interact with the natural qualities of the objects, their placement, their color, and how light plays on the surfaces. His work is on display in the Elam Alexander Gallery through May.
Each of us has passed through a room and stopped to admire an ordinary arrangement made perhaps unconsciously on a table or counter. An artist might visit that scene as a natural subject for a still-life painting. Small vignettes grace our homes in every direction, and by arranging objects in relation to each other, we are creating a still life in real life.
Whichever of these ways is chosen, there is no doubt that the objects are placed with some kind of intention regarding light, shadow, and relationship to other items.
For three consecutive Monday afternoons, a group of participants (and you are welcome to join us here at this link: STILL LIFE CLASS) will meet via Zoom to discuss the approach to Still Life painting based on the inspiration and example of the late Mr. Segal. Using stillness and meditation, we will embark on a rewarding endeavor whereby each of us will create our own arrangement and then paint it in the medium of our choice. Then, we will convene for support and encouragement on Monday afternoons at 3 pm.
Finished pieces by participants in each class are welcomed to show in the Elam Alexander Gallery here in the museum alongside William Segal's art.
Once participants have committed, I will email you more information about this genre. It is my pleasure to be your guide as we approach this time-honored tradition.
In the Still Life event, we will be diving a little deeper into the different types of Still Life in art history. The sub-genre of VANITAS is fascinating.
And then there are the Flemish Masters, who, through seemingly supernatural powers, were able to pull off realism in Still Life, which is amazing. I will also focus on the important contributions to Still Life from French masters of the 18th century, Anne Vallayer-Coster, and before her, Jean Baptiste Siméon Chardin and his American counterparts in the Peale family.
Contemporarily speaking, there are artists who paint the ordinary Still Life that is far from ordinary. These arrangements are the simpler ones of one or two objects just laying before us that are rich beyond words and deserve to be painted. Light hitting a banana on a summer morning is sometimes just so magnificent that it must be captured! Or a full-bloomed rose in a vase lighted in such a way, such as in the work of Julian Merrow-Smith, an English ex-pat living in Provence.
Empirical Reality is full of awe, and the art of Still Life is just one way to pin some of that awe down so that we can internalize beauty. Internalizing beauty is an act that I believe we are each born to do. Let's do this together. Join us for the Art of the Still Life.
My Best,
Kristy Edwards
Curator of Art
kedwards@masmacon.com
478-477-3232