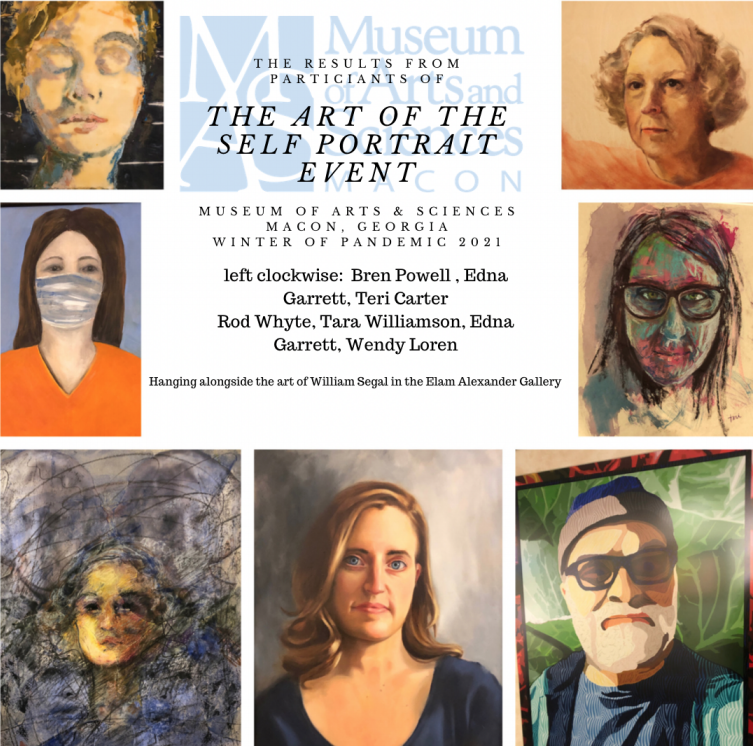 Seeing and Being: The Art of Self Portrait Event
When I curated the Segal "Seeing and Being" exhibition that coincided with the accession of 17 important works by the late William Segal, I felt a pull towards creating some kind of relevant community invitation. Segal, Macon born, was a publishing magnate, spiritual seeker and practitioner, and general all-around aesthete extraordinaire. I wanted to take the model that Segal practiced under (using stillness and mediations; a means to help him pay attention to the beautiful world that surrounds us) and then connecting that external reality to the reality of our interior space. I wanted to reach out to the artists out "there" in our community and beyond; I wanted to use his example in real-time with real people.
The first of these events was intense Self Introspection (as Segal himself practiced), and the event, which is over now, was called "The Art of the Self Portrait." Several artists saw the promotions and signed up via masmacon.org. The offering came through zoom, and I served as host. I would not TEACH but rather guide and offer support, creating a small, close-knit community. We would investigate these practices of Segal's together. The fruits of the labor, the self-portraits of the participants, would be offered to a larger audience via the walls of the Elam Alexander Gallery and our social media.
I have waited to report on the event's success until it was completed. We are now most of the way through the second event, The Art of Still Life, and those works will soon join the Self-Portraits hanging in the museum. In the deep spring, we will have the last of the three events- The Landscape. All three of these genres are offered in the Seeing and Being exhibition, which were painted by Segal. This community was created alongside a man who has long since been dead (Segal passed in 2000), who would be 117 years old. Consider this: his influence is alive and well 21 years after his death, all because of his lifelong valuable example of making art by creating paintings and consistently using spiritual guidance and introspection as his template. I feel sure the spirit of Mr. Segal floats happily and most satisfied through our whole event cycle.
The community at large is invited to come to see this unique show, both Segal's work and the amazing works of art done by the participants. The self-portraits are up now and are featured in this blog below.
The following works are offered for your enjoyment with permission given from the artists: Edna Garrett, Teri Brice Carter, Wendy Loren, Tara Williamson, Rod Whyte, and Bren Powell.
Edna Garrett, Perry, Georgia
"This portrait class challenged us to look deeply into ourselves in order to paint a sensitive self portrait as inspired by the works of William Segal. We were encouraged to use meditation, music or other means of self reflection to look past our exterior image to portray our inner selves." (Edna Garrett, Perry, Georgia)
Edna Garrett, Perry, Georgia
"Our perception of ourselves is different than what others see. And, when we look in the mirror, we see only our exterior, and that in reverse. The truth lies somewhere in-between." (Edna Garrett, Perry, Georgia)
Terri Brice Carter, Macon, Georgia
"I'm drawn to color and how it relates to value. For my self-portrait, I wanted to create a recognizable representation of me without leaning on realism so I chose to look at values instead of color matching and work from that angle. I worked mostly from a mirror which is not the norm for me so, when I finished, I realized that my portrait is actually a mirror image of me- my artistic reflection!"
Wendy Loren, Hendersonville, North Carolina
"Capturing the feeling of confinement during the first 6 months of the Covid-19 pandemic. The feeling was heightened by the necessity to move into a tiny apartment for a period of time before we could move into our new home in October."
Tara Williamson, Kathleen, Georgia
"In creating this self-portrait I aimed to show a compassionate expression. With sickness, hurt, and loneliness at the forefront of every human's mind in this time, I feel compassion is so important for all. While I was creating the portrait I pushed the color of my blue eyes to be more saturated than in real life. I paired that color with the color of my shirt and it resonated with me. I realized that what I also wanted were bright blue skies instead of clouds. I wanted to have hope. Hope for the future and hope for happiness."
Rod Whyte, Macon, Georgia
"A professional artist and retired art educator, I found digital painting in the early days of its inception. Being a long time painter who loves color, I learned to use the iPad and computer software to create color texture and patterns in my work. This self portrait shows my feeling of contemplating loss and isolation during Pandemic. Art has been a way to keep me in touch with my spirit and express love of the world around me."
Bren Powell, Macon, Georgia
"Working in encaustic- creating art by heating and melting colored waxes to give design, texture, depth to the painting, this technique presents challenges in getting details and controlling lines. By carving back the layers, the artist is able to get unique unreproducible results working in the present moment to create the piece. The layers makes it difficult to control lines so you can see some carving back which also reveals melting of the tree resin and beeswax. It is an organic medium with which both physicality and a bit of courage play equal parts. I love working in encaustic because of these unique properties."
Bren Powell, Macon, Georgia
"Although a self-portrait, I painted this to demonstrate the versatility of the medium showing texture with honey dripping from the top and appreciation to the honey bee."
I have formed quite a bond with these amazing individuals who joined our event and created these beautiful, thoughtful pieces. These are our people, take a look at them and know them. They are indicative of what's possible when we join together for art, as a community, with deep introspection and care.
I look forward to bringing you the finished pieces of the Art of the Still Life Event, which will finish on March 29th. The works will join these above in the Museum of Arts and Sciences Elam Alexander Gallery, awaiting those yet to be painted in the Art of the Landscape event which happens in April.
Please come see us- so many valuable things to see and experience at the Museum of Arts and Sciences.
My best,
Kristy Edwards
Curator of Art
kedwards@masmacon.com
478-477-3232