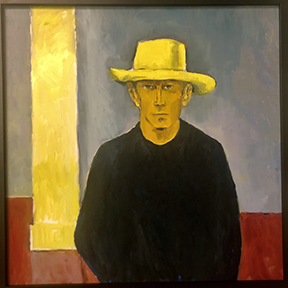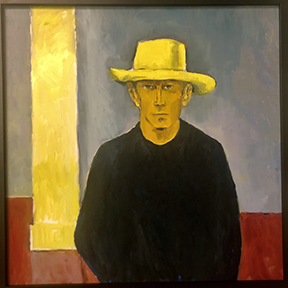 Yellow Hat, Red Floor, Paris
William Segal (self-portrait)
Oil on Canvas
Ca. 1980 A2009.1.1
MAS will be hanging the works we received in 2015 by William Segal. These works have never been shown before and will be hung in the Elam Alexander Hall Gallery for an extended period. The 17 works were gifted to us from the estate of his widow, his second wife, Marielle Bancou Segal. William Segal was born in Macon in 1904 and spent several of his formative childhood years here. We are accessioning these works into our permanent collection.
In 2009, filmmaker Ken Burns, a close friend of William Segal, traveled to Macon to give a speech about Segal's life and work in conjunction with a show of his works. Burns made a three-part film on Segal years ago and is available to watch free on Amazon Prime. Segal was a fascinating man and lived mostly in New York City during an era that is often depicted in movies and magazines. The heyday of American modernism, growing advertising, capitalism, building boon, production, fashion, interior design…..all of this was happening during Segal's life and it seems- right at his feet. He was a publisher of a trade magazine to the fabric industry- both fashion fabrics and interior decorating fabrics- his publication became the 'go-to' for the industry. From this, he combined his expertise in publishing and his gifts for art and aesthetics and started another magazine called Gentry and you can see some examples of those here. Segal was aesthetically inclined, artistic even. He began to paint in his extra time. Being near the famed Arts Students' League allowed him access to the best teachers. This is a beautifully executed nude study likely done there in 1923 - charcoal on gris paper.
What made (still makes) Segal so fascinating was his study and seeking of philosophical and spiritual matters. When his businesses did well financially, he took the time to find out more about the mysteries of being alive. As a Jewish man, he certainly had his upbringing in the temple, but he sought more. He began to search and study the teachings of Russian/Armenian born George Ivanovitch Gurdjieff in the 1940s. From there he joined a summer farm experience with a teacher of the Gurdjieff school, P.D. Ouspensky, and his wife. Segal, at the time, was married to Cora and they worked together in the publishing business and spent their spare time in the company of the Gurdjieff students and affiliates. Soon they became a sort of salon and supporter of the work of the Gurdjieff Foundation and upon Segal's death, he was, at 95, a co-president of the Gurdjieff Foundation. As if this were not remarkable enough, Segal traveled to Japan and lived and studied Buddhism under Japanese teacher Shunyru Suzuki. When Segal suffered a life-altering car crash in 1970 which crushed many bones and his face and took a year to recover, Suzuki told him that he was fortunate to receive such drastic training - an incident such as that was like sitting 10,000 hours in a monastery.
Segal's spiritual life and personal philosophies- his evolution as a human being- is directly related and entwined with his painting.
One of the skills he used to interact and experience the world he lived in was painting. He painted the Still Life, The Landscape, and The Portrait /Self-portrait His skill of stillness, looking, paying attention were great assets to painting. And painting is very much a mode by which to translate the world. Art, for Segal, was a visual byproduct of all that attention. We have tangible offerings of Segal's mindfulness in these paintings. Enjoy them, spend some time with each of them here at the museum.
There is a movement in art across our culture worldwide. It's called SLOW ART. We will be incorporating this movement into the Segal Show. It seems very appropriate to do this as Segal was very much- perhaps primarily- in support of SLOW attentive seeing. The way in which I hope to accomplish this aspect of the show is to hang the show for an extended period of time- as long as necessary, for us to SEE Segal and his point of view. And to make our own seeing visible with his.
Therefore, in conjunction with the showing of the Segal works, we are having three online "events". We will have an "event" on the Self Portrait, The Still Life, and concluding with The Landscape. These three genres are classical in painting and we have representative works in all three areas in the show by Segal. It is my intention to invite whoever is inclined and wants to watch, see, or participate, in these events/exhibition. At first, because it is winter and during Pandemic, we will begin with the Self Portrait. This offering will be online and I will figure out how to bring this to the community either by Zoom or through social media or both. The idea is for meditation and deep introspection. I will be able to encourage you, artists or not- it doesn't matter your ability to draw or paint. I will encourage you through guided mediation and support to SEE and to SEE SLOWLY. I can use my teaching experience and my painting/drawing knowledge to help this be a fruitful event for each of you who shows up for it.
This community event will take some subjective and objective attention, some vulnerability, and willingness to go into deeper quiet places. When we are finished, my hope is to invite the pieces to the museum to be hung alongside Segal's in a community show. The exhibition of Segal's works will grow over time as we will then take advantage of winter and being indoors during a pandemic to undertake the Still Life. When Spring rolls around and the pandemic should be better, we will paint outside here at the museum safely together and complete the slow art movement with Landscape. By Summer or late spring, the Segal Exhibit may stretch down the entire Elam Alexander Hall Gallery.

Clay Pot with Flowers oil on canvas ca 1950

Please stay tuned for details. Our "event and exhibition" is inspired by Segal's ever-changing looks at himself, how he deeply sought to know more of who he was. Introspection is a spiritual tool to help in our personal and cultural development, to allay anxiety and worry, and to spend time in the present moment. We will experience these aspects together online as we embark on a great experiment.
Follow my stories on our MAS Instagram and FB pages for more information. Learning as I go, I send and give
My Best,
Kristy Edwards, Curator of Art
Museum of Arts and Sciences
Macon, GA
Winter 2021