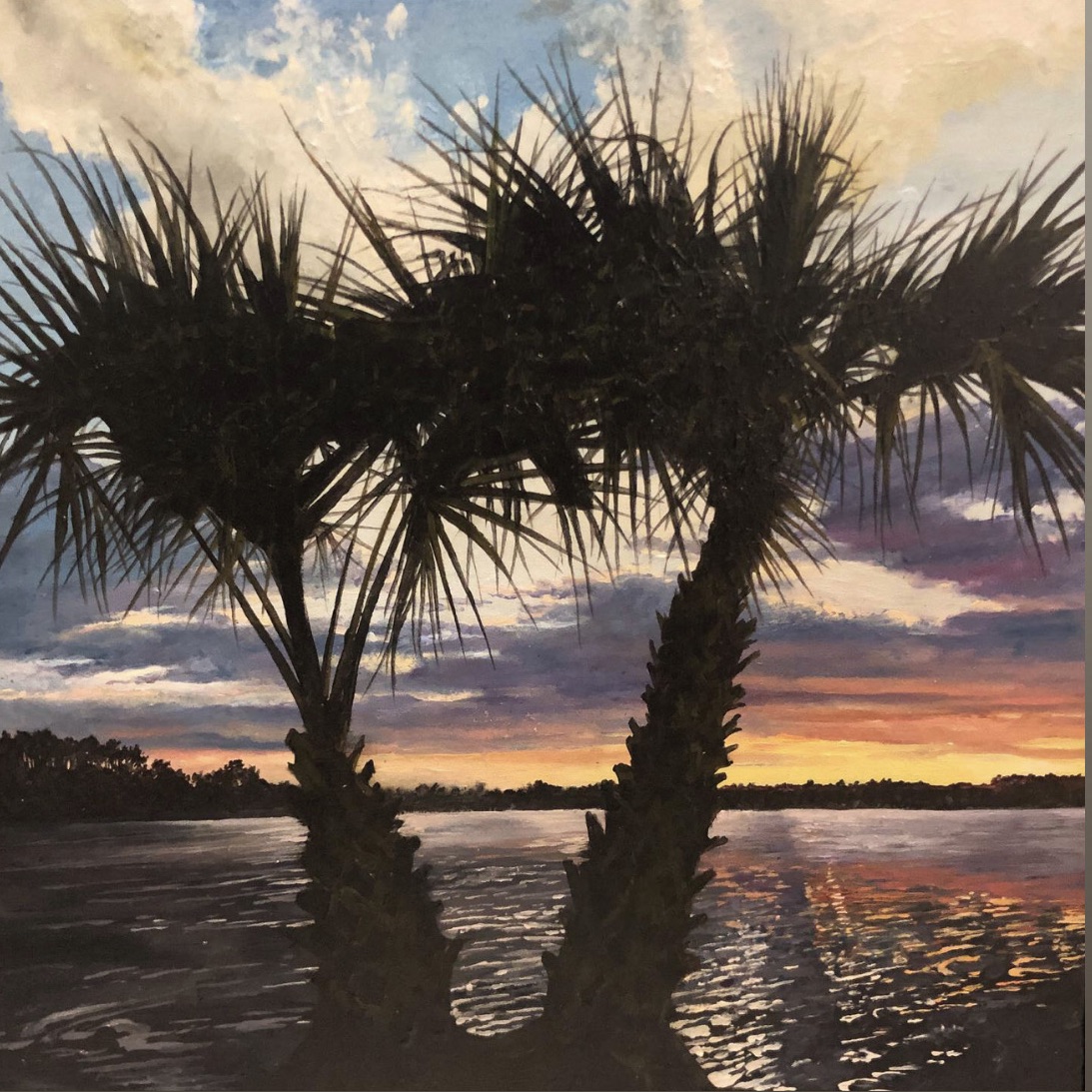 Eric O'Dell is a long time beloved human fixture of the Macon, Georgia art scene. He is both a practicing studio artist and professor of art at Mercer University (where he graduated and his daughters attend), and has also been an active supporter of our art infrastructure through being a mentor to young artists, an inspirer of peer artists to 'keep going', organizer and sustainer of art studio collaborations (Contemporary Arts Exchange, McEachern Gallery) and long time MAS Board of Directors member.
The piece was noticed and admired at the MAS's annual Emerging Artists show in which Eric was invited to participate in 2013, by Macon native, long time Manhattan resident, and MAS benefactor Stephen Reichert. Through Reichert's keen eye and masterful sense of collection, he purchased this painting and gave it over to our permanent collection and was accessioned in 2015. We are so very grateful to him and others like him.
Eric painted this silhouetted Floridian landscape in 2012 when his mother died suddenly and he went home to be with family and process the grief and reality of her death. When we view the painting, we don't know that this is a grief piece at all. He doesn't tell us anything about the state of life he is in while he's making it. For all we know, it's just a fantastic depiction of what a Gulf Coast sunset truly looks like. The painting is simply, and a bit cryptically, named "1982" because it denotes a year in his life where many unsettling things occurred, both to him personally and to his family, that were stressful traumatic life-changing events. His path forward was made in that year.
I've sat and watched Gulf Coast sunsets with my painter's eye. I was always daunted by such a scene, worrying that if I attempted to capture the glory of the blaze of colors against the black landscape, it would most likely read as kitsch. But Eric masterfully captures it. There is no sense of kitsch or cloying sentimentality to this at all. If there is any "Postcard" element to it, it helps describe the truth of things: the paradox between such unfiltered beauty
before us in the midst of the truth of such dark pain.
Comparing the painting process and canvas to the battlefields of Troy in Homer's Iliad, Eric tells how he approached the work as "a more rational place to confront and wrestle with the opponent - our angst, grief and darker emotions ."(Famous painter, Odd Nerdrum, told a group of us once that painting for him was like" keeping from drowning") O'Dell had come to this place in Florida- a familiar comforting spot because of its natural and pure beauty with the comfort of home, to come to grips with his mother's death. What he saw, he painted. But he put more into what he saw, he put himself, his emotions, his confusion, his questions all in the painting buried below the finished painting.
Eric sent over some process shots he wisely took along the way in making "1982". It is by these shots we are informed to his layered work. He said of this first shot, it is as in The Book of Genesis, "first we separate light from the dark, heavens from the earth". The next shot shows how he put lines from songs- "her presence is heavy in the air" into the landscape not intending to keep them there in the finish, but using the deeper layers to embed the thoughts and raw feelings he was having along the way of capturing this scene of sunset. The finished painting has secrets we do not know of, we cannot see, will never see when we look at it because they are buried deep below the paint. Just like people, they are there, deep in the subconscious of the painting itself.
Here are the lyrics of "She's Gone" by Willie Nelson, a song from which O'Dell paints a line into process layer 2.
She is gone
But she was here
And her presence is still heavy in the air
Oh what a taste
Of human love
Now she's gone and it don't matter anymore
Passing dreams
In the night
It was more than just a woman and a man
It was love
Without disguise
And now my life will never be the same again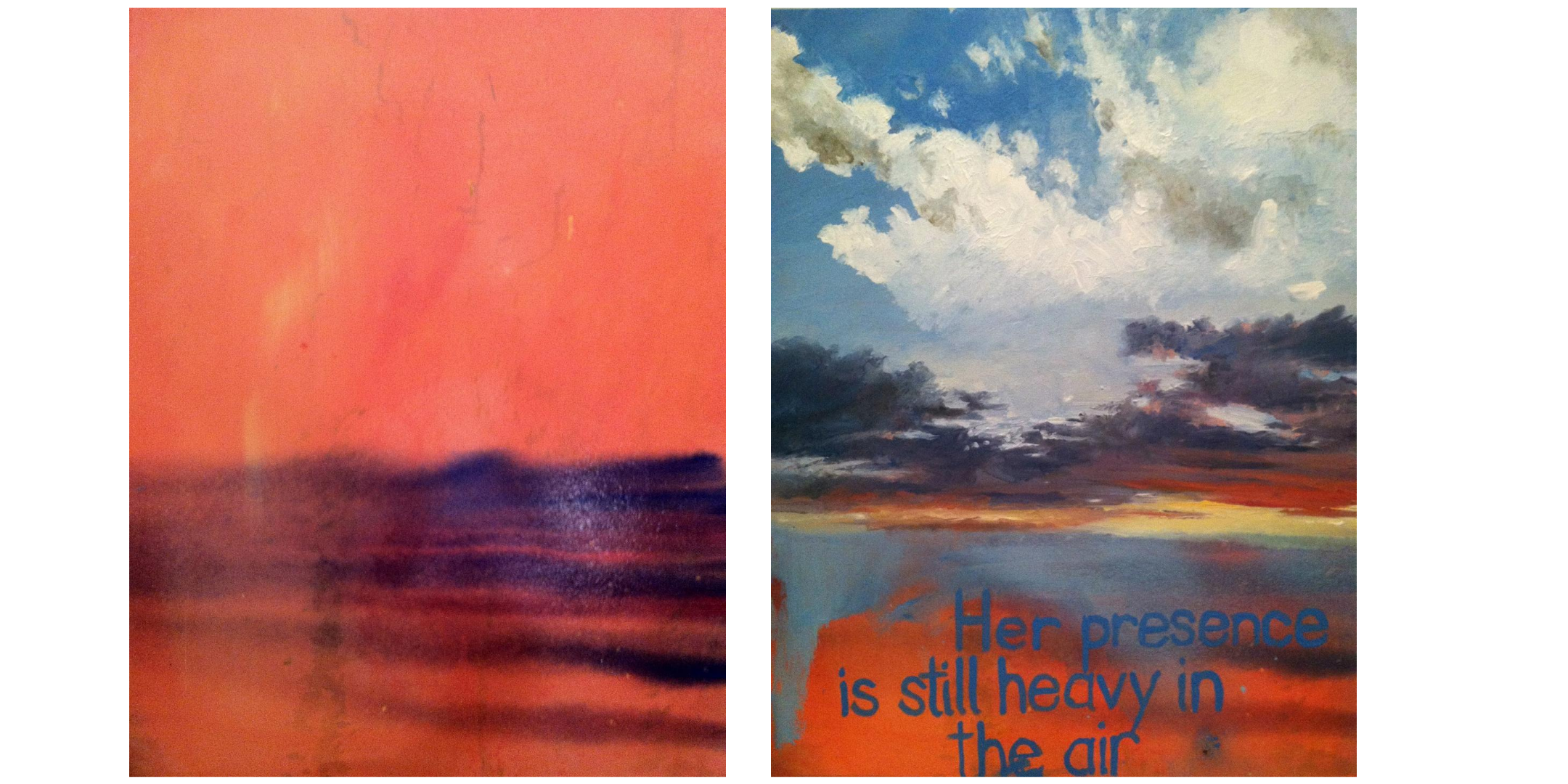 There are more layers with more words and sentences painted in and then over buried unseen below the surface than shown here. These are just examples.
"1982" is not lachrymose or maudlin at all. Because the viewer is eclipsed from knowing all that lies beneath it, we are free to relate to it just as it is: a moment in time caught by an artist who paused long enough to see it, note it,
and commit that it was a moment that could stand up to the rigor of a painting. This moment of sunset and seaside, with the palm fronds disappearing in the fading light, is a gift to us from Eric O'Dell just as it is. To know the layers and what they contain, to know his state as he worked through his trauma; the trauma of being alive, to know all that gives the painting a dimension that I can't name. It's beyond space and time.
All of this being said of this painting could also be said of a human being. We encounter people, view them, stand in front of them literally, and see them. But what we never know is the complex layers of their experience. We never see their wrestling the daemons of their personal psyche. I don't think I will ever look at another painting or person the same again after writing this. It is as if I have had an epiphany. Every painting- because it is painted by a human hand connected to a human heart- will always have layers of wrestling, layers of angst, joy, sadness, trauma, silliness, all that is human. All the human struggle; choice is in every layer of every work whether we see process shots or not. And so it is with people. And I'll approach both art and people with the same sensibility- what I see before me is more complex than I can ever access. The main difference might be that humans are continually evolving; whereas the paintings are fixed at some point. At some point, they are stopped. The wrestling is stopped and as Eric said at the end of our conversation referring to a painting that "it's as good as I can get it, good as I can make it". Picasso is famous for having said, "There are no finished paintings, the artist gives up on them."  The artist just couldn't go at it or into it any further. We put the brush down and move to another.
And The Beat Goes On.
Thanks for considering all this on your Sunday afternoon,
My best,
Kristy Edwards
Curator of Art, MAS Macon