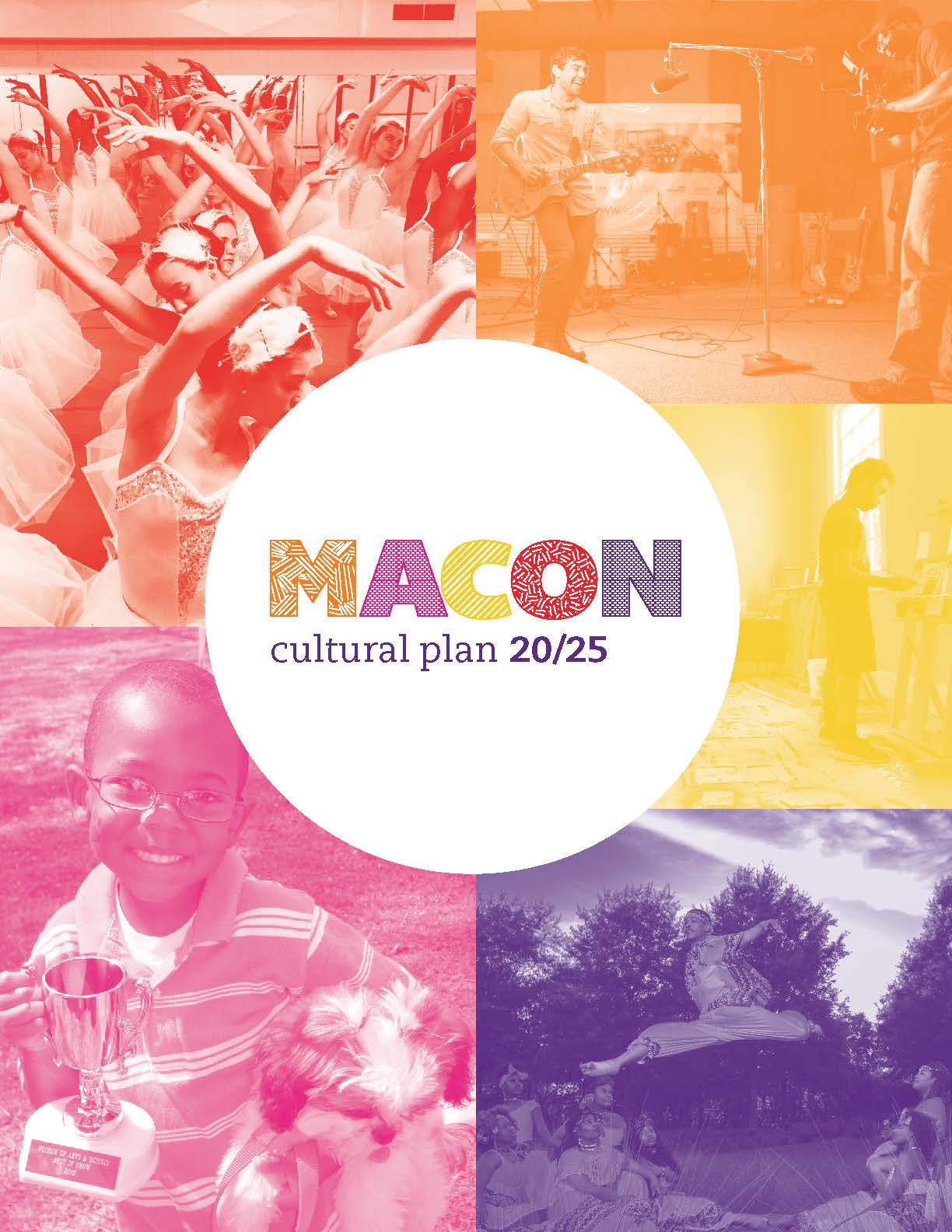 A County-Wide Discussion of Why Culture Matters
This plan will give us the tools to use art and culture to ensure access to arts and arts programming for ALL Macon residents, encourage a creative community that attracts new residents to live and work in Macon, and bolster existing arts and cultural institutions and create new opportunities that increase tourism.
Just weeks before this plan was originally set to launch publicly, the COVID-19 pandemic
reached America and deeply affected the landscape of our cultural community. While it
became obvious that our launch plans would need to change, it was equally clear that the
fundamental goals and strategies of this plan did NOT need to change. In fact, this work
is even more important than before. The crisis revealed more than ever how deeply our
community, like others worldwide, relies on arts and culture to provide solace, inspiration, and
hope. In Macon, the process of creating this plan positioned us to respond much more strongly
to the crisis, after a year of working closely with so many stakeholders throughout the county.
Recognizing the potential of arts and culture to drive community connection and economic
growth, the Macon Cultural Plan aims to increase arts access and engagement across the
area. Our community has articulated the value of creativity, arts, and culture in numerous
ways, affirming the authentic "sense of place" we wish for all Maconites to experience and
share. Transforming our collective vision into coordinated action, with the widespread support
needed to advance our region, requires ongoing and inclusive strategic planning efforts. Here,
we present a beginning: a five-year plan specific to the cultural arts sector to guide public
and private investments and broad initiatives needed to strengthen quality of life, stimulate
creative industries, and expand cultural tourism.
This plan was funded by a generous grant from Knight Foundation and led by a community
partnership including the Macon Arts Alliance, Visit Macon, Community Foundation of Central
Georgia, Greater Macon Chamber of Commerce, Bibb County School District, Macon-Bibb
County, Mercer University, and Museum of Arts and Sciences. A steering committee of more
than 50 arts, cultural, and community organizations ensured the community-wide input that
informed the plan's focus on economic prosperity, equity, and inclusion.
Thanks to those many hearts and minds, Macon's soul sings in these pages. With a broad
spectrum of organizations and leaders involved, this represents the most dynamic cultural
planning process in the history of our city – resulting in an actionable vision that builds on
the work of other regional strategic plans, addresses challenges, leverages opportunities, and
guides us to even bigger dreams. These dreams have only grown under COVID-19. At times of
crisis, the arts and our cultural expressions play a crucial role in managing our uncertainty and
improving our social cohesion. We are heartened to have this plan to map a hopeful future.
Let's get started!
Susan Welsh and Julie Wilkerson