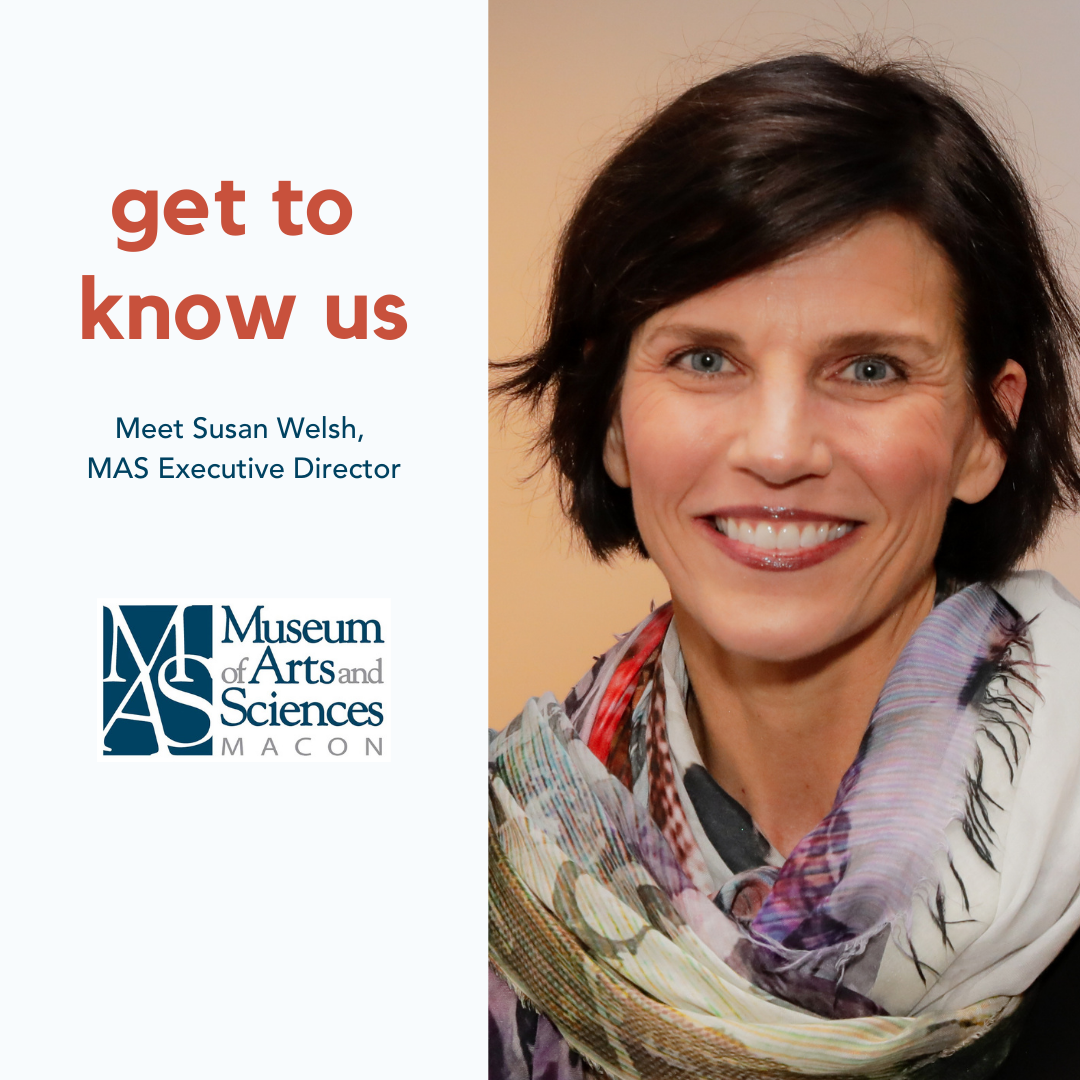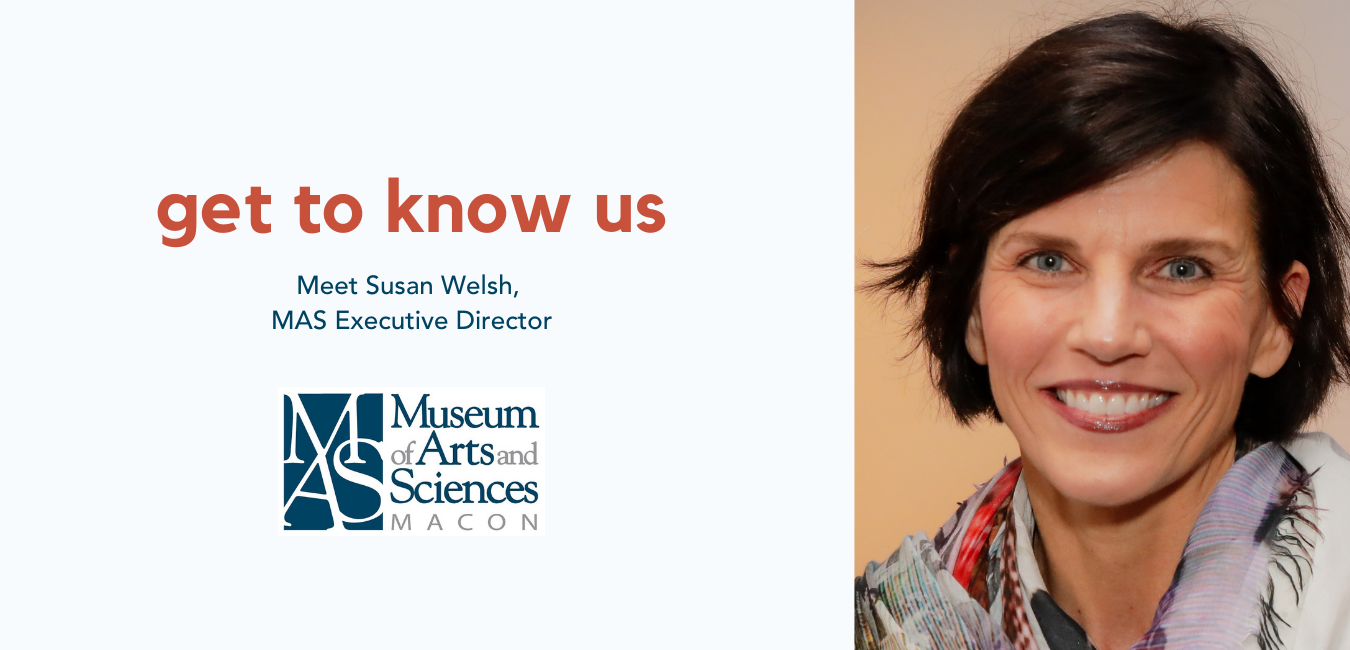 By Christopher Collier, guest writer of the MAS
Welcome back to Get to Know Us, a Q/A series giving readers a personal look into the lives and careers of MAS staff members.
Today's guest is Susan Welsh, MAS Executive Director.
Susan Welsh serves as the Executive Director of the Museum of Arts and Sciences. She is a graduate of the University of Georgia but also studied studio art and art history at Wesleyan College. Susan is an active member of the Macon Rotary Club, the co-chairman of the Macon Cultural Master Plan, and serves on the Visit Macon Board of Directors, Coliseum Health System Board of Trustees, One Macon Steering Committee, Friends of Macon Music Executive Board, and Wesleyan College's Confucius Institute Advisory Board, among others. Before joining the Museum in 2012, Susan served as the Vice President of Institutional Advancement at Wesleyan College, where she provided leadership and strategic direction for the offices of development, alumnae relations, and marketing communications.
Q: What are the main roles of the MAS Executive Director?
A: As Executive Director, I lead a staff of 30 and a 20-member Board of Directors, manage an annual operating budget of $1.5M plus expansion projects, engage 400 volunteers, and report to a five-member Board of Trustees. I have responsibility for community assets valued at nearly $9M. Major accomplishments to date include the development of a comprehensive $10M fundraising effort – the 20/20 Campaign – designed to procure the investments needed to renovate interior spaces and expand facilities and grounds, transition the institution away from public funding, and protect its foundational vision to serve the educational needs of the Central Georgia region. Already, since the launch of the campaign, the MAS has raised $5M for capital improvements and $1.5M for endowment, completed four major facility improvement projects, plus eliminated all debit and established a cash reserve fund. Of note, during the last fiscal year, the MAS exceeded all fiscal management goals, stabilized public funding for our institution and several others, transformed 5 acres of land into vibrant learning spaces, increased earned income revenues by 15%, served more visitors and students than any year on record, engaged 380 volunteers who logged 5,600 hours, provided opportunities for 75+ professionals artists, and advanced all strategic goals set through a number of meaningful and relevant projects and programs.
Q: What is your favorite part about working at the MAS? 
A: Leading one of Georgia's finest nationally accredited museums and a statewide leader in innovative arts-infused science (STE+aM) programming is both challenging and rewarding. I'm especially passionate about contemporary art, but it's the Museum's mission to "evoke wonder" that really fuels me. To steal the term coined by Carl Sagan, I'm definitely a "wonder junkie." Unlocking the interconnectedness between art and science is really powerful – for me and for all those who discover the MAS. Because we're more than a museum, we're able to stimulate curiosity and encourage lifelong learning across a broad spectrum. Learning about science deepens my love of art. For some, it's the reverse. This is an active place of learning where brilliant, purpose-driven scholars engage visitors through objects of art, artifacts, and animals. Few museum directors get to experience the level of engagement that I enjoy on a daily basis.
Q: Did you visit many museums as a kid? 
A: Oh yes, Saturdays at the High Museum. My mother was an exceptionally gifted professional artist and immersed us in cultural and creative pursuits. Our clothes were hand-tailored, bedrooms adorned with murals, gifts were crafted from the heart. From creating elaborate forts to costumed skits, we entertained ourselves with imaginative play. Our home was practically a maker's space – filled with art and craft supplies, woodworking tools, resources, and lots of encouragement to innovate, experiment, and express ourselves.
Q: Did you ever see yourself working at a museum? 
A: Working in a museum setting feels very personal for me. My great grandfather was a prominent professional artist and established the school of art and architecture at Tulane University in New Orleans. In the late 1800s, when women had few educational options, he and his brother established an applied arts program for women called the Newcomb Pottery. Between their own works of art and the works of their students, my family's legacy is represented in museum collections across the world.
Q: Let's talk about life outside of the MAS. What is your favorite hobby outside of work? 
A: Painting, studying art history, and traveling to see great masterworks, temporary exhibitions, or contemporary installations. I collect exhibition catalogues – what museum folks call books – and pour through them for hours and hours.
Q: What is your favorite restaurant? 
A: Fountain of Juice across the street from the MAS.
Q: What is your all-time favorite TV show? 
A: I'm a current events junkie, so I cycle through every news channel. Plus of course, anything creative—"Project Runway" and any DIY or home improvement show.
Q: What is your all-time favorite movie? 
A: "The Royal Tenenbaums."
Q: Are you a sports fan? 
A: I married an elite athlete who's spent 35 years exposing me to nearly every sport. I'm rarely worthy of attending a big-ticket sports event, but I've enjoyed some incredible sideline seats. From March Madness to the Masters, I'm an enthusiastic fan and face painter. Go Dawgs!