Homeschool Days at the MAS: The Circle of Life
October 25 @ 10:00 am

-

1:00 pm

$9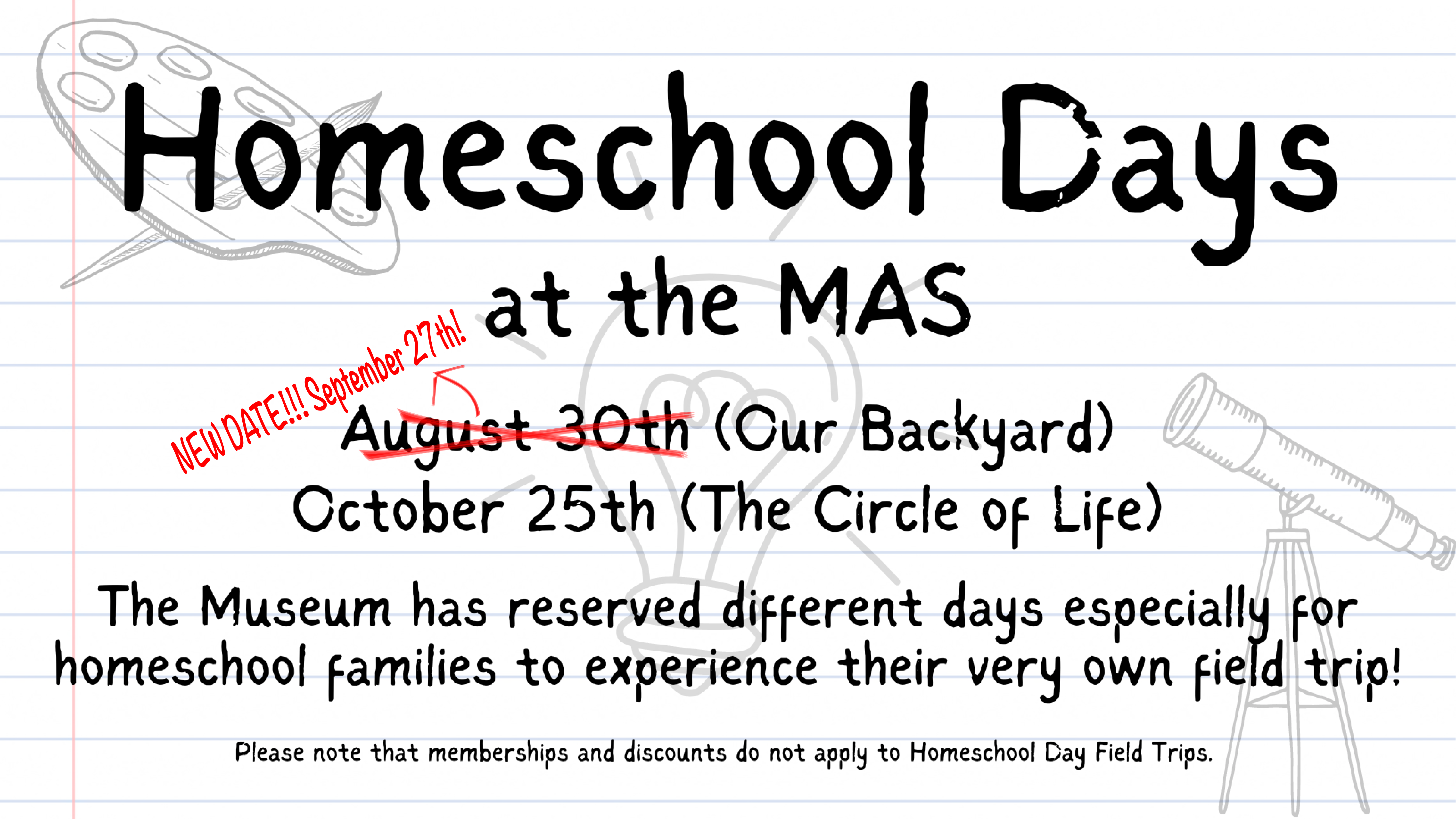 The Museum has reserved this day specially for homeschool families to experience their very own field trip! With these days families will have the opportunity to participate in a "choose your own adventure" style field trip that includes program opportunities and all-day admission to the museum. Choose from a variety of themed programs that best fit your families' educational goals.
During this field trip families will learn all about how animals, plants, and the environment are connected to create an ecosystem where living things survive, thrive, or don't' make it out alive!
Field Trips are $9 /a child with 1 free adult per family. At least 1 parent or guardian must be present in all shows and programs. Additional parents/adults are $10 each. Reservations are required via Eventbrite here: https://www.eventbrite.com/e/688538115037?aff=oddtdtcreator
Children 5 and up can participate. Home School Co-Ops of more than 10 are asked to book their own field trip separately.
Create your own experience from several program choices. Spots are first come, first serve. Check-in begins at 9:45 in the Museum lobby. Once checked-in you will receive a bracelet indicating your admission to all programs for the day.
Schedule of Programs
Program 1: 10:00-10:45am (Choose 1 to attend)
Live Animal Experience (Transfer Systems; recommended for grades 3-12); Planetarium Show (Dynamic Earth; recommended for grades 4-12); Nature Trail Tour (The Food Chain; recommended grades K-12)
Program 2: 10:45-11:30am (Choose 1 to attend)
Live Animal Experience (Transfer Systems; recommended for grades 3-12); Planetarium Show (Dinosaur Prophecy; recommended for grades 1-5); Science on a Sphere (Ecosystems; recommended grades 4-12)
Program 3: 11:30am-12:15pm (Choose 1 to attend)
Planetarium Show (Dynamic Earth; recommended for grades 4-12); Nature Trail Tour (The Food Chain; recommended grades K-12)
Program 4: 12:15-1:00pm (Choose 1 to attend)
Planetarium Show (Dinosaur Prophecy; recommended for grades 1-5); Science on a Sphere (Ecosystems; recommended grades 4-12)