February 26 - May 29, 2021
The Museum of Arts and Sciences presents its 9th annual Emerging National exhibition, showcasing rising stars from across the United States. Four contemporary professional artists, representing some of the nation's finest undergraduate and graduate art programs, will display works ranging from large-scale abstract paintings and mixed media installations to ceramic sculpture.
This year's featured artists are: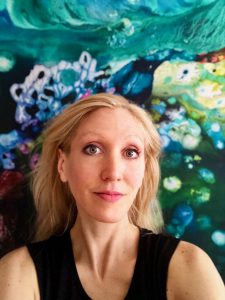 Whitney Wood Bailey, Brooklyn, NY
whitneywoodbailey.com
My work provides a field for contemplating an intersection of faith and reason with intuition and logic. It is driven by questions of a metaphysical nature such as how design and orchestration within nature affects our consciousness and how the extraordinary geometries within nature's design demand the consideration of intelligent design as well as our notions of spirituality. It is important to me, as an artist, to develop a visual vocabulary that will encourage the viewer to examine these types of enigmas. Using both organic and highly controlled painting techniques, the resulting composition is a compromise between excess and restraint, impulse and logic.
Kristina Larson, New Orleans, LA
www.kristinalarsonart.com
Kristina Larson creates biomorphic three-dimensional works primarily out of clay. Within her multidisciplinary practice, she seeks to blur the lines between art, craft, and design by creating contemporary sculpture and avant-garde designs out of traditional materials. She often juxtaposes her material by incorporating vibrant LED lights, inspired by neon art and the electric pop colors of the 1980s. While sculpting, she explores the limits of her material by hand-building, wheel-throwing, and assembling. Larson relies on gravity, chance, and accidental happenings to embrace the natural movement, which is present in her organic forms.
Will Penny, Savannah, GA
Willpenny.com
Will Penny (b. 1984) was raised in Southern Ontario and currently resides in Savannah, Georgia. He has received a diploma in Fine Art from Fanshawe College in London, Ontario, and a BFA and MFA in Painting from The Savannah College of Art and Design. Penny's artworks dissolve traditional boundaries of art and design.  His art explores tensions between the tangible space a painting inhabits, the impact of digital technology on fabricated forms, and illusionistic environments.  By creating systems of interactivity with digital technologies, his art confronts the way information is generated, transmitted, and received. He has exhibited in The United States and Canada.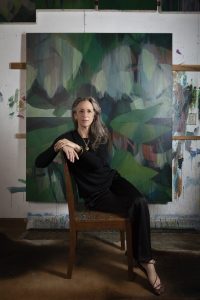 Katherine Sandoz, Savannah, GA
Katherinesandoz.com
I am a painter, illustrator, and maker living and working in Savannah, Georgia. I specialize in paint and fibers-based works. I also create installations from native and upcycled or repurposed materials. I rely on research, a conceptual framework, and storytelling while working with beautiful and meaningful materials.  Additionally, I create concepts and build strategies for visual communications for businesses, organizations, and individuals.