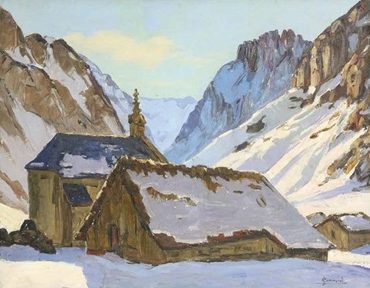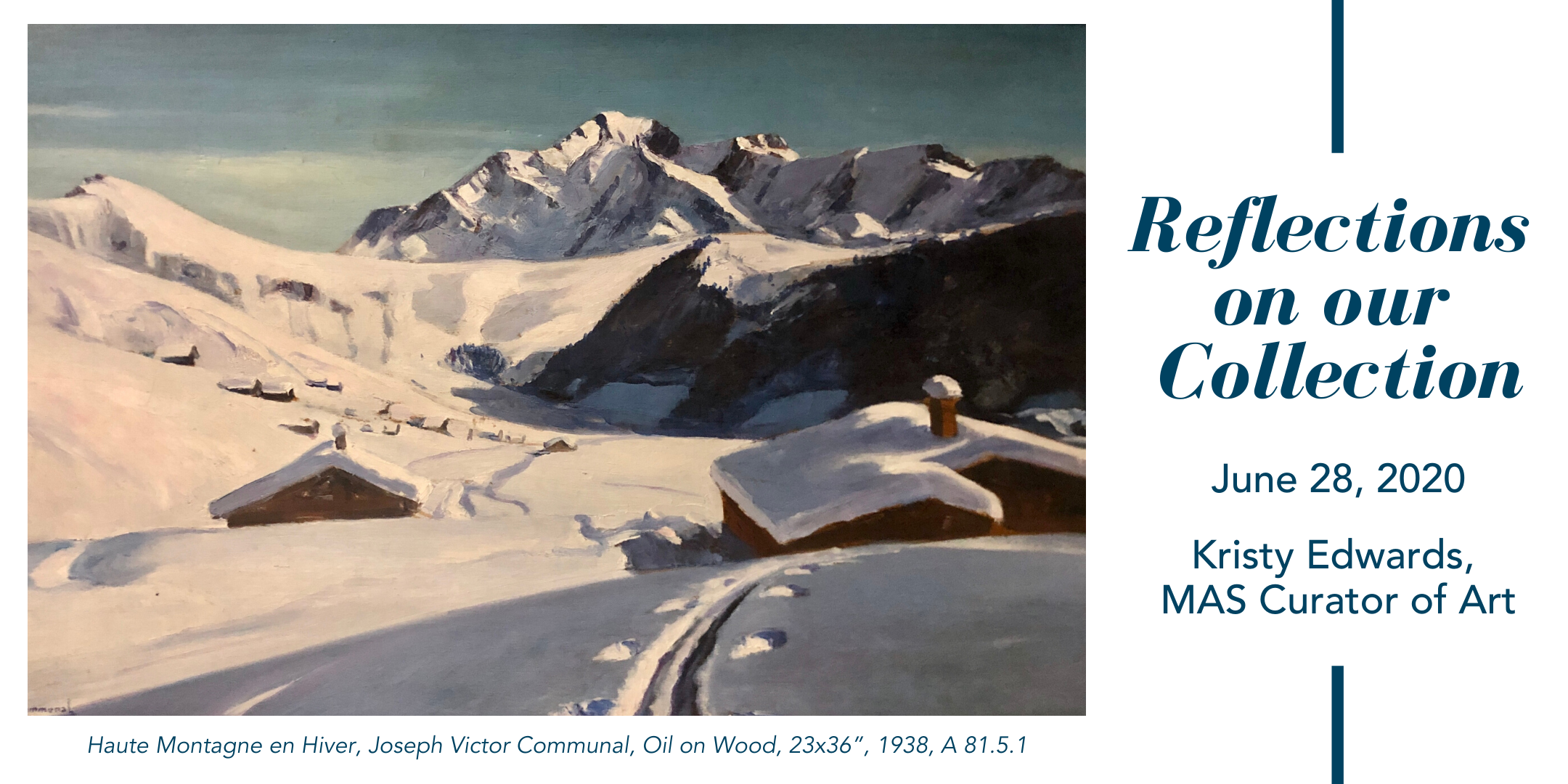 Our selection this week is this snowy landscape painting. It was created around 1938 by French painter, Victor Joseph Communal. Communal was a decorated French artist, a member of the Paris Salon (Sociètè du Salon des Artistes Français), and was awarded an honorable mention in 1910 and a bronze prize in 1912 for his works in the Paris Salon. He was born in Châtelard, France, and died in 1962. Châtelard is a small village in the area of France that juts out towards Switzerland and Italy. The region, Rhône- Alpes, is also referred to as Savoie, and sometimes Communal is referred to as a Savoyard Painter- meaning that he painted people and subjects relevant to the Savoie Region. Our piece is titled "Haute Montagne en Hiver" and translates to English as "high mountain in winter."
Communal was born into the world in February, and on his birthday, no doubt, in his home town of Châtelard, it was as you see it here. The landscape is mostly of deep cottony fresh snow, primarily unadulterated by traffic- foot or otherwise- with only the dark-toned indication of a wagon with hoof prints traced in the snow where the road leads from the outside world into the village. I like the idea of you looking at this painting here at the end of June in the heat of summer. I hope it gives you a sense of the cold. There are many images of Communal's work online. I was able to see so many beautiful winter landscapes full of colorful whites and grays, a device employed by a skilled painter to shift a single overarching color into nuanced details for our eyes to assemble and read as one piece. He often painted the Rhône-Alpes and its mountains, which were visible to him from the moment he opened his eyes in 1876. There are other landscapes to see as well; seascapes painted from a rocky shore viewed from a high place looking down and also street scenes of villages. I have even seen some still-life paintings of flowers that are very, very appealing. He was a very charming and skilled artist, and we are grateful to the Keller family in Atlanta who gifted us this work in 1981, almost 100 years after his birth. His work has the feel and hand of Russian Impressionism. Though he was French and painted in the Impressionistic style, his dates don't place him in that movement.
At best, I'd consider him Post Impressionist. I'd be comfortable saying he was a man in the country well trained and committed to painting what he saw and experienced. It is not necessary, in my opinion, to tie him to a movement. But, interestingly, he was an artist of accomplishment in France. I read online that he was also a member of the "Society of Mountain Painters." I can see why.
Here are some other examples of his work. This week, because Communal is relatively well known and was prolific and collected, I am choosing to show his work among two of his others, instead of comparing and contrasting our selection to other works of art in art history. Here are two more snow scenes of the approximate size and date of our holding.
I ran across the notes of an auction house that said his work has often been sold at auction over the years. The above painting last sold for 91% overestimate. It sold in 2016. The range of his work sold at auction is $332.00 to $10,497.00. We are fortunate to have this lovely and valuable work of art available to our community.
Here is a little poem to put with the feel of his work:
The Snow Is Deep on the Ground
BY KENNETH PATCHEN
The snow is deep on the ground.
Always the light falls
Softly down on the hair of my belovèd.
This is a good world.
The war has failed.
God shall not forget us.
Who made the snow waits where love is.
Only a few go mad.
The sky moves in its whiteness
Like the withered hand of an old king.
God shall not forget us.
Who made the sky knows of our love.
The snow is beautiful on the ground.
And always the lights of heaven glow
Softly down on the hair of my belovèd.
Kenneth Patchen, "The Snow Is Deep on the Ground" from Collected Poems. Copyright 1943 by Kenneth Patchen. Reprinted with the permission of New Directions Publishing Corporation. Source: Selected Poems (New Directions Publishing Corporation, 1957)