Just to mix things up a bit from the weeks of realist style paintings we've enjoyed- I've latched on to this porcelain sculpture by South Korean born artist, Kyungmin Park. We acquired this piece through gifts during the 2013 Emerging Artists exhibit where it was shown. The purchase was made to honor Jeanne Holliday, who had recently died from cancer. Jeanne Holiday was a Macon native and sister of former director, Suzanne Harper. We have other memorials in her honor as well- a bench on the Sweet Gum trail comes to my mind.
A little background that is noteworthy on Kyungmin Park she studied ceramics as a young girl and was taken with claymation. She liked cartoons and cartoon movies. She came to America and earned her BFA at Alfred College in New York, spent time as a Resident Fellow in Montana at the Archie Bray community, spent some time at Penland in North Carolina and then studied under famous Sunkoo Yuh getting her MFA from the ceramics department at the University of Georgia. Now she is on faculty at Endicott College in Massachusetts. In between all those degrees and fellowships, she has been invited to show in numerous important shows all over the country including our Emerging National. Kyungmin has accomplished so much for such a young woman. Her work is important on the bigger stage of ceramic figurative sculpture. Her teacher, Sunkoo Yoh, who is on faculty at UGA, has influenced the entire face of ceramic figurative sculpture all over the world. Many South Koreans travel to the US to study with him much like a violinist might a virtuoso teacher.
Park's work is fanciful, colorful, and cartoon-like. It's silly! Maybe even a little GOOFY (good, I love goofy things) What I'm trying to impart is that there is nothing serious about this piece when you first encounter it. It's almost toy-like in its configuration and design. If the finish were not matte glaze, it definitely would feel like an action figure of sorts.
After you get past first impressions, "Teasing" is about something deeper. As is common in Kyungmin Park's work, what you see is not exactly what you get. Its toy-like appearance draws you in and then you start to see there is more here than candy colors and fanciful bird figurines. The piece has a bit of a sexual charge to it with the girl's strapless 'merry widow' corset baring her female navel- the second chakra, the housing of the female womb. It has form and function, form, and function interplaying all over the piece. The paradoxes of games and secrets, the paradoxes of youth and adulthood, of secrets and openness are present as well.
I spoke LIVE with the artist and she answered my questions regarding technique. I was taken with the purity of color and glaze. I was wondering how she worked and kept everything so perfectly clean and appealing. She told me she likes the porcelain clay body because it can be made to look like skin and also hold bright clear colors. Park also described her process as coming from the table upward, molding the organic mass of porcelain with her hands and pulling and building the piece upward. As she worked, she described the natural decision-making process that occurred. I found it interesting that she did not use shiny glazes because it would cast a distracting glare on the piece, knowing how gallery vitrine boxes and lights can create bouncing sheen and she said that this would cause the piece to lose its visual form. I found that kind of planning and knowing extraordinary. But not to misrepresent her process as overly planned and precise, she told me plainly that she was not planning on making "Teasing' per se, meaning, she did not have an exact vision of the finished piece. It made itself and she allowed the decisions to come forth into what we now have.
Our piece, "Teasing", was shown here at MAS in 2013 with a companion piece called "The Desire to Possess." Kyungmin was careful to say that the two were not made to go together necessarily but they did show nicely as a pair. Here is "Desire to Possess" which is in a private collection here in Macon.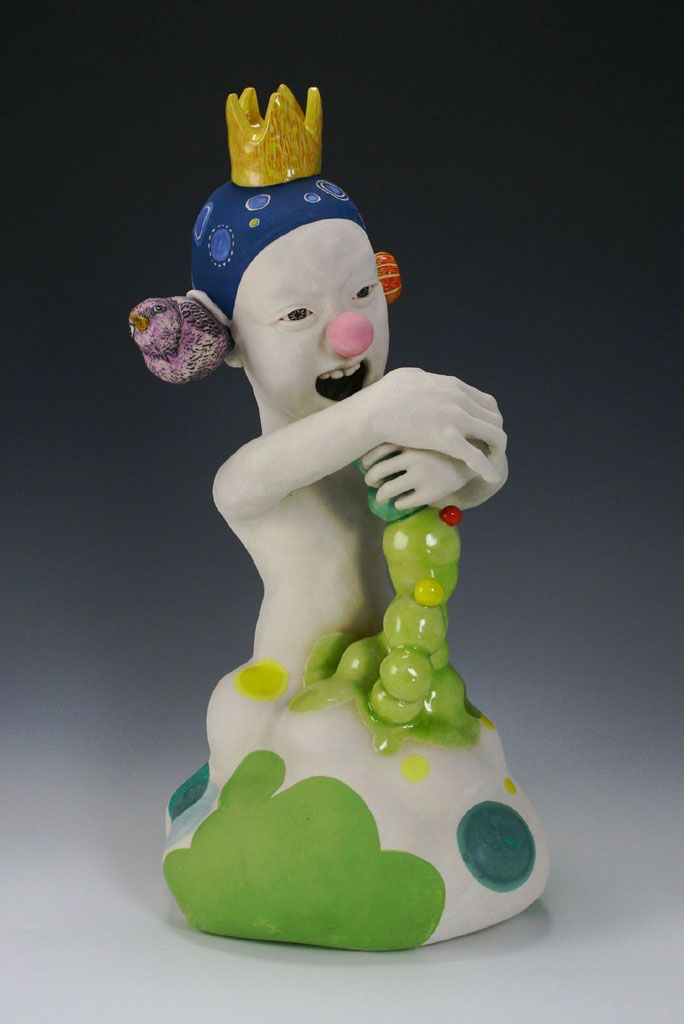 When shown with "Desire to Possess", "Teasing" seems to have a coconspirator – is she pulling at her eye at this male figure? Are they interacting? Reacting? They show very well together despite the fact Desire to Possess was created well before Teasing. After all, like it takes two to tango- it takes two to tease.
I found it interesting to learn from our Director, Susan Welsh, that our permanent collection houses a piece of ceramics from every faculty member who has taught at the University of Georgia in the ceramics department. It is part of the MAS Fine Art mission, to be the steward of regional pottery and ceramics. Parks' piece adds strength to that charge.
Thank you for joining me looking at art.
My Best,
Kristy Edwards, Curator of Art Mas Macon