Super Science Saturday – Georgia Sea Grant
June 24, 2017 @ 11:00 am

-

4:00 pm

EDT

Regular Museum Admission
The Museum of Arts and Sciences will offer hands-on STE+aM activities and speakers that explore the areas of science including space, the Sun, the ocean, and sharks. Designed for any Museum visitor during designated hours.
Georgia Sea Grant – The Georgia Sea Grant College Program is part of a national network of 33 Sea Grant programs located in every coastal and Great Lakes state, Puerto Rico, Lake Champlain, and Guam. These programs serve as a core of a dynamic university-based network of over 300 institutions involving more than 3,000 scientists, engineers, educators, students and outreach experts.
The network engages with academia and a wide variety of partners to address issues related to the coasts, oceans and marine resources. Sea Grant is a program of National Oceanic and Atmospheric Administration (NOAA) within the U.S.
In 1971, under the leadership of Edward Chin, UGA received its "Coherent Area Program" status to conduct Sea Grant activities in the area of salt marsh ecology. Following the development of marine advisory service and non-traditional educational programs by Marine Extension, UGA earned the title of "Sea Grant Institution" in 1974. Due to demonstrated excellence in research, education and extension services, the Department of Commerce, under section 207 of the National Sea Grant Program Act, designated UGA as the nation's 15th "Sea Grant College Program" in 1980.
Georgia Sea Grant received $1.3 million in federal funding in 2014.
Federal funds are administered at UGA and are matched 50% by state money.
In 2015, Georgia Sea Grant funded nine competitively selected research projects.
[taken verbatim from UGA Marine Extension Service website]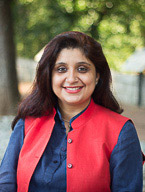 UGA Marine Extension and Georgia Sea Grant welcome Mona Behl, Associate Director of Georgia Sea Grant
May 11, 2015
Mona Behl is the new associate director of Georgia Sea Grant. In this position, she is charged with managing various aspects of grant administration, strategic planning, and development and oversight of inter-, cross-, and trans-disciplinary efforts in research. One of her goals is to strengthen the connection between research, extension, and education. Mona led Texas Sea Grant's Research Program, and also worked as an extension specialist. She is a physical oceanographer by training, with experience in various aspects of science – research, administration, policy, education, outreach and communication.
[taken verbatim from UGA Marine Extension Service website]
Join us for presentations by Mona Behl in the Science on a Sphere® Gallery
12:30 – Earth Changes

2:30 – Georgia Coast and Georgia Sea Grant Program
Each will use SOS®