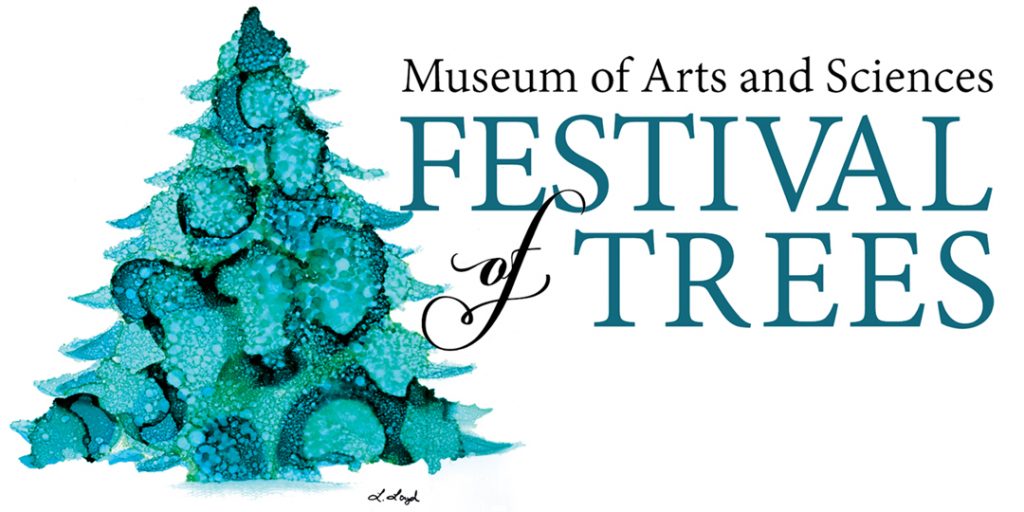 November 8, 2018 – January 15, 2019
This annual exhibit of stunning holiday trees, decorated by regional designers and artists, will be open to the public starting November 8th and will run through January 15, 2019. Featuring nearly 50 unique designs, the Festival of Trees exhibition will be open during regular operating hours (Tuesday-Saturday 10AM-5PM and Sunday 1-5PM) and is included with Museum admission.
Since the festival's inception in 1986, the signature exhibition and complimenting festivities have not only provided financial support for the Museum's educational programs but also connected thousands of volunteers, local businesses, and artists to the institution. One of Macon's favorite social events of the year, the 2018 Festival of Trees promises to be extraordinary thanks to a committee of 75+ volunteers and presenting sponsors Morgan Stanley and Planters First Bank.
Festival of Trees, which was originally named Our Holiday Best, represents three generations of investment in the Museum's educational programming. The staff and volunteers are proud to see these meaningful traditions continue to grow year after year to include such a broad spectrum of events that engage so many volunteers and attract diverse audiences. Offering high-quality programming while keeping Museum admission affordable for the families of Central Georgia is the Museum's greatest challenge – and one that it could not meet without the funds raised through the Festival of Trees.
Enjoy these photos from previous year's exhibitions and parties.
The Festival of Trees exhibition and events would not be possible
without the support of the following sponsors:
Presenting Sponsors

Corporate Sponsors
Gold Sponsors:
Law Offices of Buzzell, Welsh & Hill, LLP
Silver Sponsors:
Butler Automotive Group • Five Star Automotive Group, LLC
Irving Consumer Products • OrthoGeorgia
Raymond James & Associates • Reynolds, Horne & Survant
Bronze Sponsors:
Ambrose Pediatric Dentistry • Blake & Pendleton, Inc • Bonefish Grill
Capital City Bank • Constangy, Brooks, Smith & Prophete, LLP • Cortes Jewelers
El Sombrero Mexican Grill and Bar • Jason Chapman, M.D.
Macon Magazine • Macon Pediatric Dentistry • Middle Georgia Solutions
Stifel, Nicolaus & Company, Inc.
Copper Sponsors:
Ace Entities, LLC • American Pride Bank • Anna Greer Interiors • B & D Industrial
Stephen N. Barnes, Jr., LLC • Bon Hommes Inc • Carlyle Place • Carol Roobin Bashuk Beltone Hearing Aid Center
Chambless, Higdon, Richardson, Katz & Griggs, LLP • Community Foundation of Central Georgia, Inc
Day & Ennis, LLC • Dellacona Law Firm • Dickey Farms • Edwards & Bullard Law
Georgia Forestry Foundation, INC • Georgia Land Company, LLC • Genghis Grill/Zaxby's • GMFS Lending
Karats & Keepsakes • Lane Southern Orchards • Mauldin & Jenkins, LLC • Patton, Albertson and Miller Group, LLC
Powers Law Group  • Proforma Ascension Marketing Group • Sheridan, Solomon & Associates, LLC
Smith, Hawkins, Hollingsworth, & Reeves, LLP • Southern Forest Industries, INC • State Bank & Trust Company
Stone & Baxter • Suttles Flooring • Synovus Bank • Tidwell & Hilburn Insurance • Women's Specialty Care
Individual Sponsors
Star Sponsors:
Candy and Malcolm Burgess
Santa Sponsors:
The Hon. and Mrs. R. Lanier Anderson, III • Georgia and Bob Hatcher • Mr. and Mrs. Gene Maddux
Dr. and Mrs. J. Terrell Pope • Tom and Courtney Swift • Tom B. Wight
Snowman Sponsors:
Brian and Sara Ballard • Cathy Cox and Mark Dehler • Dr. Ken Deaton and Dr. Stella Tsai • Mrs. Holly Ertel
Dr. Wayne and Mrs. Ashley Kelley • Bert and Mardi Maxwell • Lane and Tim Sheridan • Mr. and Mrs. J. Blake Sullivan
Mr. Daron and Dr. Champa Woodham
Reindeer Sponsors:
Dr. and Mrs. Bill Brooks • Mr. and Mrs. Matt Childers • Mr. and Mrs. George Franklin, Jr.
Mr. and Mrs. Grant Grisamore • Mr. and Mrs. Bob Hardeman • Mr. and Mrs. Edward Harper
Dr. and Mrs. Ken Harper • Mr. and Mrs. Elbert McQueen • Dr. and Mrs. Edward Hotchkiss Young
Festival of Trees Committee
Festival Chair: Sara Morris Ballard
Individual Sponsorships: Dixie Butler Clark
Corporate Sponsorships: Meghan Putnam Hollingsworth
Decorations: Tori Purvis Stewart
Tree Design: Lily Foote Robinson
Raffle: Kelli Pushman Hill
Luncheon: Natalia Del Basso Orsini • Nancy Shurling • Claire Smith
Sugar Plum Shop: Courtney Brooks Garner • Candi Newton Wilson
Museum Made: Blair Stowe Sumrall
Paula Berenguer Aguirre • Madison Hinson Argo • Emily Huckaby Arnold • Alice Rice Belko
Ember Bishop Bentley • Cassie Edwards Brannen • Rachel Cozart Braxton
Paige Prosperi Brooks • Mary Allison Shingler Buzzell • Elizabeth Broom Cleveland
Meredith Covert • Natalie Ford Cozart • Kristi Peake Davis
Paige Sforzo Davis • Amy Harlen Dunaway • Shannon Slocumb Ethridge
Megan Powers Flournoy • Elizabeth Lewis Ford • Lauren Hollman Fried
Hannah Gabriel • Katie Mathews Garvin • Sarah Moses Haddock • Elizabeth Wynne Hart
Olivia Nettles Hatcher • Jennifer Stone Heller • Liz Rosson Hill • Kelsey Smith Holland
Howell Souter Hollingsworth • Cassie Murman Jones • Keri Jones • Merritt Murphy Jones
Virginia Candace Josey • Darby Kellum Kilpatrick • Brantley Kreis King • Kate Reynolds Kirbo
Erin West Kovacs • Lauren Nations Lanter • Davi Buxton Levy • Haley Grissom Lilley
Evelyn Clark Lopater • Elizabeth Stewart McCain • Christen Patterson McCommon
Macie McJenkin • Meredith Moore McKenzie • Anne Prather McQueen • Abigail Mullins Moody
Margaret Graham Moore • Tiffany Davis Olson • Anna Blanche Young Pennington
Tarver Britton Perry • Nicole Prine • Kensey Adair Rabun • Renee Sherrin Rainey
Mary Margaret Woodroof Sandy • Elizabeth Solomon Schorr • Molly Rogers Sims
Sydney McRee Solomon • Holly Stalvey Taylor • Lea Anne Watson Walters
2018 logo design by Leigh Loyd.