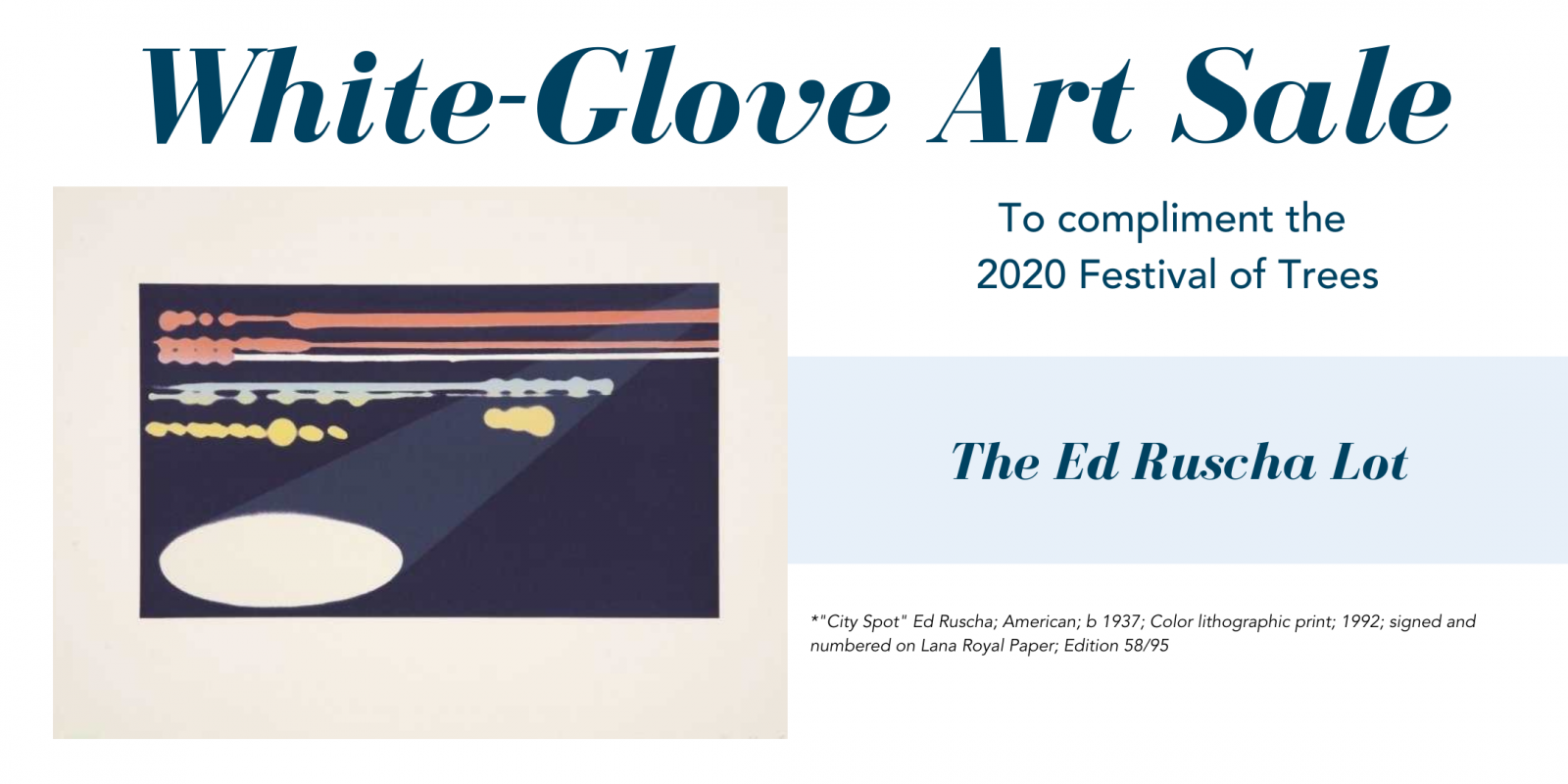 Ed Ruscha Lot (Pronounced REW SHAY)
*"City Spot."
American b 1937
Color lithographic print 1992
signed and numbered on Lana Royal Paper
Edition 58/95
PROVENANCE: FROM THE TIMOTHY AND TERRI CHILDS COLLECTION framed and matted 14x20" Hardy and Halpern Appraisal available
$6,300.00
Curator's Choice
from edruscha.com:
"Ed Ruscha was born on December 16, 1937, in Omaha, Nebraska. His family moved to Oklahoma City, Oklahoma, in 1941. In 1956, Ruscha moved to Los Angeles, where he attended Chouinard Art Institute, from which he graduated in 1960. Ruscha's early paintings attracted notice as part of the Pop art movement of the 1960s; his art also has antecedents in Dada, Surrealism, and Abstract Expressionism, and would be central to Conceptual art. His work includes paintings, drawings, prints, photographs, artist's books, and films, and is in the collections of major national and international museums. Ruscha lives and works in Los Angeles. He is represented by Gagosian Gallery."
"Despite being credited with a Pop sensibility, Ed Ruscha defies categorization with his diverse output of photographic books and tongue-in-cheek photo-collages, paintings, and drawings. Ruscha's work is inspired by the ironies and idiosyncrasies of life in Los Angeles, which he often conveys by placing glib words and phrases from colloquial and consumerist usage atop photographic images or fields of color. Known for painting and drawing with unusual materials such as gunpowder, blood, and Pepto Bismol, Ruscha draws attention to the deterioration of language and the pervasive cliches in pop culture, illustrated by his iconic 1979 painting I Don't Want No Retro Spective. "You see this badly done on purpose, but the badly-done-on-purpose thing was done so well that it just becomes, let's say, profound," he once said. Equally renowned were his photographic books, in which he transferred the deadpan Pop style into series of images of LA—apartments, palm trees, or Twentysix Gasoline Stations (1962), his most famous work." from artsy.net
"This is an incredibly rare signed and numbered (from 95) edition by American blue-chip artist Ed Ruscha. Since being published in 1992, it has rarely come to the market, so this is an excellent opportunity to acquire a beautiful little print in fine condition." https://www.globalarttraders.com/artwork/36955/ city_spot_by_ed_ruscha/
ABOUT ED RUSCHA
Indisputably one of the most iconic American artists of the 20th century, Ed Ruscha has built a formidable body of work by staking a claim on the deceptively simple intersection of text and image, superimposing elliptical phrases (or, often, single words) over West Coast landscapes to create paintings that can be read instantaneously yet evade easy understanding. A pioneer of the 1960s Los Angeles art scene as part of the famed Ferus Gallery—alongside artists like Robert Irwin and Billy Al Bengston—Ruscha's embrace of Hollywood vernacular and the open Western road have tied him as closely to the identity of L.A. art as Jackson Pollock is with that of New York.
Coming to California in 1956 at the age of 18, Ruscha intended to become a commercial painter but found himself drawn to fine art, over time being shaped by three galvanizing influences: Marcel Duchamp, Pop art, and the movies. Meeting Duchamp when the Pasadena Art Museum hosted the French conceptual artist's first U.S. show, Ruscha was especially affected by his use of "readymade" objects and imagery, rendered unfamiliar through unexpected titles or text. Warhol's Campbell's Soup can paintings, meanwhile, were shown for the first time at the Ferus Gallery in 1962, opening up new vistas for Ruscha. Movies, then, provided another inspiration through their use of title cards, placing graphic text over film shots—"The End," for instance—for maximum impact.
Ruscha began his famous series of word paintings in the 1960s, depicting various views of the Hollywood sign and the logos of studios like 20th Century Fox, but also roadside views like the Standard Oil stations dotting L.A.'s freeways. Over time these became more abstracted, pinning ambiguous, free-floating phrases ("Wall Rockets" is a famous example) to natural vistas, scenes of highways, or monochrome backgrounds. Beginning in about 1980, the artist began using a sharp font he designed himself, called Boy Scout Utility Modern.
"A master printmaker who also works across the mediums of books, drawing, photography, and even film—in 2009 he starred in a movie directed by the artist Doug Aitken—Ruscha has been an influence on a staggering array of artists, including Stephen Shore, Christopher Wool, and Anselm Kiefer. His work has been featured in dozens of exhibitions around the world, including Ed Ruscha: 50 Years of Painting at London's Hayward Gallery (2009), Ed Ruscha: Made in Los Angeles at Madrid's Reina Sofia in 2002, a 2000 retrospective at the Hirschhorn Museum and Sculpture Garden, a survey of his works-on-paper at the J. Paul Getty Museum in 1998, and a 1982 retrospective that traveled to the Whitney Museum. In 2005 he represented the United States at the 51st Venice Biennale, and in 2009 he received a National Arts Award." from artspace.com.
*CURATOR'S CHOICE EXCELLENT COLLECTOR'S ENTRY LEVEL PIECE HARDY AND HALPERN APPRAISAL AVAILABLE
We are very fortunate to offer this print for purchase. It is unusual for us to have such an artist in our repertoire. Ruscha is famous, and his work is highly sought after. This piece is for the serious art collector.