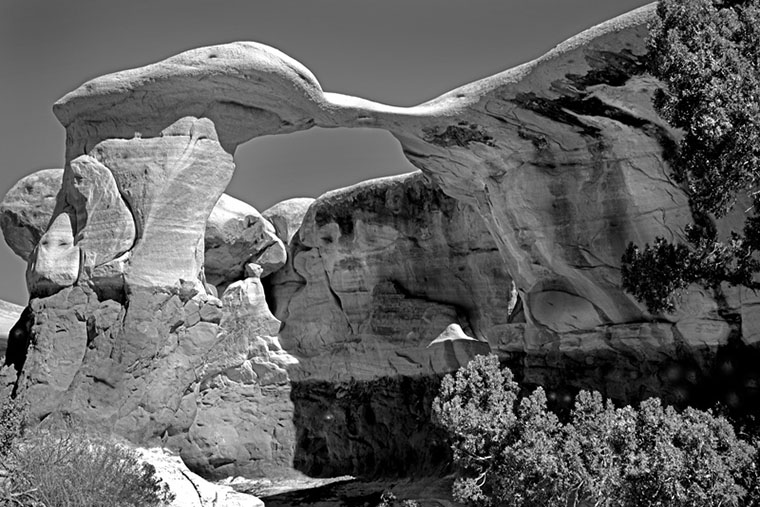 May 17 – October 3, 2019
The most basic impulse of human imagination – the tendency to see things in things – is evident in Andy Nasisse's newest body of work, Terra Animata, on display at the Museum of Arts and Sciences from May 17th through October 3rd. This special solo exhibition of work by one of the nation's leading figures in clay, University of Georgia Emeritus Professor Andy Nasisse, complements the Museum's "Earth + Fire" contemporary studio ceramics exhibition.
"For many years," said the artist "I've been making sculpture that references the mythic possibilities of the figure, the metaphorical possibilities of the vessel, and the animistic possibilities of the landscape." Terra Animata – or animated earth – explores the figure and the landscape in two mediums: photography and ceramics.
Nasisse's body of work was inspired by environmental issues and landscape of Utah and includes dozens of visually arresting scenic photographs paired with large-scale abstract figurative sculptures. The southwest American desert is an enchanted land of shadows and extreme contrasts  -- light and dark, hot and cold, parched dry terrain and sudden flash floods. A land of fantastical forms sculpted over millions of years by wind and rain, creating hoodoos, mesas, gulches, draws, arches, towers, canyons, and buttes.
"Like a lot of artists, my influences are eclectic and varied," said Nasisse. "I look at historical vessels, especially votive and burial pieces, Japanese Haniwa, Peruvian pots, Mayan clay sculpture, killed Mimbres bowls, and Mexican folk art, plus also the work of visionaries, outsiders, the Chicago imagists from the 1970s, and authors like Cormac McCarthy, Joseph Campbell, and Neil Gaiman."
In Terra Animata, Nasisse shows us not only a hostile landscape where plant life has a tenuous existence but also a magical place where the animistic imagination thrives in the suggestive, eroded shapes that emerge and cast their timeless shadows.