Emerging Artist Spotlight: Katherine Sandoz, Savannah, Georgia
One of the four invitees of the ninth annual Emerging National IX show this year is Katherine Sandoz from Savannah, Ga. Katherine's seven paintings are hanging in our Hall Gallery and can be seen in person during museum hours; 10 AM-5 PM, Tuesday through Saturday.
I had the pleasure of talking at length with the artist in our Instagram Live TV segment that can be watched here: Conversation with Katherine Sandoz. Her website can be found here: Katherine Sandoz.
Sandoz works in various media- 2-D paintings that are expertly crafted front and back, installations from found and gathered natural objects, and fibre work. Today I will focus on her 2-D paintings, especially those in the Emerging National IX Show, which is up until the end of May.
My first impressions of her work have to do with their "lookability"; not a word really, but rather a sense. Sandoz's work is easy on the eye. There are no jarring or dissonant elements, and there is not frenetic disorganized color or lines. I wouldn't say they are "controlled" in a way that indicates the feeling of tightness, but rather they sit on the edge of paradox; strong yet gentle, organized yet abstracted, close yet far. Each painting has that beauty, that reminder of the landscape like a window outward. There is something deeper behind them all, though, and they are not just attractive works. They have a soul.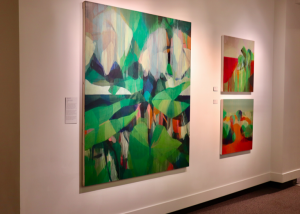 She told me in our interview about the idea she held in her mind while she was creating this series "Sequoia," with the theme Locus Amoenus. During Covid, the idea of a "safe place" became an overarching theme for all of us, especially in the beginning of our quarantine when fear was abundant and information was scarce. Sandoz turned to the natural world around her in Savannah; beautiful coastal landscapes of marshes, dunes, water, Spanish moss. The sudden idea that there is no safe place among humans hits you during a pandemic where a virus must have a human host. This very basic knowledge makes being among people a danger. And then, more and more clearly, the natural world becomes safer than indoor spaces with other people.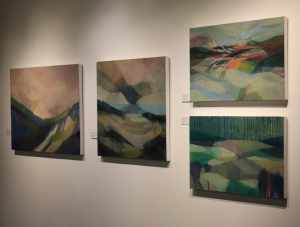 The paintings that Sandoz created from this soup of creative thought give you a sense of peace and beauty. She inserts a horizon line in each one, knowing from early childhood that we all, as young artists, insert that instinctive line in all our early paintings. This horizon line is our anchor in chaos; it's our compass point. Each of the series of paintings has a line in it, and she told me that they could actually be hung so that the lines could all match and run through them. How interesting it would be to see them like that.
Katherine Sandoz is a present witness to nature; she is our point of view. When you stand before them, there is no way to escape that her eyes are your eyes. This aspect has a connective and calming influence. You don't feel that it's necessary to 'make sense of anything. It's intuitive, natural, and magnetic.
I told Katherine that I sensed her strong witness in these works immediately. She does not feed us ideas, constructs, or opinions; she just offers what's before her back to us, and as she does, we remember. We remember the delicate tissue paper shapes we made as children, and we remember the sea, the leaves, and tree forms. We remember our Locus Amoenus, our safe place. Her handling of material and form help us go home to that, and yet like memory it is blurred and clouded by transparency and opacity overlaps, drips, and bleeding memories; one into another bringing us our sense of peace we so badly need.
Enjoy your afternoon,
My best,
Kristy Edwards
Curator of Art
478-477-3232
kedwards@masmacon.com
NOTE: Paintings are for sale please inquire for details.