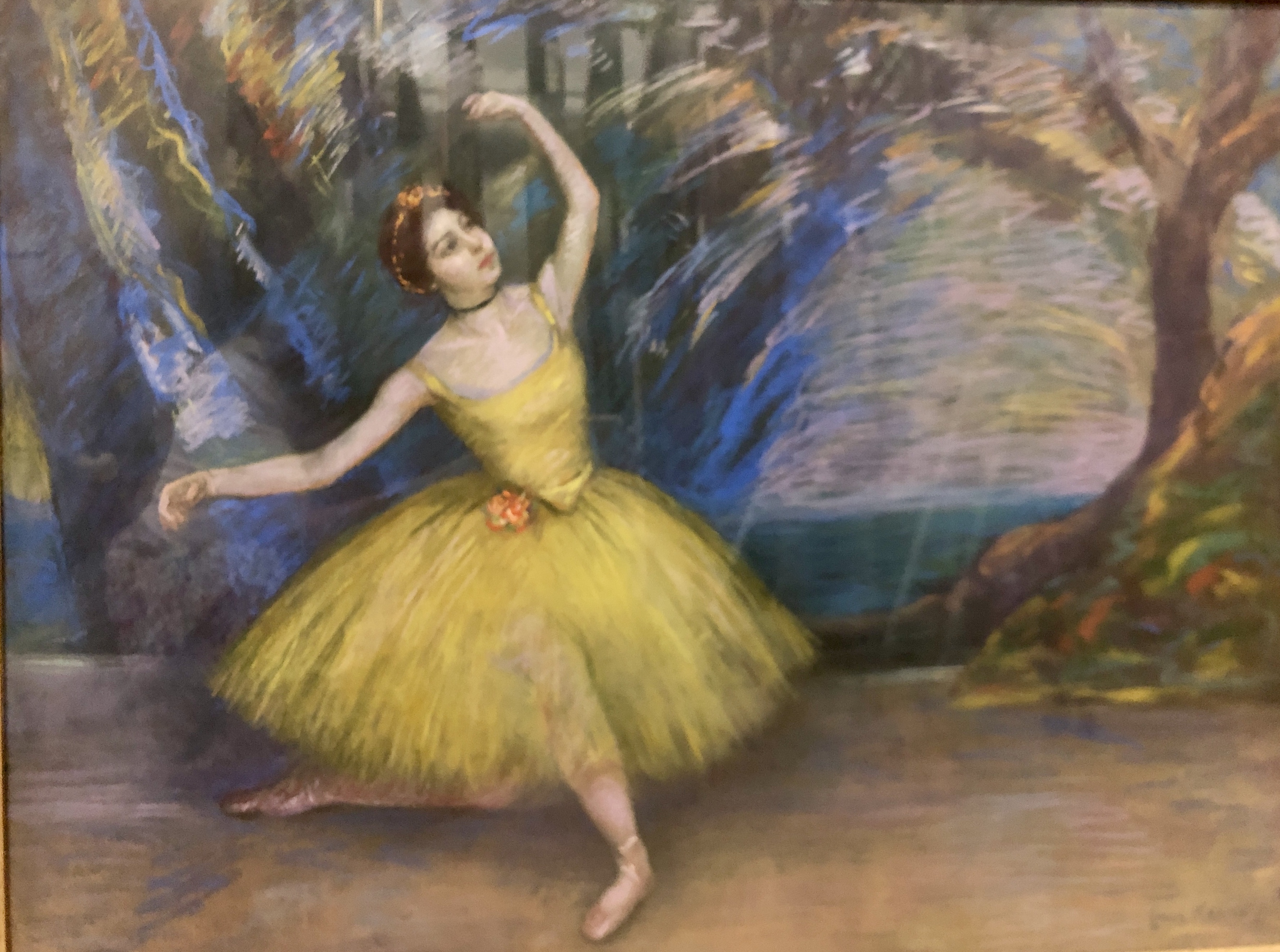 The 25th anniversary of the Museum of Arts and Sciences was celebrated on June 3, 1981. It was this time of year that the ladies and gentleman- and the children- came here to the Museum of Arts and Sciences for a birthday party and a week of events that celebrated the new fine arts wing and the showing of 'some of the finest art Macon has ever seen' a quote from artist and esteemed long time Maconite, Catherine Liles, in a Macon Telegraph article regarding the celebration and show.
The Executive Director at the time of the 25th anniversary was David Elridge, who was well connected in the art world coming into the job. These connections made it possible to procure several items on loan from such institutions as The Metropolitan Museum of Art and the National Gallery in Washington, DC. The show was called "200 Years of American Painting" and showed works by Rembrandt Peale, Thomas Sully, and Gilbert Stuart. Closer to home, works from Georgia collectors, Dr. Robert Coggins, and loans from the combined collection of Mr. and Mrs. Fred Bentley and J. Alan Sellars were also shown here. It is the latter who gifted our selection this week.
Upon looking up Kronberg on the internet, I was so pleased when an entire page of pastel ballerinas popped up in view. All their bright tutus and radiant white skin formed a grid of happiness to my eye. He is referred to as "The American Degas" because he painted so many ballet dancers.
He has quite a resumé. I can let you look at it here on Wikipedia to save repetition. https://en.wikipedia.org/wiki/Louis_Kronberg
I can bring to you the assertion that to have studied with Tarbell and Benson- two American greats is fantastic and very impressive. To have studied at the Académie Julian in Paris at that particular time is also remarkable. This is where Cecelia Beaux studied in France. His work is held in many major American museums, such as Boston Fine Arts and Isabella Gardner, as well as the Metropolitan Museum in New York. The Musée D'Orsay in Paris also holds his work. This is all very impressive, indeed. And here he is right here in our vault! I'm so happy. His provenance is solid. Thank you, DEAR DONORS AND COLLECTORS. May we continue to benefit from such largesse.
His dates coincide with the epoch of life and art that fascinates me- the turn of the 20th century. He was born in Boston in 1872, which means he lived the exact dates almost as last week's artist, French painter Joseph Victor Communal. I have a curiosity about painters who were contemporaries across the globe who painted in a similar style no matter where they were located. I find that fascinating. Just as fashion influencers mostly in Paris spread their sensibilities outward, the same can be said of the artist's styles and movements. Places like Paris and New York were places of new thought and experimentation. And today they continue to be epicenters of influence although, with the worldwide web, who is to say how we are influenced exactly anymore? Sometimes I even like to find out what music they listened to during this era as the phonograph begins to make an appearance for the elite. I think they would have listened to Rimsky Korsakov, Tchaikovsky, Berlioz perhaps, and of course, Claude Debussy. Composers like Gershwin were becoming popular at the turn of the century.
Below, I have inset another Kronberg ballerina I found that sold at auction in 2018 for $650.00- right in the middle of the expected range for it to fetch. She is an excellent comparison to our holding. Both are pastel, both very similarly dressed—similar dates.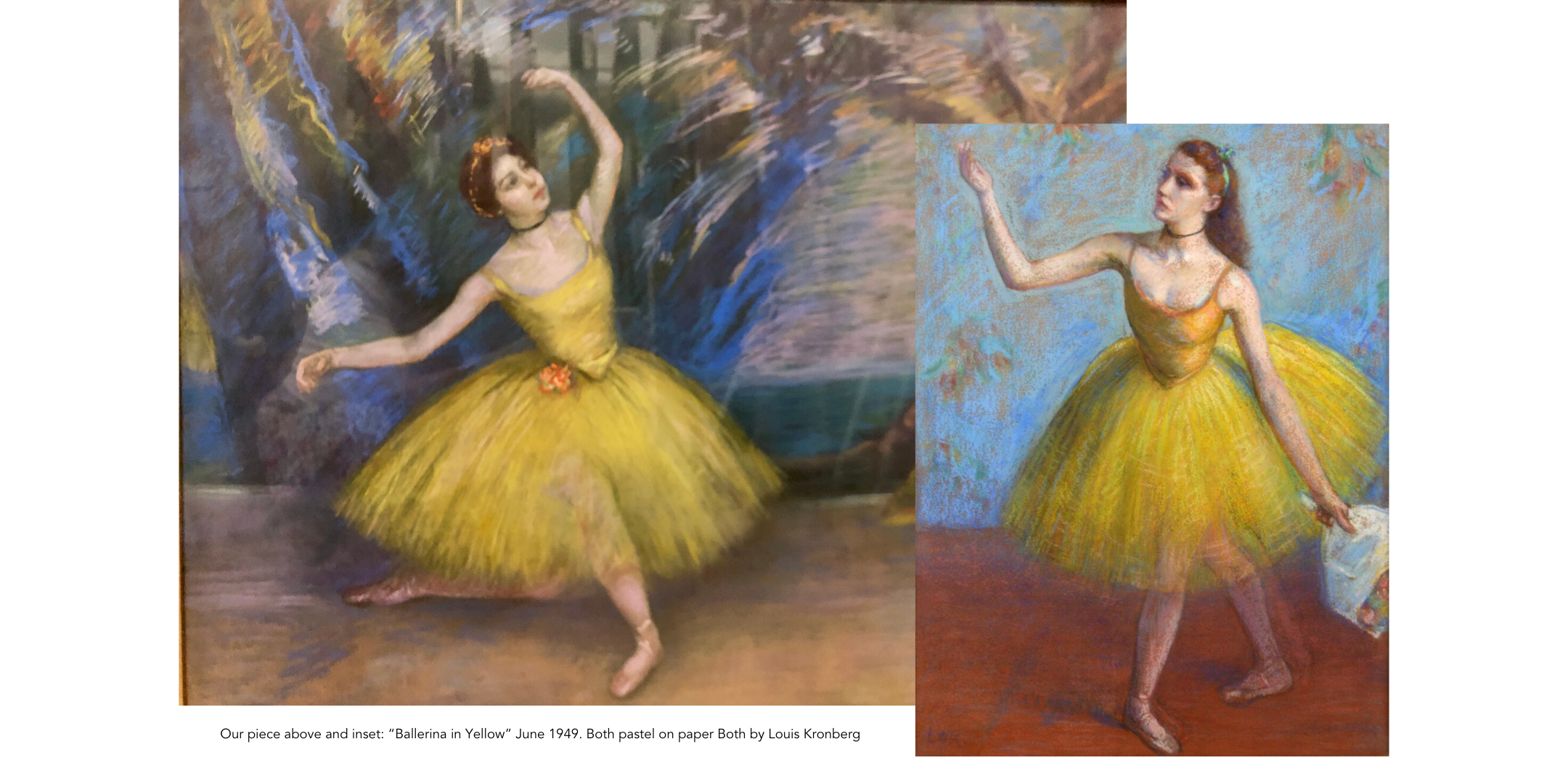 Here are two Degas pastels/paintings that you can see against our Kronberg. Do you think it is apropos to refer to Kronberg as the "American Degas"? Kronberg is said to have been heavily influenced by the French Impressionists, and I can say that Benson and Tarbell, his teachers and mentors, were most likely as well.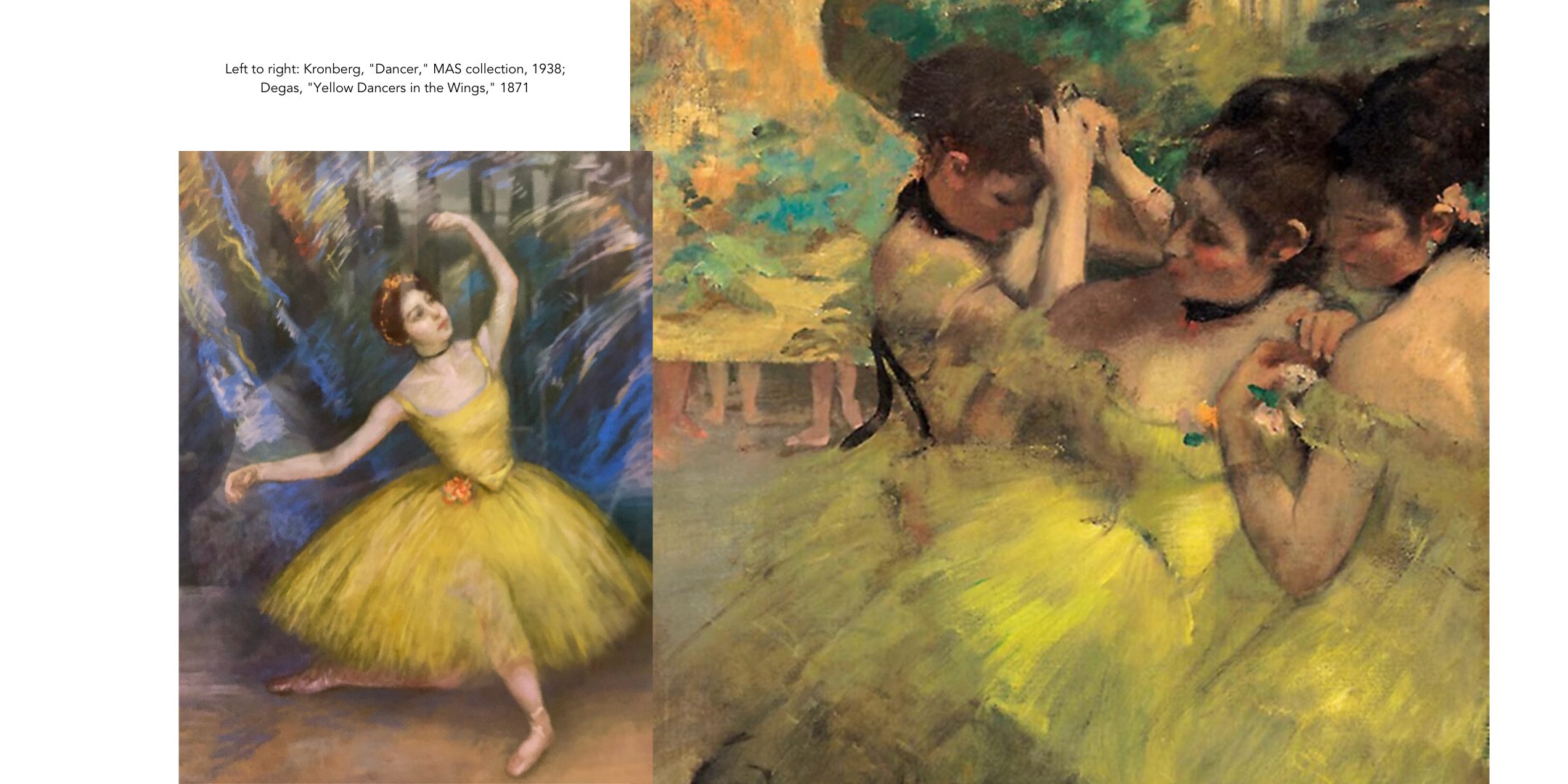 Here is a screenshot of a google image search "Kronberg Ballerinas," showing what comes up onscreen. Some are oil paintings as well. But it is all eye candy to me. The leading picture is of Louis Kronberg himself.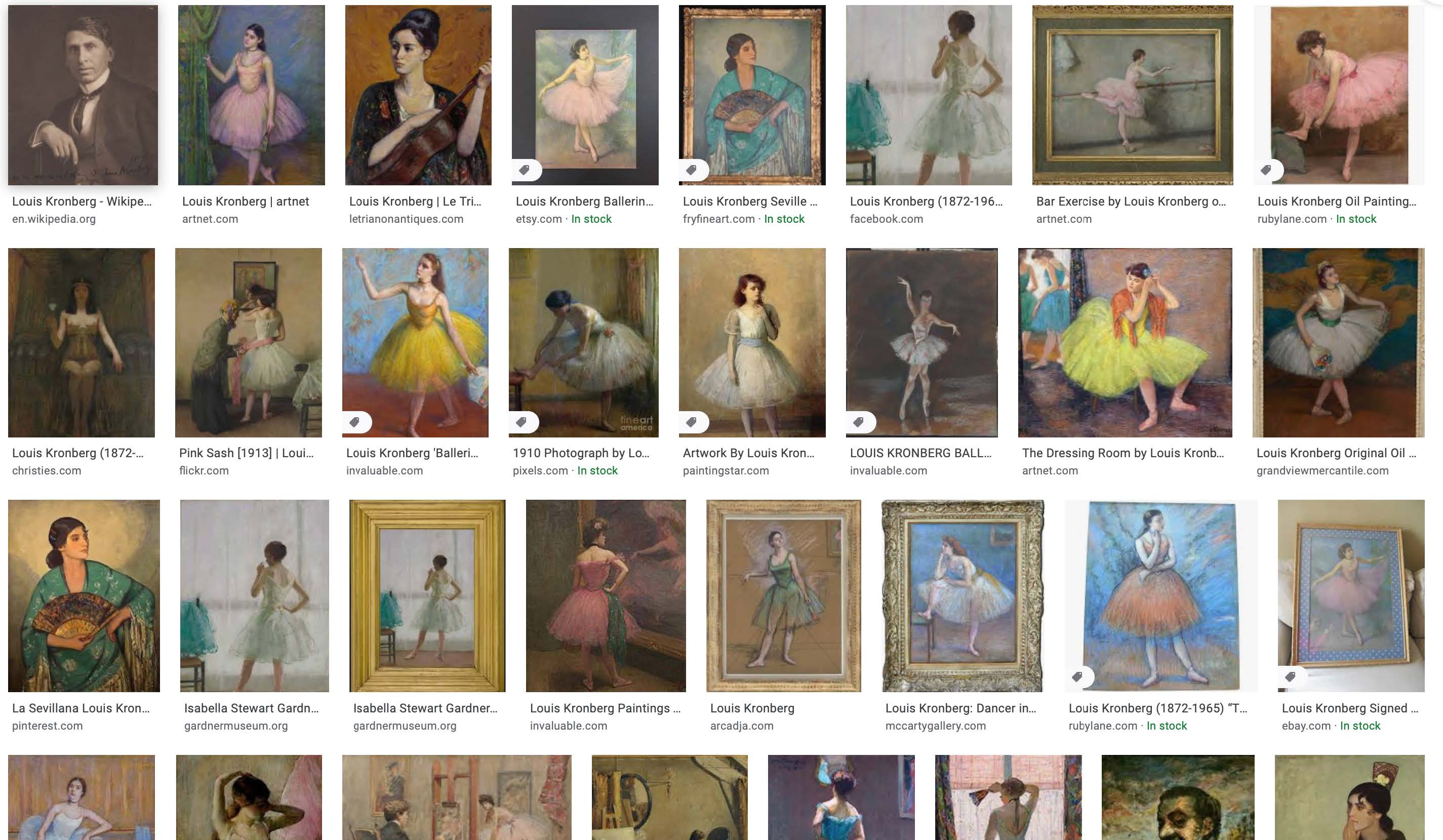 Instead of a poem this week, how about I share this beautiful video with you of Tchaikovsky's Swan Lake "Little Dancers"? It is from Medici. TV and has over 13 million views (because it is phenomenal), and at the end of the first segment, you will see the dancers strike the same pose as our ballerina.
We are fortunate to be the recipients of such gifts as Dancer in pastel by Louis Kronberg. Our vault has many treasures. It is with humble gratitude I present them to you each week.
Kristy Edwards,
MAS Curator of Art