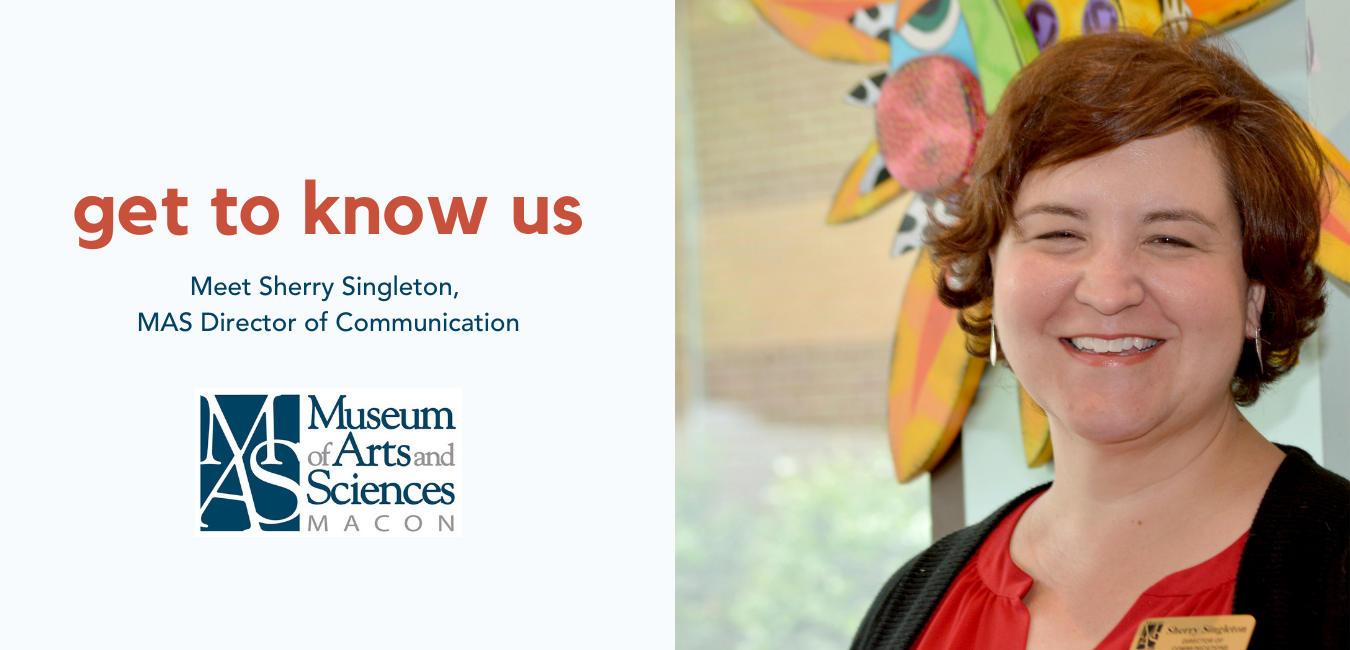 By Christopher Collier, guest writer of the MAS
Welcome back to Get to Know Us, a Q/A series giving readers a personal look into the lives and careers of MAS staff members.
Today's guest is Sherry Singleton, MAS Director of Communication.
Born and raised in Warner Robins, Georgia, Singleton grew up with a passion for the arts. Singleton carried her enthusiasm into high school, nurturing her artistic side with traditional art classes, photography, and theater. She would then become an avid photographer as she dwelled in the red glow of darkrooms and snapped photos for the school newspaper. 
As Singleton's love for the arts advanced, so did the technology around her. Her high school photography lab teacher enlightened her on graphic design, a new world that possessed infinite artistic possibilities. It was a world that had captured Singleton's full and undivided attention.
With her future in full focus, Singleton contacted local print companies and college professors to learn more about her dream. After college, her career began designing ads and shooting film at the local newspaper. Singleton then made her way to The Telegraph, where she would work for seven years. Her climb up the creative ladder continued when she joined the Museum of Arts and Sciences as a graphic designer in December 2007. Today, Singleton is living the "designer's dream" as the Director of Communication for the museum.
Q: What are the main roles of the Director of Communication?
A: It's kind of the nature of an employee at a museum—there's 20 different hats involved in your title. When I started here, I was strictly the graphic designer on staff, and we had a marketing team. Because of budget cuts that have happened over the last 13 years, we've whittled down to just one [marketing employee]. I still do a lot of graphic design for brochures. I do a lot of maintenance on the website, social media, press releases, [and] going on TV and radio. 
Q: What is your favorite part about working at the museum?
A: My favorite part is trying to come up with new ways to make what we do exciting to the public. I love dreaming up new ways to do stuff. I love going upstairs and seeing something that we've created actually have come to life and seeing people interact with it. I think, out of all the things, that is probably my Lucky Charms marshmallow of what I do. 
Q: Did you visit many museums as a kid? Was that something you enjoyed growing up?
A: No, I did not. My parents were not museum-goers. My father started out as a janitor at The Coca-Cola Company and worked his way up through his lifetime. My mother—kind of the same idea—worked in customer service. They weren't people who went into museums. We also didn't travel much. So for me, working in one was a whole new ballgame that I had to learn and understand. 
Q: Are schools focusing enough on museum-based, informal education?
A: I actually think that schools work very hard to help students get a well-rounded, informal education format outside of the classroom. I know a lot of local, big county schools work very hard, and our contiguous counties do the same. I think the real challenge in informal education comes from families not translating that outside of school. They [families] do not look at a museum experience as something you can enjoy even when you're not on a field trip.
Q: Let's talk about life outside of the museum. What is your favorite hobby outside of work?
A: Kayaking, fishing, [and] being on the water. I have family that lives on Lake Sinclair, so we spend a great deal of time on Lake Sinclair. But living in Macon, we have this really great river—we have the Ocmulgee River. And in Thomaston, which is not that far away, we have the Flint River. So we have really great river resources for kayaking, tubing, and taking the dogs out for a swim. We definitely love that part of living here.
Q: What is your all-time favorite restaurant?
A: It's this little Vietnamise joint down the street called Pho Saigon. I love noodle bowls—just the nice hot soup and the noodles. I mean, if you're having a bad day, it cures what ails you. 
Q: What is your favorite TV show right now?
A: I am re-watching "Downton Abbey" just because we came from "Stranger Things," and I needed something to lighten the load and brighten up my life because it ["Stranger Things"] is so dark. 
Q: What is your all-time favorite TV show?
A: Hands down, "Battlestar Galactica."
(*This interview has been condensed and edited for clarity)