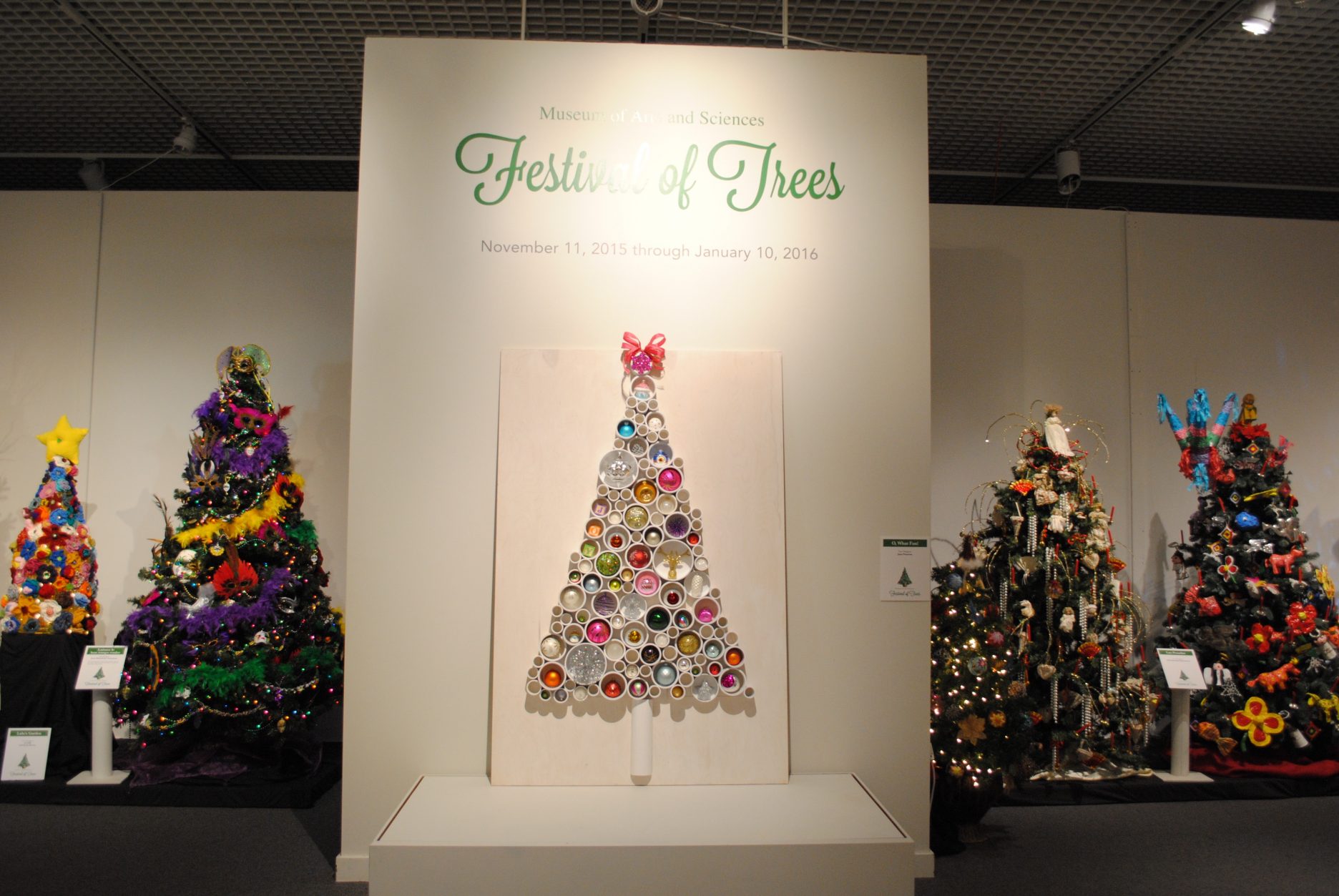 November 10, 2016 – January 15, 2017
This annual exhibit of stunning holiday trees, decorated by regional designers and artists, will be open to the public starting November 10th and will run through January 15, 2017. Featuring nearly 40 unique designs, the Festival of Trees exhibition will be open during regular operating hours (Tuesday-Saturday 10AM-5PM and Sunday 1-5PM) and is included with Museum admission.
Since the festival's inception in 1986, the signature exhibition and complimenting festivities have not only provided financial support for the Museum's educational programs but also connected thousands of volunteers, local businesses, and artists to the institution. One of Macon's favorite social events of the year, the 2016 Festival of Trees promises to be extraordinary thanks to a committee of 75 volunteers and presenting sponsors Morgan Stanley and Coliseum Heath System.
Festival of Trees, which was originally named Our Holiday Best, represents three generations of investment in the Museum's educational programming. The staff and volunteers are proud to see these meaningful traditions continue to grow year after year to include such a wide spectrum of events that engage so many volunteers and attract diverse audiences. Offering high-quality programming while keeping Museum admission affordable for the families of Central Georgia is the Museum's greatest challenge – and one that it could not meet without the funds raised through Festival of Trees.
The 2016 Festival of Trees begins on Wednesday, November 9th, with a seated luncheon for 200 at the Museum. A delicious meal prepared and served by volunteers makes this event especially meaningful. The Luncheon also features a dazzling show of the latest in holiday fashions and the first viewing of the Festival of Trees exhibition. The Sugar Plum Shop will offer its famous gourmet goodies along with a new edition of hand-made objects called, "Museum Made." Tickets to the luncheon are $50 per person; lunch begins at noon, but doors open at 11 AM.
The Festival of Trees Gala will be held on Thursday, November 10th, downtown at the Historic Terminal Station from 7 – 11 PM and will include dancing, open bar, and heavy hors d'oeuvres. Reservations to this black-tie event are required; tickets are $75 through October and $100 beginning November 1st. The star of the evening is the annual Macon Millionaire Raffle, boasting a prize package valued at $15,000 including trips; tickets to events; gift certificates to local boutiques, spa services, restaurants; and more! Raffle tickets are $50. Although the winner is announced at the Gala, one doesn't need to be present to win. While dancing the night away to live music by The MVP Band, Gala attendees also may place bids in a silent auction featuring artwork donated by regional artists including an original work by Steve Penley.
Complementing the festivities will be a children's event on Saturday, November 12th, at the Museum including holiday movies, craft activities, hot chocolate, Santa's Secret Shop, and more. Thanks to the event's presenting sponsor Coliseum Health System Pediatric ERs, activities will include Disney's "Polar Express" in the Planetarium (three show times available throughout the day at 10 AM, 1 PM, and 4 PM). After each showing, hot chocolate and cookies will be provided, as well as a holiday craft, scavenger hunt for kids, plus all the regular Museum program offerings. A gourmet coffee and tea bar with refreshments and snacks will be offered for parents. The day marks the opening of Santa's Secret Shop, an annual favorite that offers one-stop holiday shopping for kids who want to purchase something special for their family members. Tickets are $30 for one adult and one child and $12 for each additional person.
The Festival of Trees exhibition and events would not be possible without the support of the following sponsors:
Presenting Sponsors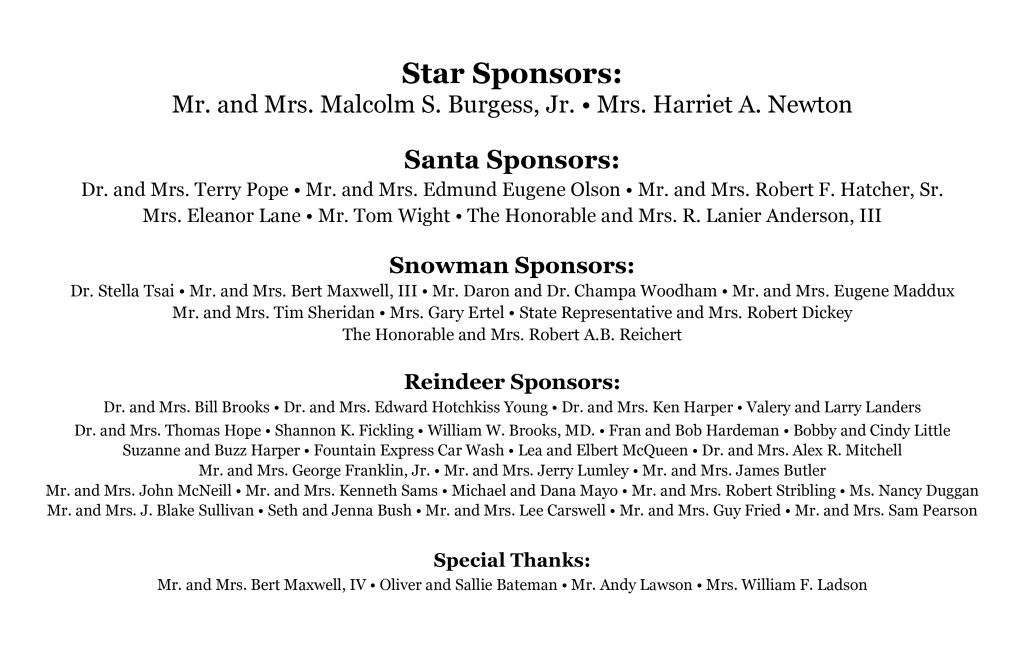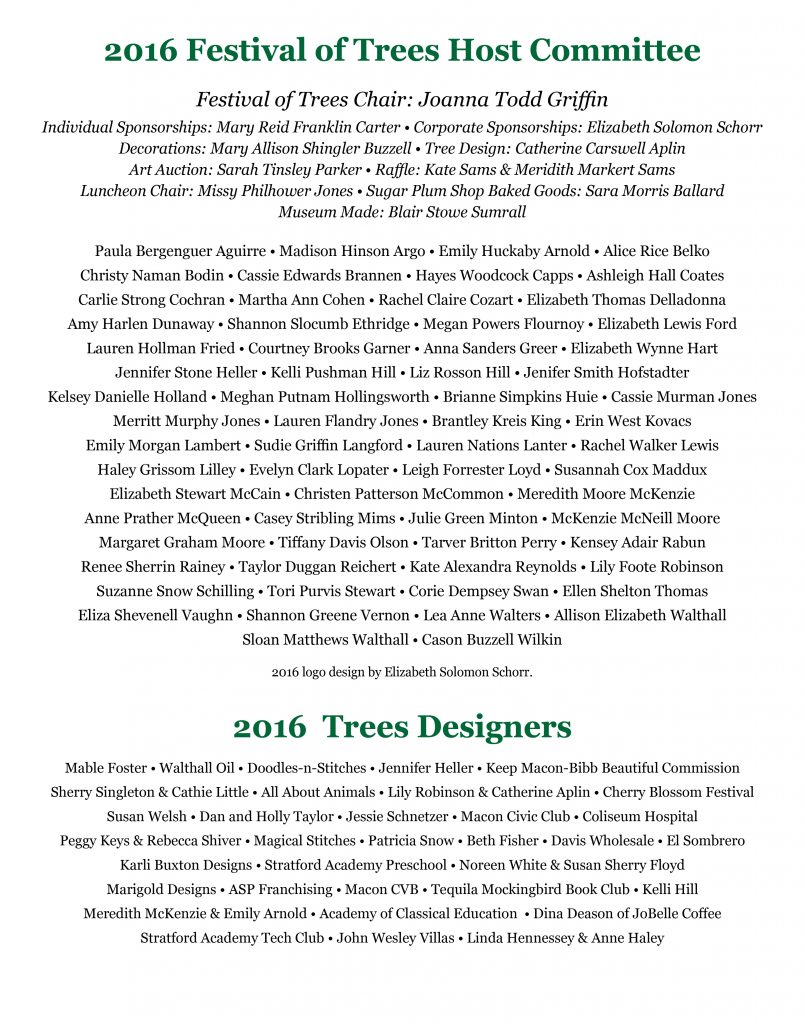 Stay tuned for pictures of this year's exhibition. In the meantime, enjoy these pictures from previous years.